60 Monday Journal Prompts to Start Your Week With Intention
This post contains affiliate links and I may receive a small commission (at no extra cost to you) if you sign up or purchase products or services mentioned. Read the full disclosure here.
Last Updated on September 20, 2023
Give these Monday journal prompts a try to feel motivated, ready, and intentional about your new week!
I think we can all agree that Mondays are one big oof! They're probably not your favorite day of the week, and you're not alone in that feeling.
Research shows that employees' mood is often lowest at the beginning of the week and picks up as the week goes on (as it gets closer to the weekend, of course!).
Being five days away from the next weekend break isn't always a fun feeling, but there's things you can do to lessen the Monday blues. These Monday journal prompts are essential for mentally preparing for the week ahead, setting useful intentions, and gearing up for a successful week.
I mean, who couldn't use some motivational Monday writing prompts?!
Oh, and bookmark these posts for a pick-me-up every day of the week!
This post is all about Monday journal prompts
Don't forget about these Monday writing prompts! Pin 'em to come back later!
Why you should journal on Monday mornings
Monday morning journal prompts make for an opportunity to slow down, be present, and carefully reflect on the past week and how you can make this week even better.
Monday mornings can be chaotic! So do yourself a favor: give yourself the time to be mindful and intentional about how you start your week.
It's so easy to get caught up in prepping for the day and week ahead, but we need to prioritize spending time with ourselves as an act of self care. These Monday journal prompts will help you do just that.
Ideas for the perfect Monday morning journal routine:
Sip your morning coffee as you journal
Keep your journal on your nightstand so it's within easy reach to use upon waking
Pair it with a 5-minute meditation, releasing your thoughts in your journal to clear your mind before meditating
Let journaling be the first thing you do before opening your laptop for the work day (if you work from home)
Leave it in your car for quick reflection before heading into work (if you work in person)
Add your journal practice into wherever it makes the most sense for you in your Monday morning. Maybe you need a good alternative to scrolling through your phone as soon as you wake up. Maybe you feel most alert and can focus the best as you drink your coffee. Play around with where you can fit journaling in!
And if you feel stumped as you stare at a blank page, thinking to yourself "what do I journal about in the morning?" that question will no longer haunt you when you have these Monday journal prompts at the ready!
60 Uplifting Monday Journal Prompts
Let these Monday writing prompts journal prompts uplift, motivate, and guide you to an awakened Monday morning, where you feel prepared for the day and week ahead!
Weekly journal prompts create the perfect weekly check-in, where you reflect and catch up on your goals, plans, and mindset.
If your weeks feel scrambled, these Monday journal ideas will unscramble things for ya!
These writing prompts are great for everyone. Maybe you're an overwhelmed mom who needs a moment of mindfulness in her day, a hardworking entrepreneur, or a busy student who could use some good Monday journal prompts for students! You'll find a little of everything here.
New Week Journal Prompts for Mondays
These easy Monday journal prompts will help you create a good morning! Perfect for fitting in a quick journal session on busy Monday mornings.
How do you feel about the week ahead?
What intention do you want to set for this Monday?
What does your soul need today?
What are your weekly goals?
What are you ready to welcome more of this week?
What are 3 positive affirmations that can start you off right today?
What can you do to bring yourself joy today?
What can you do to bring someone else joy today?
How will you make time for self care this week?
Which self care activities will you do this week?
What is one thing you'd like to manifest this week?
What are your Monday evening plans when you're done with work/school?
How do you want to feel tonight when you look back on today?
What is a situation that might set you back or trip you up this week? How will you plan for it?
Did your weekend adequately prepare you for this week? Why or why not?
What can you do on Sunday nights to make Monday mornings smoother?
What distractions do you think you'll run into this week and what can help eliminate them?
What social media apps are eating up your attention the most? How can you limit your time spent on these?
Is there something you have to do today that you'd rather not? How can you shift your mindset about it?
What are 3 things you're grateful for today?
There's no better day than Monday to start a new self care routine!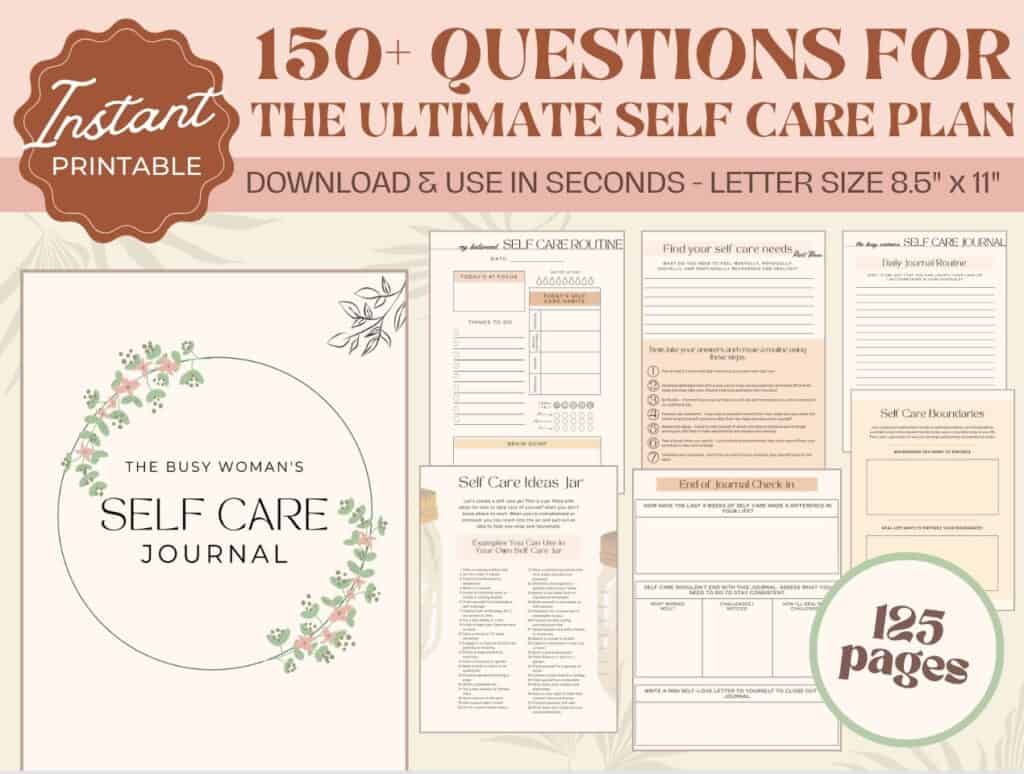 Life too hectic for self care? Not with The Busy Woman's Self Care Journal!
Made by a busy woman, for busy women, the goal of this journal is simple: to make an effective self care plan that works for your unique needs. No matter how crazy life gets!
Get step-by-step guidance to create your personalized self care plan by…
Motivational Monday Writing Prompts
These Monday journal prompts will motivate you to start your week strong! Mondays are a chance for new opportunity, new plans, and new intentions–all things these morning journal prompts target for a productive day!
What is motivating you to get through this week?
What is your main intention for the week?
What are you most looking forward to this week?
It's natural for motivation to be inconsistent. What can you do to stay on track when your motivation dwindles?
What is one thing you can add to your Monday mornings to make them more motivating?
What is one thing about Mondays you actually enjoy?
How can you make it easier to achieve your goals this week?
What reminder do you need most today?
What would you most like to accomplish this week?
What do you need to prioritize this week?
Are you rewarding yourself with anything at the end of this week?
What would make today great?
If you find yourself to have a little extra time this week, what will you do with it?
What can you do this week to contribute to your long-term goals?
Do you plan to make time for exercise this week? If so, what type of movement will you do?
Which "big thing" can you get done this week that's been sitting on your to-do list forever?
What is one thing that went well last week and how can you keep up your streak this week?
Which area of your life do you need to be more intentional with?
What is one small thing you can do to work toward a larger goal?
What are your main priorities in this season of your life?
More Monday Writing Prompts to Start the Week
Need a little bit more inspiration to get the week going? These Monday journal prompts will help you face whatever challenges this week may throw your way!
What are you most worried about this week and how can you face it?
What will be the most challenging part of the week? How can you prepare?
What does your night routine look like on Monday nights?
Do you think you have a good work-life balance? What steps can you take to improve it?
What bad habits can you try to avoid this week?
What good habits can you start to implement or do more of this week?
What are some ways you can take care of yourself this week to prevent burnout?
What can you do today that will help you fall asleep easier tonight?
Which areas do you need to be a little more gentle with yourself in today?
How can you slow down and be more present this week?
Which negative thoughts do you need to reframe into something more positive or rational this week?
I do online therapy every Monday and I can honestly tell you it's made a huge difference in those negative thoughts I'd get at the start of the week! I always recommend Online Therapy because it's a comprehensive, effective online therapy toolkit at an affordable monthly cost. Get 20% off your first month at the link below!
What do you need to release in order to start this week off fresh?
What do you need to forgive yourself for to have a clean slate this week?
Did your actions and behavior from yesterday align with your priorities? Is there anything different you need to do today?
How can you decrease your procrastination this week?
How can you give yourself the encouragement you need?
What can you declutter this week, either mentally or physically, to free up mental/physical space?
Is there an aspect of your life that you need to adjust your expectations for?
What should you address and cope with today that you've been putting off?
What can you appreciate about yesterday or the past weekend?
What are good things to journal in the morning to start off your Monday?
When deciding what to focus on as you respond to your Monday journal prompts, consider the following:
How do you want to set yourself up for success this week?
How do you want to feel this week?
What do you need most this week?
What can you take from the previous week and apply to this week?
What helps and what hurts your chances of a mentally healthy week?
What self care activities are you practicing throughout the week?
The purpose of Monday journal prompts is to spend some time with yourself and mentally prepare for the week ahead. If you make this a habit each Monday morning, you will feel so much more at ease and ready for the new week!
Let me know in the comments:
Which Monday morning journal prompts will you try for your productivity?
Psst…having trouble making time for self care? My (free!) daily self care check in makes it quick and easy! Grab it below to add just a few minutes of self care journaling to your morning and night routines!
This post was all about Monday journal prompts
More Inspiration to Make Your Monday Suck Less
Morning Journal Prompts: 12 Prompts to Kickstart Your Day
80 Monday Affirmations to Kick Off the Week with Confidence
Bedtime Journal Prompts to Ease Into the Night
60 Funny Positive Affirmations to Make You Laugh
LIKE THESE MONDAY JOURNAL PROMPTS? PIN THEM FOR LATER!