62 Tuesday Affirmations to Energize You
This post contains affiliate links and I may receive a small commission (at no extra cost to you) if you sign up or purchase products or services mentioned. Read the full disclosure here.
Last Updated on March 22, 2023
You know what, you made it through Monday, and that's worth celebrating! If you could make it through the bump that is the start of the week, you can keep going from here!
Just in case you needed a little pep in your step this Tuesday, these Tuesday affirmations are for you! Tuesdays are a great time to hone in on productivity (while, as always, balancing productivity with rest!). And you can truly make the most of this day in the week by empowering yourself with positive statements.
If you're ready to feel energized and good about yourself this Tuesday, let's dive right in!
How to Use Affirmations and Make them Effective
If you don't know, affirmations are positive statements used to reinforce positive thinking habits. They can instill confidence in yourself and your abilities by retraining your brain to have a more positive inner-dialogue.
Now that you understand the goal of affirmations, here's some ideas for making your affirmation practice more effective:
Choose just a few of these Tuesday affirmations to focus on at a time, so that you can really absorb the statements.
Practice your affirmations at the same time of day, everyday, to make them a habit. You only need 5 minutes.
Identify where you feel the most negative and pick affirmations that counter the negative thoughts.
Be patient and trust the process. Affirmations only become effective in shifting your mindset through repeated use on a regular basis!
Why Might You Need Tuesday Affirmations?
On Tuesday, you still have a hefty part of the week left. Since things are just getting started, you might need a little motivation to keep you going! That's what these Tuesday affirmations are for.
Fun fact: Tuesdays are actually the most productive day of the week, according to some studies. Maybe it's because you got over the main hurdle of Monday, so it's easier to keep that work-inertia going!
So if you need a little something to reinforce those productive vibes, these Tuesday affirmations are right up your alley. Practicing these affirmations will help you feel all the more confident in your abilities as you ramp up the week.
62 Powerful Tuesday Affirmations
Tuesday Morning Affirmations
Today is a new opportunity to re-route my week.
I made it through Monday, and that's half the battle!
I'm waking up with positive energy.
I am grateful for where I am in this given moment.
If Monday was a struggle, today is a chance to start over.
Today, I will balance rest and productivity.
I will ground myself in times of anxiety.
I inhale positive vibes and exhale stress and tension.
I've totally got this.
I feel inspired, energized, and ready to go.
I am always moving forward.
I will honor myself when I recognize I need breaks.
I will attract all the good things today.
I choose to focus on what I can control and let go what I can't.
I'm starting this day with a good mood and uplifting energy.
I am filled with peace and ease.
RELATED: Morning Journal Prompts: 12 Prompts to Kickstart Your Day
Like positive affirmations? Get them as cards!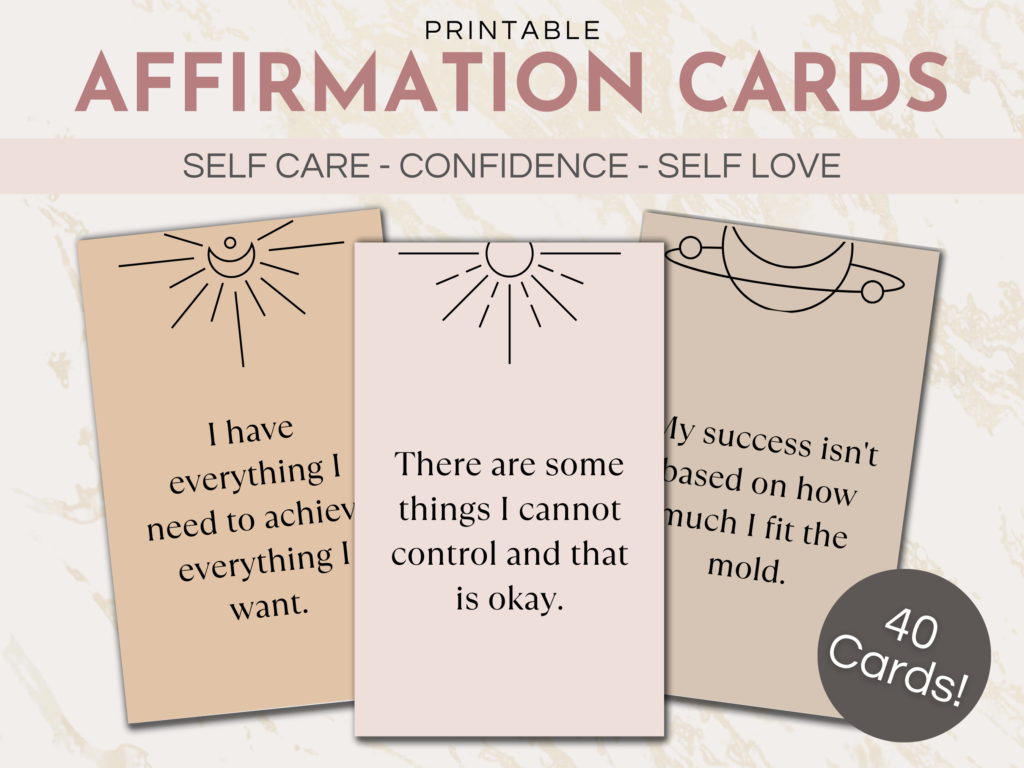 A physical reminder of positive vibes is even more effective for helping you stay grounded! Grab this deck of 40 printable affirmation cards and bring your affirmations to life. Use them as journal prompts, stick 'em on your mirror for an everyday reminder, or get creative and turn them into a vision board or collage on your wall!
Tuesday Affirmations for Work
I get the chance to thrive today.
I am confident in my capabilities.
I am good at what I do.
Work is only part of my life, it is not my whole life.
I value my work/life balance.
I look for the little things to look forward to both at work and afterward.
I exude strength and confidence.
At this point in the week, I'm getting into a good groove.
My thoughts give me the ability to shift my mood to a better place.
This day can be anything I want it to be.
My mind is clear and I'm able to be fully present in everything I do.
I find it easy to get into a good creative flow.
I am focused and on-task.
I'm going to prioritize my breaks because they're important.
I deserve to have my needs met.
RELATED: 75 Wednesday Affirmations for Work to Fight the Midweek Slump
Tuesday Evening Affirmations
I'm leaning into the slowness of my night routine.
I am taking the chance to truly unwind and let go of any stressors I felt today.
I gave it my all today, and that is good enough.
I look forward to a peaceful and restful sleep.
I am putting my workday behind me the second I leave it.
I am releasing myself from any negativity from today.
I don't have to perform perfectly everyday. Off days happen!
I deserve to be happy with today.
I am content.
I am allowed to make mistakes.
I choose to zone in on the positive.
I don't take the good things for granted.
My home after work is my safe space.
I accept all my current feelings without the need to judge them.
I am making the right decisions for this time in my life.
I am finishing my day with joy and a sense of gratitude.
RELATED: 15 Bedtime Journal Prompts to Ease Into the Night
Positive Affirmations for Tuesdays
I am complete and whole just the way I am.
I can get through whatever the day throws at me.
I have a strong handle on everything I'm involved in.
I can do hard things.
I am able to come out on top.
I put my best interest first.
Nothing can stop me from achieving my goals.
I feel empowered and sure of myself.
Tuesdays are a good time for second chances.
I am allowed to express my needs and honor them.
I am capable of handling any challenges that come my way.
Things are getting better and better for me every day.
I am one step closer to being where I truly want to be.
Anxiety has no place in my day.
I have endless reasons to smile today.
RELATED: 24 Unusual Self Care Ideas You Probably Haven't Tried
Struggling to get through the week? You're not alone. Affirmations are helpful coping tools, but you'll find the most benefit for your mental health if you pair them with therapy. Talking to an online therapist can really help you out. It's helped me tremendously! I always recommend Online Therapy because it's a comprehensive, effective online therapy toolkit at an affordable monthly cost. Get 20% off your first month with the link below!
Let me know in the comments:
Which 3 Tuesday affirmations will you choose to start your day?
Liked these Tuesday affirmations? You'll LOVE these other daily affirmations!
80 Monday Affirmations to Kick Off the Week with Confidence
75 Wednesday Affirmations for Work to Fight the Midweek Slump
Friday Affirmations: 45 Affirmations to Close Out the Week
55 Saturday Affirmations for a Balanced Weekend
65 Sunday Affirmations to Regenerate Before a Big Week
Pin these Tuesday affirmations to save them for later!