20+ Inner Child Activities to Heal and Feel Alive
This post contains affiliate links and I may receive a small commission (at no extra cost to you) if you sign up or purchase products or services mentioned. Read the full disclosure here.
Last Updated on January 15, 2023
Your childhood really sets the tone for how you think, behave, and feel in your adult years. And the unfortunate part is…your childhood and the quality of it was largely out of your control.
As you can imagine, this leads to all sorts of outcomes ranging from horrendously negative to healthy, happy, and positive.
And if you suspect your inner child might not be in the best place, that means there's some work to do. These inner child activities are the perfect place to start if your goal is to heal from negative childhood experiences and truly thrive like adult-you deserves.
Inner child fun activities for adults can go a long way in reviving the child within you. As you browse through these activities, see if any questions to ask your inner child pop up along the way!
What is your "inner child"?
Do you remember the excitement of practically everything when you were a child? Christmas day felt like you could explode with joy, being surprised with ice cream after school was the best day ever, and you were simply high on life!
Heh….but then adulthood comes around. And between the responsibilities and stress that comes with it (and for some of us, maybe even a collection of trauma), we don't experience excitement in quite the same way anymore.
But it doesn't have to be like this. If you long for those exciting joys of childhood, you can get that back by connecting with your inner child.
So, what is your inner child?
Your inner child is still a part of you, no matter how old you are! She/he is part of your subconscious that holds emotions, memories, and beliefs from the past as well as hope and wonder for the future. It's the free-spirited part of us that still experiences life like a child.
And best believe, your inner child is there. You just have to seek the connection. (You can probably see where these inner child activities are headed!)
How do I know if my inner child is wounded?
No childhood was without worries and fears in some form. However, if you lacked proper support as a child, your inner child may have quite a bit of healing to do–even into adulthood.
Signs of a wounded inner child include:
You feel hypersensitive to emotions, constructive criticism, and negative situations. (If you can relate, you'll love these self care ideas for the highly sensitive person.)
You're a chronic people pleaser, even if it means sacrificing yourself
You seek heavy validation through your achievements, productivity, or work. Often, your worth is tied to these things.
You feel numb or avoidant of your feelings
You're anti-confrontational, avoiding conflict like the plague
You find it difficult to set and stick to boundaries in relationships, whether that's familial, friends, or romantic relationships.
If you can relate to even just one or two of these, you can certainly benefit from healing your inner child and incorporating these inner child activities into your routine.
How do I entertain my inner child?
These inner child activities will cover all sorts of ways to entertain your inner child so that you can connect with it, nurture it, and help it come to life!
As you browse through these activities for healing your inner child, here's a few things to keep in mind:
Acknowledge and validate – when thinking about your inner child, you'll likely have some childhood memories arise–perhaps both good and bad ones. Bad memories from childhood can be painful, but acknowledging and validating your feelings surrounding them is the first step to true healing.
Listen closely – pay attention to anything your inner child is trying to convey to you. This could be guidance on dealing with tough emotions, or even which inner child activities to gravitate toward.
Reconnect with your sense of joy – childlike joy is like no other. See how you can find ways to tap into that unbreakable feeling of joy and immerse yourself in what it felt like to be a child. This feeling is there–you've just gotta find it!
Be silly – seriously, don't worry for one minute if you're too old to be watching episodes of Dragon Tales, or whatever is speaking to you! Going back to the things we loved even in early childhood can feel therapeutic and joyous. Just roll with it.
20+ Healing Inner Child Activities to Nurture Your Inner Child
Longing to connect with your inner child? I've got you covered with these inner child activities: some for fun, some for healing to feel that childhood joy, express self-love, and nurture the child within you. You will love these inner child healing exercises for a wounded inner child.
Fun Activities to Connect to Your Inner Child
1. Treat yourself no matter how silly
I, at 22 years old last year, had no shame in going to Build-a-Bear and doing the whole shabang of creating a bear–complete with the heart ceremony! And I was happy as could be.
I have no idea if anyone who witnessed it judged me, and ultimately I shouldn't care. Treat yourself to the most elaborate, ridiculous ice cream sundae, go see a silly kids movie in theatres, or anything your heart desires!
2. Read a book from your childhood
Hellooooo, Junie B. Jones?! Magic Treehouse??!! You should definitely unlock your fair share of happy childhood memories from books like these. It's also nice to have an easy read every once in a while!
3. Watch your favorite childhood movie or TV show
Following the book idea, movies and TV shows are a great nostalgic hit too. I watched PBS Kids every second my mom allowed, so I usually pick a go-to show from that channel when I want to nurture my younger inner child.
4. Have an all-out slumber party with friends
Since when did sleepovers have to end? Nonsense! I still arrange sleepovers with my best friends as a 20-something.
But take it even a step further: grab your favorite childhood snacks, watch movies from childhood, have a pillow fight, stay up as long as you can, or anything else to go all-out like you did as a kid!
5. Have a dance party
This brings back memories of having a karaoke machine and dancing around my living room feeling like a total Disney channel pop star. Maybe you don't have a karaoke machine, but you can totally dance it up and pretend you're the next Hannah Montana.
6. Daydream
I mean, actually give yourself the time to daydream! With our busy adult lives, this opportunity seems so few and far between. But giving yourself the chance to dream about all the things you dreamed of in your childhood years can be a positive experience.
7. Pick a childhood hobby back up
It seems like every 5 year old girl was in a dance class, gymnastics, cheer or something of the sort. While some of those might be difficult to start back up if you're super rusty, it's always fun to see what you can do and give some old moves a try! It doesn't have to be a sport either, any hobby will do!
RELATED: 100 Fun & Interesting Hobby Ideas for Women In Their 20s
8. Go on a picnic with your fave childhood essentials
Fruit gushers? Peanut butter and jelly sandwiches? Uh, count me in! This is a good way to get some fresh air, nostalgic snacks, and maybe even play around on the playground if the picnic is at a park.
9. Play with chalk, bubbles, or other outdoor fun things
I loved chalk so much as a kid, if you left me alone with a bucket of chalk it could probably be gone by the afternoon. Take a visit to your local Walmart and check out the toys and outdoor section–see what appeals to your inner child!
10. Complete a puzzle, craft, or other indoor fun things
If it's a little too uncomfortable to go outside right now, don't let that stop you. I'm a huge puzzle fiend, so you'll certainly catch me doing a puzzle in my free time. You could also return to some crafts you loved as a kid, like origami, paper chains, paper snowflakes, anything!
11. Go about your day through the lens of a child
Try to think back to how you observed and explored your world as a child. You were probably mesmerized by the smallest things, like pretty flowers or even that stick of bubblegum at the grocery checkout. Take notice of all the little things you would've gone crazy for as a kid!
Want step-by-step guidance to heal your inner child?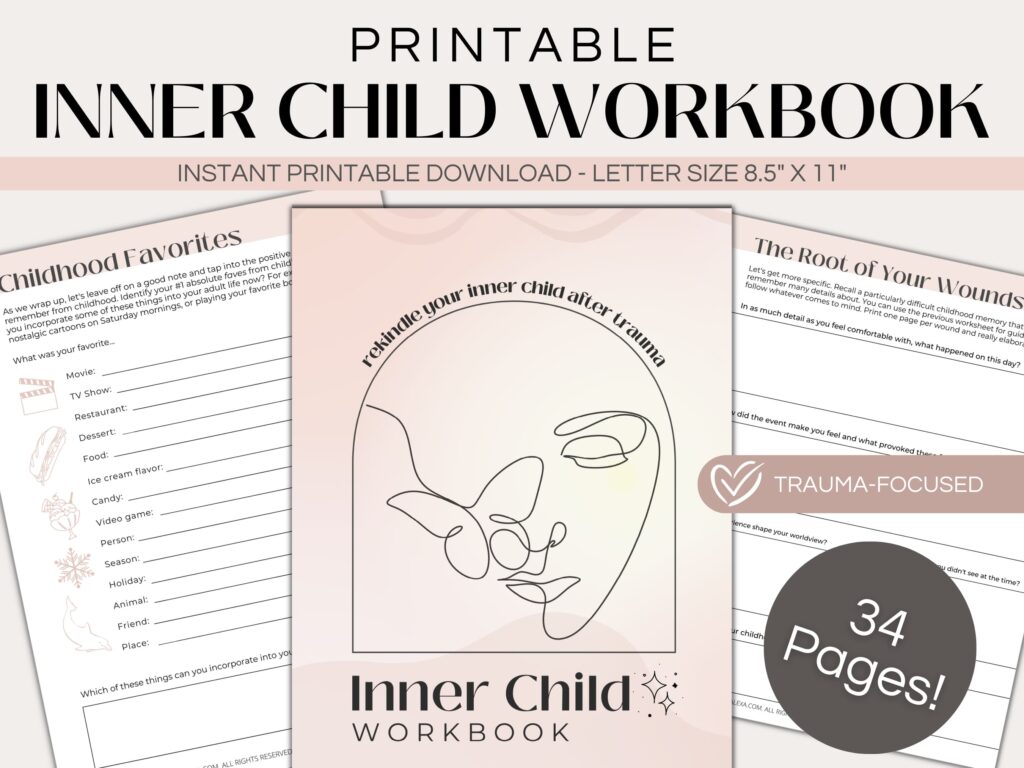 Feeling out of touch with your inner child? Been through a traumatic experience? My printable inner child journal PDF can help you give your inner child the love they deserve but didn't get.
This workbook will help you:
Healing Exercises to Connect to Your Inner Child
12. Express your feelings in a tactile way
Scribbling as hard as you can on paper, ripping paper up, finger painting with reckless abandonment…the list goes on! We're so often taught to repress our frustration and anger, but there are plenty of safe yet satisfying ways to get that out!
13. Meditate for the inner child
There are so many guided meditations out there for anything you're trying to achieve. You may be pleased to find that there indeed are meditations specifically for healing your inner child out there too! Give the one below a try.
14. Journal for your mental health
Journaling gives you the chance to dig deep and really get to the root of the tough feelings you still need to process. I've got you covered with my printable mental health journal!
This is jam-packed with activities and journal prompts for making sense of your emotions, reframing negative thoughts, and overcoming unhelpful behaviors. Journaling is one of the most important inner child activities, so make sure you grab this journal!
INNER CHILD WRITING EXERCISE: 50 Influential Journal Prompts to Heal Your Inner Child
15. Be unfiltered
You know how they say "children have no filter?" They speak their minds. If they don't want Chinese food for dinner, they have no problem speaking up about it.
I know, it kinda sucks that it's not as socially acceptable for adults to say whatever comes to mind. BUT you can still act this out in ways like being firm on your boundaries or saying "no" when you need to reserve your energy.
16. Write a letter to your younger self
What did you really need to hear as a child? Maybe you didn't get to hear the words you needed most. Now, you can take matters into your own hands and give your inner child what it needs. Offer words of encouragement, comfort that things turn out okay in the end, and sweet pieces of advice. My guided inner child worksheets for adults include pages specifically to help you do this!
17. Heal with the help of a therapist
Trying to heal your inner child wounds or past traumas all on your own is…quite the tall order.
You're already doing fantastic by seeking out information like the inner child activities in this article. It's clear that you really care about being proactive in your healing journey, and I love that for you!
But the support of a professional will take you farther, faster. I know Online Therapy has been an absolute game changer for my own journey, and I can't recommend it enough.
18. Calm your inner child
During times of stress or anxiety, this is a great time to comfort yourself like you would a child. Many of our fears stem from childhood experiences, so reassure your inner child in these moments.
19. Make time for laughter
Laughing and enjoying yourself can do so much for your mental health. Carve out time to watch a funny YouTube video, a good comedy, or anything that gets you giggling and happy!
20. Self-soothe with positive affirmations
Positive affirmations are a MUST for truly adapting a positive mindset. Studies show that practicing positive affirmations actually re-trains your brain to choose positive self talk over negative.
Don't know where to start? Grab my deck of printable affirmation cards to help you get into the swing of hyping yourself up!
RELATED: 75 Inner Child Affirmations to Heal Yourself From Within
21. Breathe
Yes, just breathe. You are doing an amazing job keeping it together and I applaud you for being here reading this today. Healing your inner child is a major undertaking, so give yourself breaks to simply breathe. Exist. Enjoy the present moment. Recognize how far you've come. You are on the right track.
Pro tip: Don't do all your inner child healing alone.
Healing your inner child, in the truest sense of the phrase, is going to take A LOT of work. To be honest with you, it can't always be accomplished on your own.
Working with my therapist has given me far more guidance in my journey to overcome my own childhood trauma. I'm making huge strides as I grow into my best adult self. And you can too!
Your best solution? Online Therapy. Not only are you paired with a licensed, effective therapist, but you actuallyyyy get a complete mental health toolbox!
You get:
1 live 45-minute/week video, voice, or text chat session with your therapist
Unlimited messaging
8 easy-to-follow sections, including 25 worksheets
Activity plan, worksheets geared to you, + a journal
Yoga and meditation videos
The ability to change therapists with a click of a button
Therapy on a secure and confidential platform from the comfort of home
Sounds like a heck of a deal, am I right? Get yourself the support you need to heal your inner child and don't do it all by yourself. You can get 20% off your first month at Online Therapy with my link below!
Spending time with your inner child
Connecting with your inner child and learning all about what lights her/him up is valuable. Making this effort can help you feel self-soothed, comforted, and at peace.
These inner child activities are just one aspect of what you can do for your inner child, so be sure to check out these journal prompts to heal your inner child and these inner child affirmations to heal yourself from within!
Take care of yourself (and your inner child!)
Inner Child Healing Exercises PDF (Worksheets for Adults!)
More Self Care Activities You'll Love
Self Care for the Highly Sensitive Person: 20 Practices
25 DIY Self Care Kit Ideas That Are Simple & Soothing
Self Care for Introverts: 16 Ways to Recharge Your Social Battery
60 Journal Prompts for Self Care When You're Struggling
LIKE THESE INNER CHILD ACTIVITIES? PIN THEM FOR LATER!