40 Trauma Healing Journal Prompts to Process Your Past
Last Updated on November 26, 2023
Navigating your trauma healing journey isn't like following a simple map. It's messy, it's complex, it's twists and turns of repressed emotions and nagging anxiety. And the battle may even be lifelong, especially if you have CPTSD.
The thing about trauma is that it creeps up in ways you don't recognize at first. Between being trapped in constant fight-or-flight, confusion, and frustration, you may be asking yourself…
"Where do I even start in my healing process?"
There's no one right answer. But if you're just as lost as I was when I began healing my trauma, journaling is a pretty darn effective starting point.
When you use trauma journal prompts, you'll slowly get the hang of regulating your emotions and processing uncomfortable thoughts and memories–ultimately guiding you to come to terms with your past.
As someone with a history of trauma myself, I've used a combination of journaling and online therapy to understand more about my triggers and reshape the negative core beliefs that have resulted from my trauma. And so far, I finally feel like I'm making leeway.
If you're ready to pave the path to healing and self-discovery, these journal prompts for trauma healing can make a true difference in your head space.
40 Trauma Journal Prompts for Healing & Processing
Maybe you've been through childhood trauma and need deep journal prompts for trauma healing. Or perhaps you've faced many different types of trauma in your life, like relationship trauma, abuse, or a car accident, resulting in complex PTSD. Whatever your case may be, you are welcome here. Let these prompts be the starting point to create your healing journal!
Don't forget about these trauma journal prompts! Pin 'em to come back later!
Journal Prompts for Processing Past Trauma & Inner Healing
Friendly Reminder: if you are struggling with something as serious as trauma, please reach out to a therapist. These prompts can be a stepping stone, but they cannot replace essential coping skills and practices like EMDR from a professional who can guide you through your trauma.
In what ways have you stopped yourself from growing and healing?
When you were going through trauma, did you realize it at the time? If not, when did you?
What emotions from the past are you still holding onto?
In what ways has your trauma impacted your current behaviors and thought processes?
Do you experience hyper-vigilance? (the state of constantly assessing threats around you) If so, what brings this feeling on the most?
In what ways have you ultimately grown stronger from your trauma?
Do you ever downplay what you've experienced? Why?
Do you still have anger or resentment toward the situation or person that caused your trauma? Explain your feelings.
In what ways have you moved forward or made progress away from your trauma?
How do you deal with tough memories, emotions, thoughts, or behaviors?
RELATED: 72 Trauma Affirmations to Support Your Healing Journey
Do you have any self care activities in place?
When interacting with others, do you tend to overshare or stay very private?
Do you experience nightmares? How frequently? Note any common or recurring themes.
The #1 most overlooked part of trauma healing: your inner child
This trauma healing journal PDF helps you tackle the real roots of trauma, so you can learn from your past and truly thrive.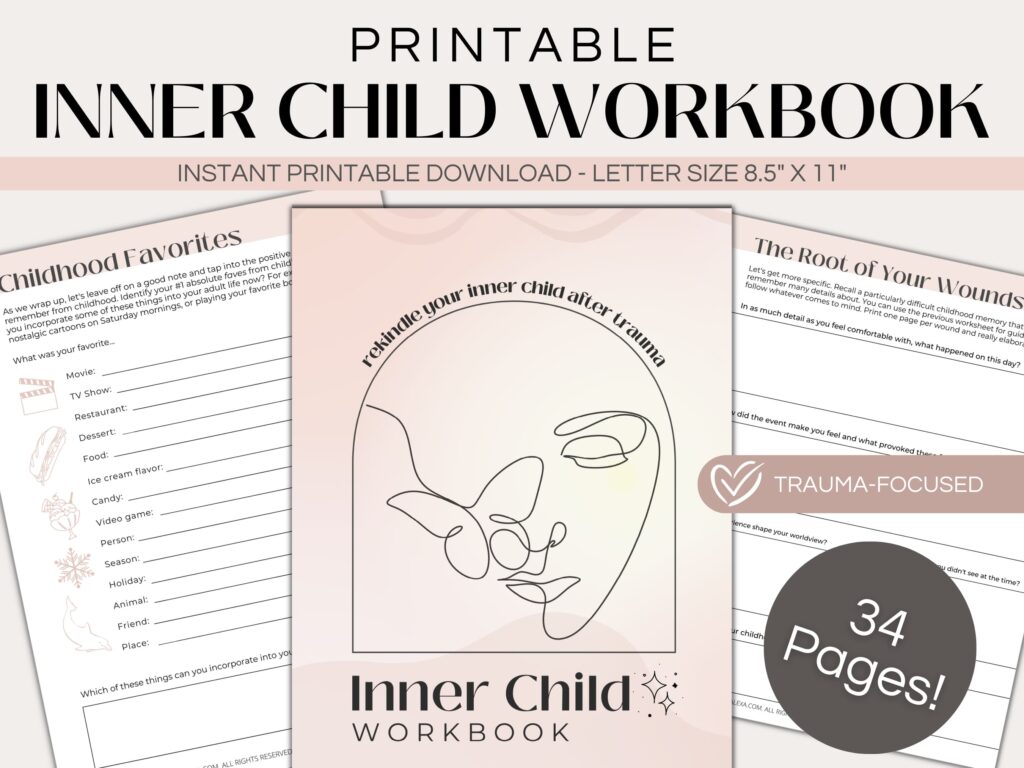 Feeling out of touch with your inner child? Been through a traumatic experience? My printable inner child journal PDF can help you give your inner child the love they deserve but didn't get.
This workbook will help you:
Childhood Trauma Journal Prompts
Rather than being tied back to a single event, childhood trauma often results from a series of multiple chronic adverse childhood experiences (ACEs). Complex PTSD journal prompts (CPTSD) that dive deeper and assess every aspect of your childhood, like these prompts, are ideal to help you identify the weight of what happened.
Do you think your childhood trauma is holding you back from living a fulfilling life?
Are you able to honor yourself and what you've been through, recognizing that it does not define you?
How can you show yourself more kindness, understanding, and compassion?
In which ways do you still have healing to do?
What is a negative core belief you developed as a child and still have today? What evidence is there against it, showing that it's not true?
What are some ways you can express self love and be gentle to yourself through the healing process?
What are 5 things, people, or places that make you feel safe?
How have you persevered despite the trauma you faced?
What is the number one trauma response you're working on and what steps are you taking to work on it?
What was your greatest fear as a child?
What was your greatest fear as a teenager? (you might love these exercises for healing your inner teenager)
What is/was your greatest fear as a young adult?
How would you describe your childhood?
Was your childhood home unstable? How so?
Describe your relationship with each of your parents. Has their influence impacted you in negative ways?
Something I wish my family understood about me is ______.
What triggers my fight or flight response the most?
What support did you need growing up that you felt you didn't receive?
RELATED: 80 Insightful Inner Child Journal Prompts to Self-Heal
Journal Prompts for Identifying Trauma Triggers
What are some of your common triggers?
How do you feel when triggered? Describe this in detail.
What can you do to better cope when something triggers you?
Is there anything you grieve from your childhood?
How can you accommodate yourself in your adult life to make the effects of your trauma easier?
When do you feel most at peace?
What are you in control of in this moment?
What do you need to forgive yourself for?
Have you ever gone to therapy? What do you most need out of a therapy session?
RELATED: 30+ Inner Child Worksheets for Healing and Happiness
Click here to get the journal that will transform your healing journey!
Does journaling help with trauma?
Journaling can help tremendously with trauma, and you'd be surprised by the impact!
The first study ever conducted on the impact of journaling and mental health was in 1986, and since then over 200 research studies have shown us time and time again that journaling for emotional healing truly helps.
Through the power of a regular writing practice, you can improve your overall mental (and even physical) well-being–two areas significantly impacted by trauma.
Benefits of trauma journaling for emotional healing
In 2019, there was a study that specifically looked at the impact of journaling on trauma healing. After six weeks of writing, people saw improvements in…
Increased resilience
Less depressive symptoms
Decreased perceived stress
Less frequent rumination
These results were from people who reported trauma in their lives in the last year. It's very promising to see results like these from people who are actively experiencing trauma.
So yes, absolutely, journaling can help you make sense of the complex memories, thoughts, and emotions surrounding past trauma.
What does this mean for you? This means writing and trauma journal prompts make for powerful additions to your healing process. With benefits like these, journaling is something you don't want to overlook!
How do you start journaling for trauma?
You can start with a simple blank notebook, or even a guided journal with healing prompts already put together for you. The choice is yours! Consider the amount of guidance you could use in reflecting on your past trauma and how familiar you are with journaling in general.
For the best guidance in this, I have a trauma-informed inner child workbook you should absolutely check out. It'll help you process and answer the tough trauma healing questions that stand in your way of moving forward!
Top tips to start journaling for trauma healing:
Start small – Start your journey from where you're at right now. Don't worry if you're far from where you want to be. Accepting yourself as you are is a crucial step in self love.
Let the writing be your guide – Follow your writing wherever it wants to take you. It's likely bringing up certain memories and thoughts for a reason. Let your words flow without any judgment.
Don't rush your journal entries. – Take the time to carefully consider what's on your mind and how you feel. Allot yourself at least 20-30 minutes to journal.
Unpack past events – see if you can connect the dots to how past trauma shows up in your life, behaviors, and thought patterns today.
Your goal? Self-discovery. – Enter your journal with an open mind and an eagerness to learn more about yourself. Take note of any new findings you discover about your reactions and coping mechanisms.
Tune into your mind after you close your journal – new triggers and realizations may come up throughout the day, after your journaling session. This is absolutely normal, and actually benefits you and your healing process! I encourage you to take notes on what you notice.
Psst…we could all use a little self care to help in our trauma journey. Grab my (free!) self care daily check in sheet below! A super easy way to incorporate a little journaling into your routine each morning and night.
Let these writing prompts for trauma healing be your next step toward inner peace
The journey to trauma healing is an ongoing one. It doesn't happen overnight, but self-awareness and emotional processing are the first steps. These trauma journal prompts can make those first steps a little easier.
Let me know in the comments:
Which trauma healing journal prompts will you try?
IF YOU LIKED THIS POST, YOU'LL LOVE THESE TOO!
20+ Inner Child Activities to Heal and Feel Alive
30+ Inner Child Worksheets for Healing and Happiness
75 Inner Child Affirmations to Heal Yourself From Within
80 Healing Inner Child Quotes to Feel Validated
52 Journal Prompts for Self Love to Empower Yourself
50 Therapeutic Journal Prompts for Emotional Healing
LIKE THESE TRAUMA JOURNAL PROMPTS? PIN THEM FOR LATER!