72 Trauma Affirmations to Support Your Healing Journey
This post contains affiliate links and I may receive a small commission (at no extra cost to you) if you sign up or purchase products or services mentioned. Read the full disclosure here.
Managing the impact trauma has had on you is a real challenge. The path to healing is not quick nor easy, which is why it's important to cultivate a toolbox of coping tools to assist in your healing journey.
One tool that you definitely don't want to overlook is the power of trauma affirmations. These are affirmations that acknowledge the pain you've been through and reassure you of your value, worth, and wellbeing.
Affirmations can completely reshape the way you see and speak to yourself. This practice is a must for anyone who's been through trauma–whether it be childhood trauma, complex PTSD, trauma bonding, or simply healing from any part of your past.
Why Affirmations for PTSD are Important
Some people who've been through trauma turn the blame on themselves, or they may experience low self-esteem. Viewing yourself in this negative light can really do damage by enforcing the habit of negative self-talk.
When you use trauma affirmations, you're stopping self-critical thoughts in their tracks and challenging them with a more encouraging, positive thought. You're tackling these negative thoughts head-on. With enough practice, your inner critic will soon get quieter.
This is why affirmations for PTSD are so important, because they reaffirm your self-worth and can change the way you speak to yourself internally.
Can affirmations heal trauma?
Healing your trauma is a very complex, long-term event. While no singular thing will heal your trauma on its own, trauma affirmations are one effective piece of the pie that will contribute to your overall healing journey.
They create the framework for getting clear on your values, strengths, and belief in yourself. By clearly articulating and reminding yourself of all the good that's within you, your mindset will shift toward self-love and away from harmful thinking.
And, if you use trauma affirmations in conjunction with therapy, you will see even better results and really fast-track your healing process. (I always recommend Online Therapy if you don't yet have a good quality therapist! Online therapy has helped me tremendously in healing my own trauma, and you can get 20% off your first month with my link here.)
72 Powerful Trauma Affirmations
These trauma affirmations are here to support you in every aspect of your healing journey. Whether you need help healing the past, navigating complex PTSD, processing childhood trauma, or reconnecting with your inner child, allow these affirmations to comfort you.
Affirmations for healing the past
I am now safe and secure.
I am moving forward with building the best life for myself.
The past does not define me.
I have power and control over my choices.
I am allowing myself the necessary space and time to process and grieve.
There is nothing I cannot get past.
All I need to do is take things one day at a time.
I give myself as much time as I need to heal.
It's okay not to be okay, but I will get closer to being okay with time.
I allow myself to thoroughly feel through all of my feelings.
I deserve to heal and have peace of mind.
My life is in my own hands.
Affirmations for complex PTSD
I may need extra time to heal and that is okay.
No matter how much I have to work on, I will make it through.
I will get more in tune with my emotions and learn how to manage them with time.
I am worthy and capable of loving relationships.
I am not afraid to lean on my support network.
I am whole.
I am loved.
I am not alone.
Everything I am feeling and going through is completely understandable.
I do not judge myself for the place I am at in life right now.
It's okay to have bad days, bad weeks, or even longer.
It is okay if my healing journey is not linear.
Affirmations for childhood trauma
I am not my trauma.
I may have felt a painful lack of control as a child, but I have control now.
My decisions to set boundaries with my family are completely up to me.
I am allowed to assert those boundaries regardless of how others perceive them.
I hold the power to re-parent myself now as an adult.
I will always give myself unconditional love, compassion, and support.
My feelings about the past are valid.
I am allowed to ask for help.
I will celebrate the fact that I made it out alive.
I am not the one to blame for my childhood trauma.
I will break the cycle of generational trauma.
I will choose myself again and again.
My mind and body belong to me.
I am getting mentally stronger with each passing day.
RELATED: 75 Affirmations for Mental Strength to Encourage You
Inner child affirmations
I release any negative feelings of shame, guilt, and isolation.
My inner child deserves all the comfort in the world.
My inner child deserves better than what they experienced in the past.
I will always acknowledge my inner child and soothe them when they need it.
My value is of great significance.
I will show my inner child that they are always safe with me.
I will make my inner child feel enriched and nurtured by making time for play and silliness again.
I am unapologetically me.
I have every right to feel angry and disappointed that the people in my life let me down.
I choose to surround myself with love and encouragement.
RELATED: 80 Healing Inner Child Quotes to Feel Validated
Want to be guided step-by-step in healing your inner child?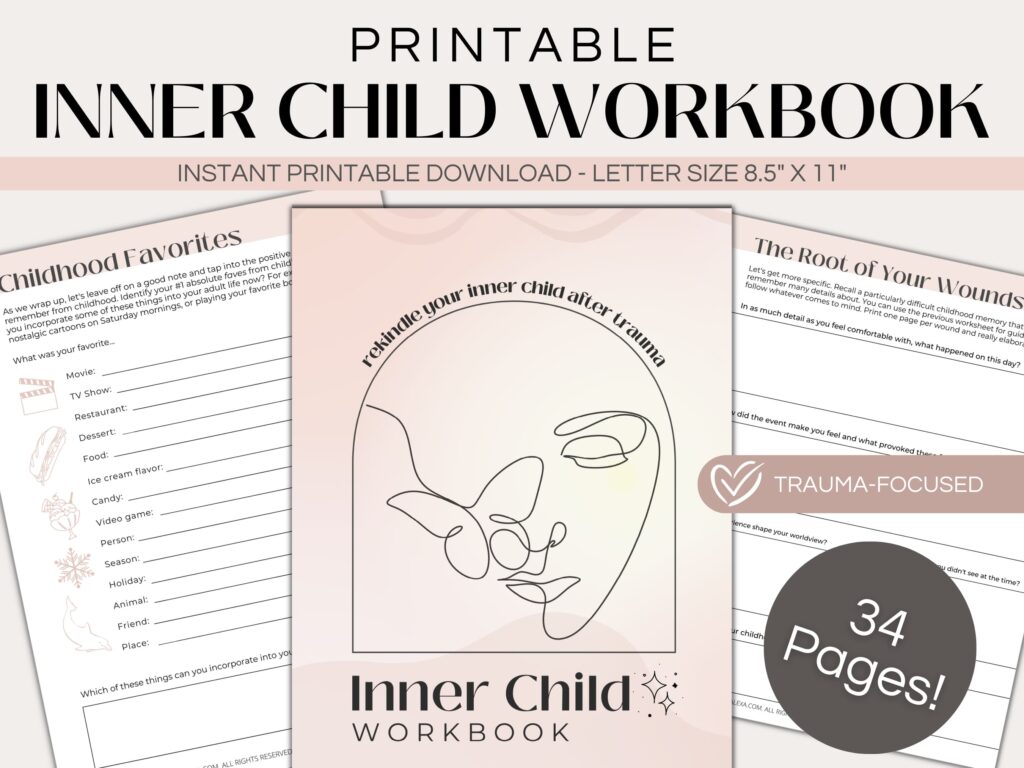 Feeling out of touch with your inner child? Been through a traumatic experience? My printable inner child journal PDF can help you give your inner child the love they deserve but didn't get.
This workbook will help you:
Trauma bond affirmations
I hold absolutely no responsibility for being manipulated.
I will never victim blame myself.
I will not be trapped by anyone.
I now have control over cutting toxic people out of my life.
Nothing was ever "just in my head."
I won't be afraid to express my right to leave.
I know exactly who I am, without the influence of anyone else.
I can separate myself from the past.
I am worthy of respect and validation.
I deserve to have my limits and boundaries be respected.
From here on out, I will not be afraid to walk away from someone who is mistreating me.
RELATED: Trauma Healing Journal Prompts: 40 Prompts to Process Your Past
Friendly Reminder: if you are struggling with something as serious as trauma, please reach out to a therapist. These affirmations can be a stepping stone, but they cannot replace essential help from a professional who can guide you through your trauma. If you're in need of this resource, I recommend checking out Online Therapy with my link for 20% off your first month to make it more accessible.
Affirmations for abuse survivors
There is no justification or rationalization for what I endured.
I did not provoke or otherwise do anything to deserve what I experienced.
I have zero tolerance for toxic relationships or environments in my life now.
I deserve to be protected at all times.
There is nothing I cannot overcome.
My past abuse does not define me in any way.
It is safe to be me, exactly as I am.
I am a survivor and that is an amazing accomplishment.
I will never punish myself for having feelings.
I do not have a single thing to be ashamed about.
Nothing was ever my fault.
I am enough. Always.
I can bring back the joy in my life that I missed out on.
More Support for Your Healing Journey
75 Inner Child Affirmations to Heal Yourself From Within
Your Inner Teenager Needs Healing Too: 16 Proven Exercises to Do So
30+ Inner Child Worksheets for Healing and Happiness
Self Care for Empaths: 13 Activities to Protect Your Energy
LIKE THESE TRAUMA AFFIRMATIONS? PIN THEM FOR LATER!