8 Unique Ways to Defeat Christmas Overwhelm
Last Updated on October 26, 2023
Guess what, y'all? Christmas is just around the corner, and you know what that means – we're diving headfirst into the holiday hustle and bustle!
It's pretty easy to label Christmas as the most stressful time of the year, am I right? But that's only if you go into it blind with zero self-care or organization in place. Now that you're here, that won't happen.
If you're racing against the clock or just easing into the holiday vibe, I've got your back. Take a deep breath and relax, because these mind-soothing strategies will take your Christmas overwhelm out of the picture!
8 Ideas to Lighten Up the Christmas Overwhelm
Feeling overwhelmed at Christmas time? Here's what to do! 
1. Manage your expectations
Step one to conquer Christmas overwhelm: dial down those expectations. Instead of striving for an Instagram-worthy Christmas aesthetic, accept that imperfections are part of the charm.
Before you start curating and controlling, remember that this is a real-life holiday. The "real-life" factor is what makes it quirky, enjoyable, and unique to you! So keep it real, let the unexpected happen, and allow Christmas to unfold however it wants to.
Walk into Christmas without even thinking about expectations. You'll come out on the other side with less stress and more joy!
2. Create a structured Christmas plan
When is stress most likely to happen? When we approach something without a plan. This means making a to-do list and treating Christmas almost as if it were a project with several moving parts.
First, I suggest mapping out your priorities. What is your overall goal this Christmas? Nailing your gift-giving? Immersing yourself in the holiday vibe? To simply enjoy the company of family? Figure out which tasks need to be completed to accomplish that.
Then, grab your holiday calendar because you'll be marking down ALL the key dates for things like decorating, shopping, partying…the whole nine yards. (And remember: the earlier, the better!)
By sorting everything out on paper, you don't need to face the stress of relying on your memory! I think we all know the hiccups that happen when we do that, lol!
THINKING AHEAD…: 18 Must-Have Best Planners for Entrepreneurs (2024)
3. Decorate like a minimalist
Can you imagine how relaxed minimalists are during the holidays compared to the rest of us? Living by the idea that "less is more" can be a real game-changer in avoiding Christmas overwhelm!
Now, I'm not saying to go full-blown minimalist and makeover your whole life. I'm just saying the minimalists have the right idea when it comes to keeping the decorating to a minimum.
Make it easy on yourself–go for the clean, uncluttered look with just a few meaningful pieces. Not only will this free up your time and mental space, but it'll look so elegant and serene for you and your holiday guests!
4. Take the guesswork out of gift giving
If gift giving feels like one big guessing game, it doesn't have to be! Of course, your first line of action is to think about your gift recipient's likes and interests. But sometimes that alone doesn't really solve our gift dilemma, so what else can you do?
Honestly, it doesn't hurt to take the direct approach. Be real with your friend, mom, sister, or whoever you're buying for and just ask them: "hey, what is it you actually want for Christmas?"
And if they leave you just as stumped by saying, "oh, I don't need anything!"?
My secret weapon for that is to take the lead and go the wish list route.
Suggest that you each come up with 3-5 things you'd like for Christmas. Share the list with each other. Because you gave them specific directions, you're more likely to get information out of them!
That way, out of the 3-5 items, you pick 1 item for each other that you know you'll both want. BUT you still get to keep the surprise alive. Problem solved.
Stuck on what to get your friends and family? Grab ideas from my gift guides!
5. Get your self care routine in check
Trust me, this step in fighting Christmas overwhelm is crucial.
All those festivities can be fun, but if we're being honest, they also get exhausting. But I also get that you're busy AF, so you need efficient, practical solutions to self care. Opt for quick activities like a brief meditation, a little stretch before you go to bed, or a soothing tea break.
RELATED: Holiday Self Care Checklist: 12 Days of Caring For Yourself
If you just can't seem to find a self-care routine that fits your life, my self care journal (made specifically for busy women like you, because I, too, am a busy woman) is a MUST! Check it out below and you can create a self care plan that finally sticks!
No clue how you'll fit self-care into a busy Christmas season? This journal will make it happen!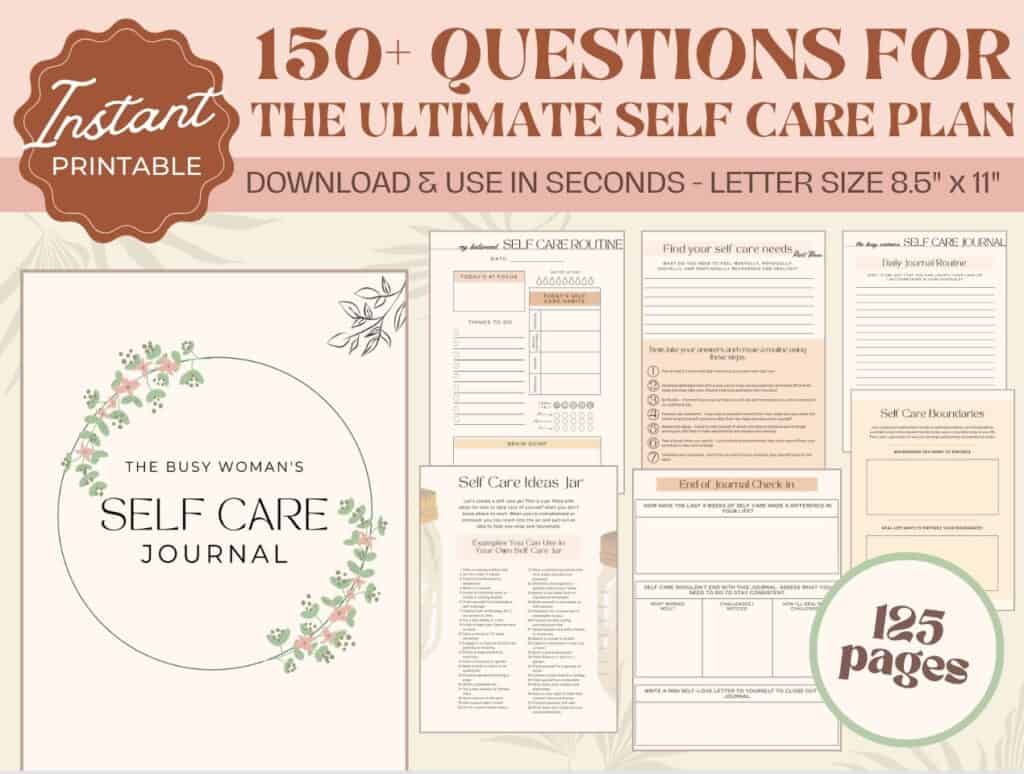 Life too hectic for self care? Not with The Busy Woman's Self Care Journal!
Made by a busy woman, for busy women, the goal of this journal is simple: to make an effective self care plan that works for your unique needs. No matter how crazy life gets!
Get step-by-step guidance to create your personalized self care plan by…
6. Set boundaries and don't feel guilty
Drill this into your head: self-care is never selfish.
I know it can be hard to truly believe that, even if you logically know it's true. But think about it: how can you be fully present for others and get sh*t done if you're running on empty? You can't.
So instead, protect your peace so you can show up as your best self.
This can look like time blocking personal time for yourself and letting family know that you're unavailable. It can be saying "no" to more commitments when you're stretched too thin. Even setting a budget and resisting the pressure to buy expensive gifts is a big help!
RELATED: 25 Journal Prompts for Boundaries You Might Need to Set
7. Don't feel obligated to stick to food traditions
A big Christmas ham that takes a ton of prep work and all day to cook? No thank you. Sounds like a recipe for Christmas overwhelm to me (literally).
There's nothing wrong with avoiding recipes that feel like a burden in favor of simplified meals. Plus, the same-old same-old of traditional Christmas meals can feel so overdone and bland!
Get creative and do what works for you. Growing up around hispanic culture in San Diego, I always asked my mom for store-bought tamales and beans and rice for Christmas dinner. To me, that was 10 times more delicious than following an arbitrary tradition!
8. Embrace some chaos
Sometimes, it's easier to accept something than to fight it. Holiday chaos fits into this category.
Allow yourself to go with the flow and follow whatever Christmas throws at you. Take the easygoing approach, knowing that perfection simply isn't necessary when it comes to a holiday!
Who knows? The most unexpected moments can turn into cherished memories you can look back and laugh at. When you let go of the need for everything to be flawless, you'll finally be able to relax and enjoy Christmas. Isn't that the goal at the end of the day, anyway?
Why Does Christmas Overwhelm Me?
Schedule packed to the brim, a billion Christmas events to plan for, endless gifts to wrap…hey, we've all been there!
Christmas anxiety is more common than you think. Can you believe that almost half of all women (44%) and a third of men (31%) feel more stressed during the holidays? Here's why Christmas overwhelm commonly happens in the first place:
1. Added work on top of an already booked schedule
I mean, it's already a struggle to juggle work, personal things, and other obligations in a normal month. Add the biggest holiday of the year to that mix and you're in for some trouble when it comes to balancing it all.
2. Serious FOMO (fear of missing out)
Imagine: you feel perfectly content with the amount of effort you put into your Christmas planning, reminding yourself that you've done enough…until…you see that influencer's picture-perfect Christmas living room decor.
Now you feel like you're missing out, like you could have bought nicer decorations, could've planned more…and so on. Cue the pressure setting in.
3. Gift guessing (and the $$$ involved)
I think we all know the feeling of having no idea what to get our friends and family for Christmas. What do they even like these days?
And with gifts comes spending more money than usual, making your monthly spending look out of control!
If you can relate, it's good that you at least recognize and admit your Christmas stresses. Now you know where to start tackling the root of your Christmas anxiety.
Click to finally create the self care plan that's personalized to YOU!
How Do I Stop Being Overwhelmed At Christmas?
There are three key things I want you to focus on when you tackle your Christmas overwhelm: prioritization, self-care, and the unconventional.
Prioritization – Don't get distracted by the holiday frenzy. Ask yourself, "what are my core priorities this Christmas?" As in, what activities do you want to reminisce about when you remember this Christmas? Drop the idea that you could always be doing more. Focus on what you personally care about!
Self-care – I know you may be eye-rolling me right now. "You think I have time for self-care during the holidays? I'm already drowning in responsibilities!" Thing is, when you're crazy busy, self-care is even MORE important! Or else you'll lose your mind. You can keep it short. Even 2 minutes of deep breathing or winding down for bed 30 minutes early can make a big difference, I promise!
Embracing the unconventional – traditions aren't rules. Wouldn't it be so much better to pick Christmas activities that suit your lifestyle? Swap expensive gift exchanges for a white elephant. Follow the mantra "less is more" when you decorate. There's no harm in keeping it simple!
The December Dilemma
As the year wraps up, it's normal to feel like you're scrambling for time! Just remember that the holiday season doesn't need to be picture-perfect.
Zoom out a bit and look at the big picture: what you value most, the Christmas memories you want to make, and the loved ones you get to spend time with. And do me a favor: do not neglect your self-care.
Shift your focus to what really matters, cut out the extras, and Christmas overwhelm will be a thing of the past!
More Christmas Cheer You'll Love
Christmas Traditions for Adults: 33 Festive Activities
50 Cozy Christmas Journal Prompts for Adults
50 Christmas Affirmations to Help You Through the Holidays
Holiday Self Care Checklist: 12 Days of Caring For Yourself
LIKE THESE TIPS ON CHRISTMAS OVERWHELM? PIN 'EM FOR LATER!