80 Healing Inner Child Quotes to Feel Validated
This post contains affiliate links and I may receive a small commission (at no extra cost to you) if you sign up or purchase products or services mentioned. Read the full disclosure here.
Last Updated on September 18, 2023
Addressing your unmet needs is a crucial step in healing your inner child. Chances are, if you're here reading this, you probably felt invalidated in some way as a child. Sitting down with your inner child, acknowledging them, and rekindling your connection to them is super important!
But…"where do I start?" you might ask.
Well, there's inner child journal prompts and even worksheets that help with this, but there's also quotes to resonate with! These healing inner child quotes are an eye-opening way to embrace your inner child, support them, nurture them, and bask in the childlike joy you deserve to feel.
Sometimes, we don't even know what it is we're feeling or experiencing until we find that perfect quote that sums it all up! I hope you can find that here.
What is the inner child?
Your inner child reflects the child you once were, including the messages you've picked up before you were able to emotionally process what was going on.
This inner child is/was very impressionable and, as you could imagine, is more susceptible to internalizing harmful messages and ideas about the world and themselves.
Things like trauma, at any age, can have a lasting impact on your behaviors even today. Your inner child represents all the good and bad you may have experienced in childhood. This means that you may have some childhood wounds that need addressing.
80 Powerful Heal Your Inner Child Quotes
If you want to validate your inner child, you're in the right place. These healing inner child quotes cover inner child trauma, embracing your inner child, prioritizing happiness, and even some funny inner child quotes to boost your spirits!
Inner Child Trauma Healing Quotes
"The untreated traumas of childhood become the frustrating dramas of adulthood." – David Richo
"The wound is not my fault. But the healing is my responsibility." – Marianne Williamson
"So much of the healing of our world begins in healing the inner child who rarely, if ever, got to come out and play." – Vince Gowmon.
"… I've promised my inner child that never again will I ever abandon myself for anything or anyone else again." – Wynonna Judd.
"Your inner child still needs to be loved in order to heal the complete self." – Karen A. Baquiran.
"They are not sorry for harming you. So, don't feel guilty for cutting them off." – John Mark Green
"Children who try to be good enough to win their parents' love have no way of knowing that unconditional love cannot be bought with conditional behavior." ― Lindsay C. Gibson
"Your inner child is waiting for a genuine, heartfelt apology." ― Yong Kang Chan
"How far you go in life depends on your being tender with the young, compassionate with the aged, sympathetic with the striving, and tolerant of the weak and strong. Because someday in life you will have been all of these." ― George Washington Carver
"The first step towards getting somewhere is to decide that you are not going to stay where you are."― J.P. Morgan
The process of reclaiming your wounded inner child is a forgiveness process. Forgiveness allows us to give as before. It heals the past and frees our energies for the present." — John Bradshaw
Inner Bonding is a process of connecting our Adult thoughts with our instinctual gut feelings, the feelings of our "Inner Child," so that we can live free of conflict within ourselves." — Margaret Paul
When our Inner Child feels consistently unloved by our Inner Adult, the Child's false beliefs, adopted in childhood when parents were unloving, are reinforced—beliefs that we are bad, wrong, unlovable, unimportant, inadequate, defective in some way." — Margaret Paul
"Healing your lost inner child wounding takes time, gentle care, and learning to love and embrace your wounded parts." – Robert Jackman
"It's very important to realize that the inner child is still there, caught in the past. We have to rescue him." – Thich Nhat Nanh
"We tend to think that all people who have a wounded inner child are nice, quiet, and long-suffering. But in fact, the wounded inner child is responsible for much of the violence and cruelty in the world." – John Bradshaw
"When you abandon your Inner Child, you don't take action to help yourself. Not taking action is avoiding responsibility." – Margaret Paul
"Caring for your inner child has a powerful and surprisingly quick result: Do it and the child heals." – Martha Beck
"When we honor our inner child's feelings, we release the emotional hurts that we're still subconsciously carrying around." – Patricia Hope
"You may have a more grown up body and more life experience but you are every bit as precious. Love yourself as if you are the most precious thing in the world. Because you are."
"When you have lost your joy, look for your inner child. Wake her from her long scared slumber, tell her it's safe to come out and play now. You've got her in your loving arms and no one can hurt her or leave her anymore."
RELATED: Trauma Healing Journal Prompts: 40 Prompts to Process Your Past
Want step-by-step help with healing your inner child?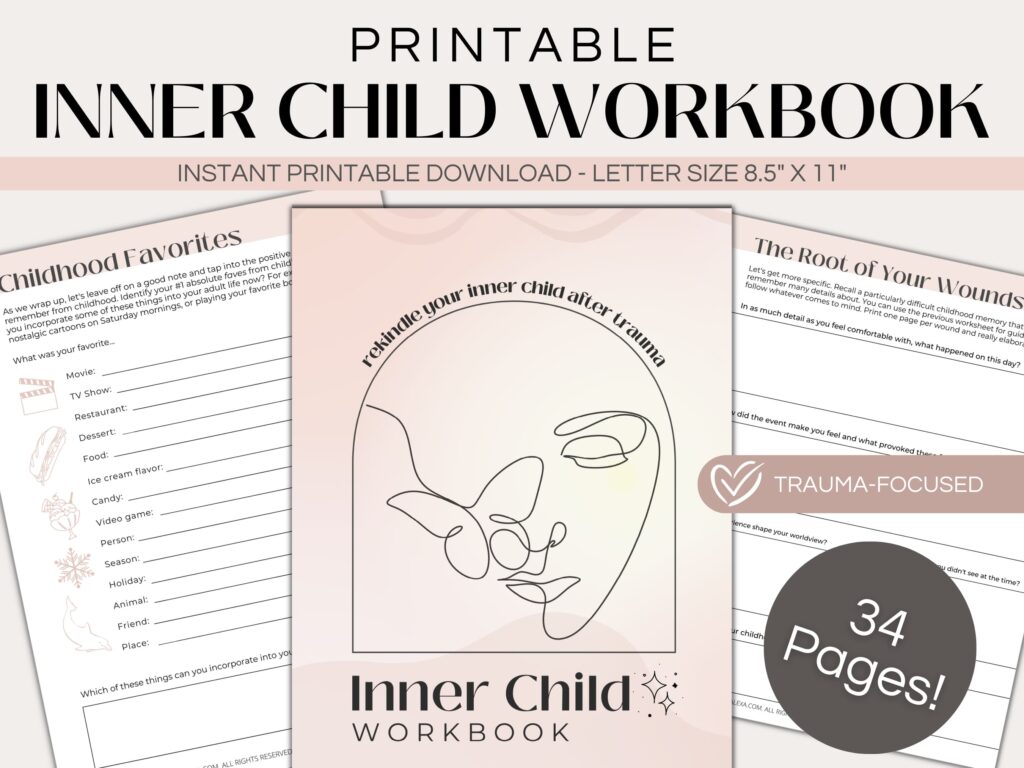 Feeling out of touch with your inner child? Been through a traumatic experience? My printable inner child journal PDF can help you give your inner child the love they deserve but didn't get.
This workbook will help you:
Embrace Your Inner Child Quotes
"We may never know exactly when or how this began, but if we acknowledge this little one, she will somehow know that we are listening to her." ― Bonnie Badenoch
"In my soul, I am still that small child who did not care about anything else but the beautiful colors of a rainbow." – Papiya Ghosh
"We nurture our creativity when we release our inner child." – Serina Hartwell.
"If by growing up you mean allowing the adult within me to abandon the child within me, I have no interest in such a horrid proposition. If instead you mean to let each enhance the other at the exclusion of neither, I have every interest." – Craig D. Lounsbrough
"Honor your inner child by losing yourself in simple pleasures." – Kim del Valle Walker
"It takes courage to grow up and become who you really are." ― E.E. Cummings
"Inner child work is essential. It's the essence of growth as a whole person." ― Cheryl Richardson
"I do not miss childhood, but I miss the way I took pleasure in small things, even as greater things crumbled." ― Neil Gaiman
"We not only need to have a deep respect for children; but also a deep respect for the child in everyone." ― C. JoyBell C.
"So, like a forgotten fire, a childhood can always flare up again within us." – Gaston Bachelard
"The most potent muse of all is our own inner child." – Stephen Nachmanovitch
"Don't forget to love her. The little girl you used to be. Perhaps she lies within you. Untucked. Sleeping peacefully." – Kiana Llanos
"What a distressing contrast there is between the radiant intelligence of the child and the feeble mentality of the average adult." – Sigmund Freud
"I love fantasy; I love imagination – that's the inner child in me." – Hannah John-Kamen
"Let us liberate ourselves from any form of control. Let us focus at the inner drum, where the rhythm aligns with that of our heart. The measure of responsibility, equals to the need for evolution. Just listen, the inner child, let it whisper in your ear." –Grigoris Deoudis
"Unleash your inner child, be a little wild." – Laura E. Brusseau
"You cannot see a tree as it grows. Only with time can you see it's progress." — Nicole Addison
"The most sophisticated people I've ever known had just one thing in common: they were all in touch with their inner children." – Jim Henson
"Great is the human who has not lost his childlike heart" – Mencius
RELATED: 20+ Inner Child Activities to Heal and Feel Alive
Inner Child Happiness Quotes
"See the world through the eyes of your inner child. The eyes that sparkle in awe and amazement as they see love, magic and mystery in the most ordinary things." – Henna Sohail
"The ever-curious inner child asks the vital questions, like, 'Why is this important' and, 'Will this make me happy?" – Beau Taplin
"Honor your inner child by losing yourself in simple pleasures." – Kim del Valle Walker
"When you feel a child inside of you springing to life, that's how you know you're where you should be." – C. JoyBell C
"Within us, all is a radiant inner child bathed in joy." – Amy Leigh Mercree
"A child's world is fresh and new and beautiful, full of wonder and excitement." – Rachel Carson
"The real you is still a little child who never grew up. Sometimes that little child comes out when you are…expressing yourself in some way. These are the happiest moments of your life – when the real you comes out, when you don't care about the past and you don't worry about the future. You are childlike." – Miguel Angel Ruiz
"You just have to surround yourself with the things that make you grateful to be alive." — Juansen Dizon, Warm
"You will be happy again, you will be more yourself than ever, you will understand your heart better when you heal, you will be whole, you will be okay."
"If you open your heart and become like a child, you will always be blissful, always content." – Dharma Mittra
"Be happy for no reason, like a child. If you are happy for a reason, you're in trouble, because the reason can be taken from you." – Deepak Chopra
"You'll never be bored when you try something new. There's really no limit to what you can do!" – Dr. Seuss
"The secret of genius is to carry the spirit of the child into old age which means never losing your enthusiasm." – Aldous Huxley
"Never underestimate the importance of having fun" – Randy Pausch
"All things in this world must be seen with youthful, hopeful eyes." – Henry David Thoreau
"What one loves in childhood stays in the heart forever." – Mary Jo Putney
"A playful path is the shortest road to happiness" – Bernie DeKoven
"Above all, never let age extinguish the fire of your inner child." – S. Ajna
"Be like a child and you will find more magic in the art and the architecture."
"Give yourself permission to act like a child – to view the world with wonder – to let your mind be free."
"The secret of genius is to carry the spirit of the child into old age which means never losing your enthusiasm." – Aldous Huxley
RELATED: 30+ Inner Child Worksheets for Healing and Happiness
Funny Inner Child Quotes
"Imagination is our inner-child and creativity, its playground." – Jaeda DeWalt
"The world doesn't have to lose it's magic just because you lost your pigtails." – Amber Scholl
"I'm happy to report that my inner child is still ageless." James Broughton
"I think my inner child wants to take over the world." – Mark Foster
"The child is in me still and sometimes not so still." – Fred Rogers
"No. No. I don't listen to anyone except my … inner child anyway." – Amy Winehouse
"My childhood may be over, but that doesn't mean playtime is." – Ron Olson
"Launching a startup is the time to find your ever-optimistic inner child again." – Alejandro Cremades
"Children have neither past nor future; they enjoy the present, which very few of us do." – Jean de la Bruyere
"One of the virtues of being very young is that you don't let the facts get in the way of your imagination." – Sam Levenson
"My quest these days is to find my long lost inner child, but I'm afraid if I do, I'll end up with food in my hair and way too in love with the cats." – Kenny Loggins
"Growing old is mandatory, but growing up is optional." – Walt Disney
"We don't stop playing because we grow old; we grow old because we stop playing" – George Bernard Shaw
"Children are happy because they don't have a file in their minds called "All The Things That Could Go Wrong"" – Marianne Williamson
"You were wild once. Don't let them tame you." – Isadora Duncan
"The secret of genius is to carry the spirit of the child into old age." – Aldous Huxley
"I am just a child who has never grown up. I still keep asking these 'how' and 'why' questions. Occasionally, I find an answer." – Stephen Hawking
"We're all five-year-olds. We don't know how to do this thing called life. Are you faking it?" – Byron Katie
"I don't plan before I color." – Wendy MacNaughton
Click here to get the journal that will transform your healing journey!
How do you heal your inner child?
Ultimately, most of your inner child healing will take place in therapy with a professional. (This was very true for me, and online therapy really changed my life as I began adulthood.) However, there are absolutely some self-care tools you can use on your own to aid in supporting your inner child.
Here are some things you can start doing today to heal your inner child, along with these inner child quotes:
Self-reflection. Thinking back to your earliest negative experiences in childhood is the best place to start. Think about your relationship with your parents, teachers, peers and how they've impacted you in any way.
Acknowledge. The tendency can be to push uncomfortable feelings away, but addressing your past traumas is essential for overcoming them. Journaling for your inner child is a great way to work through this.
Listen to your needs. What are some things you did not get in childhood that you're recognizing now as an adult? What does your inner child need most from you?
Make space for play and fun. Inner child healing is two parts: trauma healing and tapping into childlike joy. See how you can include ways to be silly, do the things you loved in childhood, and have fun!
What happens when you heal your inner child?
Healing your inner child is a step toward tapping into the vulnerable and impressionable part of yourself. You become more aware of your mindset, unhealthy thought patterns, negative behaviors, and the why behind the things you do.
So many of our negative thoughts and behavior patterns simply fly under the radar. We might not even realize what is negative or harmful to our mental health until the damage has been done. Inner child healing can help you become aware, so that you can then take action.
Taking action can mean processing past trauma, listening to yourself and validating your emotions, and overcoming negative core beliefs.
RELATED: Trauma Healing Journal Prompts: 40 Prompts to Process Your Past
Inner child healing can't be done without therapy. Let's make it affordable!
Quotes and affirmations can be a helpful coping tool, but you'll find the most benefit if you pair them with therapy. Talking to an online therapist can really help you out. It's helped me tremendously with my own trauma and inner child work. I always recommend Online Therapy because it's a comprehensive, effective online therapy toolkit at an affordable monthly cost. Get 20% off your first month with the link below!
What should I say to my wounded inner child?
Your inner child needs proper attention, recognition, and validation. Self-support and self-soothing are critical for tending to a wounded inner child.
Comforting reminders your wounded inner child needs to hear include…
"You are safe."
"You are whole."
"You are loved."
"You are SEEN and HEARD."
"Your feelings are valid, always."
"You are healing."
Inner child quotes + positive affirmations are an important part of a positive self-image and healthy headspace. They can help re-train your brain to choose positive self-talk over negative self talk. Here are even more inner child affirmations to add to your morning or night routine.
More Resources to Heal Your Inner Child
20+ Inner Child Activities to Heal and Feel Alive
75 Inner Child Affirmations to Heal Yourself From Within
30+ Inner Child Worksheets for Healing and Happiness
50 Influential Journal Prompts to Heal Your Inner Child
LIKE THESE HEALING INNER CHILD QUOTES? PIN THEM FOR LATER!