53 Anger Journal Prompts for the Release You've Needed
Last Updated on October 12, 2023
You know those days: nothing is going right, your friend made a snarky comment you can't stop thinking about, traffic during your commute was out of control, and to top it all off…you spill coffee on your white shirt. 😤
If anger feels like it throws your whole day off balance (and don't worry, we've all been there!), it doesn't have to be that way.
Catching yourself and rerouting your anger before it blows up in your face takes a little practice, but it feels much better.
Pouring your anger onto the pages of a journal can give you the release your mind so desperately needs. So, with your stress ball in hand, let's see how these anger journal prompts can take the edge off!
Should You Journal When Angry?
Rather than bottling it up or doing something harmful when you're angry, a journal is a safe, healthy, and great space to unleash those ragey feelings.
Anger can be an incredibly overwhelming sensation, which makes it difficult to fully grasp what exactly it is we're feeling. This is where journaling comes in! Journaling to reflect on your anger will help you understand it, work through it constructively, and ultimately identify the true root cause of it.
Benefits For Using Anger Journal Prompts To Manage Emotions
A better understanding of your triggers. Journaling will help you see the thought process behind your anger and what's causing it to spiral out of control. You have a private space to explore your triggers without any judgment or repercussions.
Healthy release of difficult emotions. Emotional expression is incredibly important for your overall mental health. Without it, frustrating emotions only pile up and become worse. Give yourself permission to feel your feelings and let it all out on the page!
Problem solving. When your thoughts and emotions stay jumbled up inside your head, it's hard to make sense of anything. By journaling, you can see a visual representation of these thoughts–making it easier to brainstorm next steps and solutions.
Stronger emotion regulation and control. Anger can make us feel out of control, especially when we don't know what to do with it. The catharsis you get from writing will take an edge off your tension, leaving you feeling calmer and more in control afterward.
What Do You Journal When You're Angry?
Think of this as the goal of anger journaling: to actively do something with your anger instead of letting it sit and make you feel bad.
Venting through written words helps you not only release negative emotions, but even reduce physical pain. Writing forces you to slow down and really process everything going on inside. This may help you see a frustrating situation in a new perspective.
So with that in mind, try these journaling ideas when you're angry:
Describe the way you're feeling in excruciating detail
Ask yourself what events, comments, or situations triggered the anger
Let your thoughts flow onto the paper completely unfiltered, no matter how intense
Describe the physical sensations you're experiencing as you feel through your anger
Reflect on your initial reaction to the anger (did you "snap" at someone? Throw things?)
Keep these ideas in mind as you go through the upcoming anger journal prompts in this post!
Finding Anger Management Hard? Here's 53 Prompts To Release Your Anger In A Healthy Way
Feeling in control of your anger ain't always easy, especially in the heat of the moment. These anger journal prompts will guide you through it, no matter how intense things feel! Whether you're trying to unleash repressed anger, explore the roots of your anger through shadow work prompts, or need to reflect on any resentment you're feeling, these journal prompts are here for you!
Don't forget about these anger journal prompts! Pin 'em to come back!
Journal Prompts For Repressed Anger
When was the last time you felt very angry, and what was the trigger?
Do you notice any patterns or recurring scenarios that usually make you angry?
What do you notice about your reactions when you're angry?
Are there any behaviors you do when you're angry that you're not happy about?
What physical sensations do you experience when you're angry? Where in your body do you notice these most?
If you had to name your top 5 annoyances that frustrate you on a regular basis, what would they be?
What are some of the negative effects of not expressing your anger in a healthy way?
How exactly do you cope with anger?
Is the way you cope with anger constructive or destructive?
Write a letter to the person or the situation that most recently made you angry (you don't need to send it.)
What do you think the potential long-term effects will be if you continue to hold onto anger?
What would life look like if you could manage your anger the way you want?
What do you feel is the difference between aggression and assertiveness?
How can you use assertiveness over aggression to address your needs?
Is there a creative activity you can pick up to help you release pent-up anger?
How can you use your strengths to face up to situations that trigger your anger, in a healthy way?
Can you remember a time where you expressed your anger in a way you were proud of? What did you do that was healthy?
Are there any negative core beliefs that contribute to your habit of repressing anger?
What is one actionable step you can take today to start addressing your repressed anger?
RELATED: 75 Inner Child Affirmations to Heal Yourself From Within
Little-Known Fact: Many Anger Issues in Adulthood Trace Back to Childhood. This Journal Will Help You Explore It!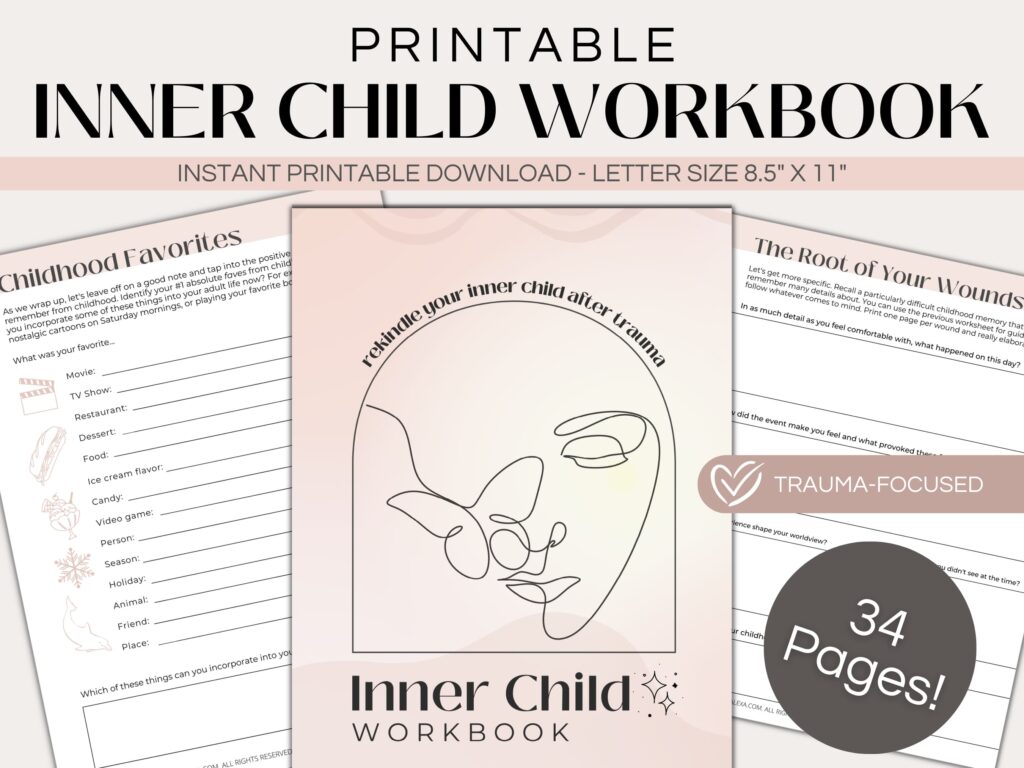 Feeling out of touch with your inner child? Been through a traumatic experience? My printable inner child journal PDF can help you give your inner child the love they deserve but didn't get.
This workbook will help you:
Shadow Work Prompts For Anger
Are there any childhood memories or negative experiences that have contributed to repressed anger?
What messages about anger did you receive from your family or environment while growing up? How have these influenced your thoughts and behaviors about anger?
Do you feel pressured to repress your anger? (For example, if you were taught that anger wasn't allowed?)
Think of a time you saw someone express their anger in a way you recognized was unhealthy or destructive. How did this impact you?
What would it feel like if you gave yourself unfiltered permission to feel and express your anger?
Reflect on a time where you wish you'd spoken up about something that made you angry, but didn't. What held you back?
Write a list of all the people or events that trigger your anger the most frequently. What do you think these triggers are saying about your unmet needs?
What is your default approach to anger? Do you tend to suppress it, let it out in an aggressive way, or avoid it completely?
Do you ever use your anger to mask certain vulnerabilities about yourself?
How do you notice anger showing up in your relationships? Are there any recurring patterns where you feel out of control?
How does the feeling of shame come up in your experience of anger? Does shame affect your ability to manage your anger?
Imagine your anger as if it were a character. If you had to confront this character, what would you ask it about the way that it handles the emotion of anger?
How can you channel your anger into something more productive or beneficial to yourself or others?
Do you struggle with forgiveness? How does your anger play a role in your ability to forgive those who have hurt you?
What impact does anger have on your feelings of self-worth? Do you think that low self-worth can contribute to suppressed anger?
Do you have a role model or an admirable person in your life who handles anger well? What can you learn from them?
Write a letter to your younger self giving them the guidance they needed but didn't receive when it comes to navigating anger and big emotions.
RELATED: Your Inner Teenager Needs Healing Too: 16 Proven Exercises To Do So
Journal Prompts For Resentment
Reflect on someone or something that you resent. What is it about them that triggers your resentment?
How long have you been carrying your resentment and how has it impacted you and your relationships with others?
Do you notice a specific pattern of behavior that created resentment?
What do you think your resentment is showing you about your boundaries and what you are willing to tolerate in relationships?
In what areas of your life do you think you could set and enforce healthier boundaries?
How can you show yourself compassion and grace when you're feeling angry or frustrated?
What are the costs or consequences of continuing to mismanage your anger and feelings of resentment?
In times of resentment, have you been able to communicate these feelings to the person involved? If not, what is making this difficult?
If you could have a completely unfiltered conversation with the person or situation you resent, write down what you would say and how you think they would realistically respond.
What story have you been telling yourself about the things or people you resent? How true do you believe this story really is?
If there's a specific person you resent, is there anything about them that could deserve empathy?
Reflect on a time where you were able to let go of resentment in the past. What enabled you to do so? Did you notice any mindset shifts?
What can you do in the future to communicate your needs and boundaries with assertiveness to prevent resentment?
What would it take for you to make peace with whatever is causing your resentment?
In what ways can you practice acceptance of the person or situation? This doesn't mean you need to tolerate them, the goal is to give yourself peace.
If you were to release your resentment, what would change in your life and in your relationships?
If you had to assess the situation objectively, do you have any personal responsibility in the situation that triggered your resentment? What could you have done differently?
RELATED: 30+ Inner Child Worksheets for Healing and Happiness
Anger Journal Examples
Anger can show up in so many different ways. Just about anything can be fair game to trigger your anger.
Remember, ultimately, that it is okay to feel anger. The feeling of anger in and of itself is not wrong. It is your reaction to the anger that may need some adjustments, which is exactly why we're using these anger journal prompts.
Here are some examples of specific topics to focus on in your anger journal.
Example #1: Being treated unfairly and feeling powerless about it
"I sacrifice so much to be the best friend I can be to Jessica, and in return she gives me so little!
Now that I find out she has lied to me about being busy when in reality she's hanging out with her other friend Sarah, it's unfair that she gives so much more attention to Sarah instead of me. I'm so mad that she doesn't value our friendship the same way I do, but I feel powerless knowing that I can't make her prioritize me over Sarah.
While it's true that I can't change the feelings and behaviors of others, I can at least take action by confronting Jessica about my feelings so that she is aware of how I feel. From there, she might be able to explain herself and we may come to a better understanding."
Example #2: Venting and reflecting immediately after an anger trigger
"While I was out driving 20 minutes ago, this car thought it would be okay to zip by me, nearly crashing into me as they went way over the speed limit!
I was so angry and scared that I almost felt like I was going to have a heart attack! It pisses me off that some people have no consideration for what their dangerous driving habits can cause. I laid on the horn and I am still fuming about it, wishing I could have done even more.
While I'm still shaken up from it, I realized that the real reason this was so triggering was because of how overwhelmed I've been feeling with work and my life in general. Maybe this was a wake up call to manage my stress better so that small things like this don't affect my whole day."
Example #3: Exploring anger from childhood
"I just remembered an upsetting childhood memory. Every time I came to my mom about a problem I was facing, she would always find some way to blame me even if I was 100% the victim in the situation.
It made me feel like I had no support from the person who was supposed to support me unconditionally. In the moment, I remember feeling misunderstood and alone.
Now that I look back, I'm so angry that my mom couldn't put her personal opinions aside to validate me, reminding me that bad things may happen through no fault of my own. Because of my mom's response, I find myself being passive, untrusting, and afraid of conflict.
I allow myself to feel all the anger I need about this situation, but I will also work on overcoming my fears of leaning on others for emotional support."
Click here to get the journal that will transform your healing journey!
The Big Takeaway on These Anger Journal Prompts
No matter what aspect of anger you choose to explore, these anger journal prompts and examples can guide you through the difficult feelings we all face.
Not everyone was taught the coping skills necessary to manage their anger in a healthy way. If you struggle to manage your anger, you're not alone.
But because you're here, that already means that you're working on addressing your struggles! Give these journal prompts a try, see what reveals itself to you, and give yourself the compassion and patience you deserve as you walk through the anger management process.
This is one powerful example of what it means to reparent yourself, and by doing so, you are on the right track toward healing and peace.
More Journal Prompts for Your Healing Journey
Trauma Healing Journal Prompts: 40 Prompts to Process Your Past
80 Insightful Inner Child Journal Prompts to Self-Heal
60 Breakup Journal Prompts to Soothe a Broken Heart
40 Journal Prompts to Help You Process Your Emotions
LIKE THESE ANGER JOURNAL PROMPTS? PIN 'EM FOR LATER!