75 Inner Child Affirmations to Heal Yourself From Within
This post contains affiliate links and I may receive a small commission (at no extra cost to you) if you sign up or purchase products or services mentioned. Read the full disclosure here.
Last Updated on January 15, 2023
Whether you've been through something as serious as childhood trauma, or just had a not-so-pleasant childhood experience, healing your inner child can help you find peace after dark times.
Reprogramming your inner child isn't a simple process. It's usually a lifelong endeavor that can leave you feeling frustrated, exhausted, and upset.
But with the help of resources like good therapists, positive coping strategies, and these inner child affirmations, you can provide yourself with the support you need to heal, grow, and thrive.
In this post, you'll find uplifting mantras for the inner child, affirmations for childhood trauma, PLUS inner child affirmation cards to print out and add as a tangible reminder of inner child strength.
What are affirmations?
Affirmations are positive statements used to reframe your negative self-talk into positive self-talk. With enough practice, they really do work to re-train your brain to adapt an overall positive mindset.
Be honest, can you relate to any of the following pieces of negative self-talk?
Commonly Used Negative Inner Child Affirmations:
"I'm not good enough."
"I'm too different from everyone else."
"I'm too complicated."
"I'm not worthy of love."
"I'm too much to handle."
If any of these ring a bell, you likely have some healing to do. Healing is never a smooth, linear journey, but every small step counts. The positive inner child affirmations you'll learn from this post are a fantastic step in the right direction to healing your inner child.
What affirmations should you say to your inner child?
So then, what should you say to your inner child to work toward healing him/her? Here are some quick ideas for reassuring, supportive affirmations you can start practicing today!
"I'm safe/protected."
"Everyday is one day closer to healing."
"I am worthy of all good things, including love and care."
"I am important."
"I am happy to have made it this far."
"I am doing a great job."
This post features 75 inner child affirmations, so make sure you read through the full list in this post to identify which affirmations are best suited to your own healing journey! We all have different needs, and therefore different statements that resonate best with us.
How do I reprogram my inner child?
If reprogramming your inner child was a cut-and-dry process, I wouldn't be here writing this and you wouldn't be here reading this!
As simple as I wish healing your inner child was, it's anything but. However, there are some actions you can take that support you in your progress toward a happy inner child.
Be open to acknowledging your past and its effects on you – it can be extremely challenging to face the past. But identifying what has caused you harm and how it manifests today is the first step in the healing process.
Make time for self-reflection – regular self-reflection, like through journaling, is a great way to deep-dive into your past and check in with yourself.
Reach out and confide in your support system – having a trusted friend or family member you can confide in about your trauma, anxiety, or any other negative feelings is a must. This allows you to express yourself and feel heard.
Try a spiritual practice, like meditation – your spiritual wellness actually contributes to your overall well-being! Give meditation, prayer, or anything else that resonates with you a try and see how you feel.
If you're ready to take the first step in restructuring your self-image, let's jump into these inner child affirmations!
75 Affirmations for the Inner Child to Heal From Within
Working on healing from childhood trauma or other negative experiences? These inner child affirmations (trauma affirmations included!) are exactly what you need to hear to support yourself along the way!
Mantras for the Inner Child
Healing is possible.
I don't owe anything to anyone but myself.
The past does not need to dictate the future of my life.
I hold the power to heal and thrive.
I forgive my younger self.
I am validating the pain I experienced in my childhood.
I will always listen to the voice of my inner child.
I am doing the best I can with the resources I have.
No matter where I came from, I have abundant potential.
I hold the power in my adult life to re-parent myself.
I have far more control over my adult life and that feeling is freeing.
I will forgive others that wronged me in my past (so that I can let go and live!)
I inhale safety and protection and exhale fear and uncertainty.
My child self would be proud of me.
I honor my childhood self.
My inner child is happy and free.
I am allowed to set boundaries with my parents and other authority figures in my life.
I get to put myself first.
I am able to create a safe and welcoming environment for myself now.
I feel comfortable accepting compliments.
I am worthy of love and good treatment.
I have no problem cutting people off who treat me unwell.
I will always acknowledge my inner child.
I will spend time nurturing my inner child.
I give my inner child kindness, compassion, and hope.
RELATED: 50 Influential Journal Prompts to Heal Your Inner Child
Want step-by-step guidance to heal your inner child?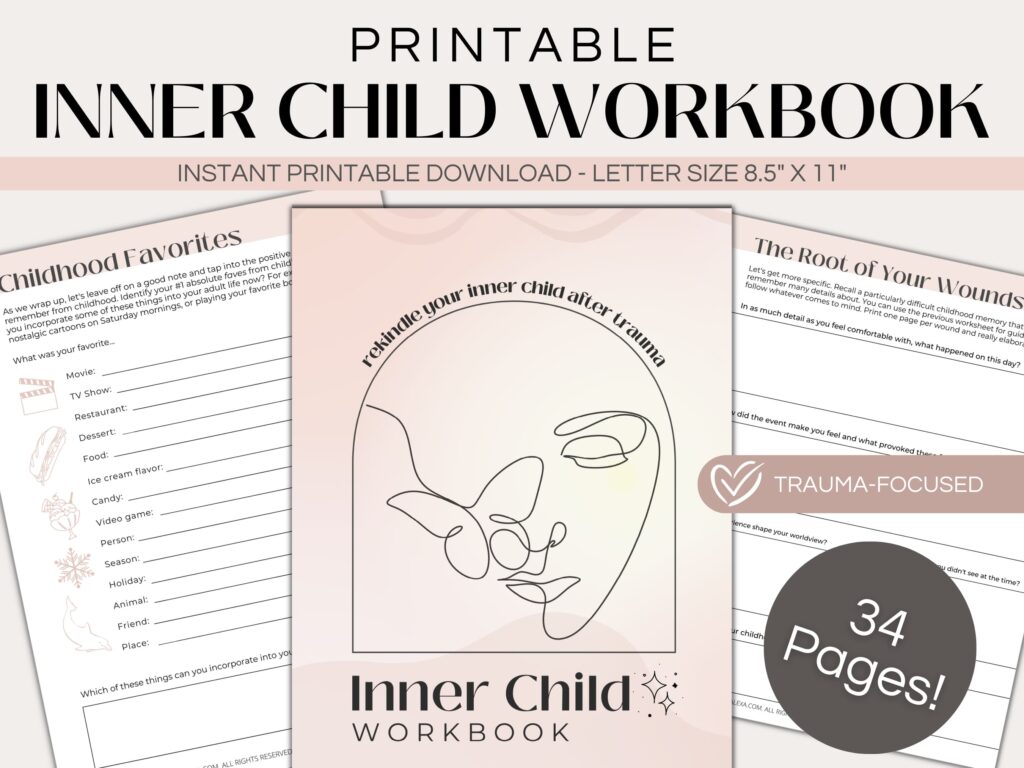 Feeling out of touch with your inner child? Been through a traumatic experience? My printable inner child journal PDF can help you give your inner child the love they deserve but didn't get.
This workbook will help you:
Positive Affirmations for Childhood Trauma
I am able to break the cycle of trauma.
My experiences of trauma won't hold me back in life.
Each new day is a new step forward.
I respect and honor my inner child's needs.
I am giving my inner child a voice.
Staying in touch with my inner child helps me find better alignment in my life.
My inner child is heard.
I am able to accept my childhood trauma so that I can move forward.
I am not alone.
I am letting go of any feelings of isolation.
I am whole and complete.
I am able to lead a functional, happy, and fulfilling life regardless of my past.
I am supported and taken care of.
I feel safe in getting to express myself.
I do not judge my childhood self.
I am allowing myself to love and be loved.
I am my own hero.
I trust myself to always have my best interest at heart.
I am not a burden.
My communication is open with my inner child.
I am processing my childhood trauma in the best way I know how.
It's okay if my healing journey is a work in progress.
It's okay not to be okay.
I deserve to flourish.
Expressing vulnerability is only human.
RELATED: Trauma Healing Journal Prompts: 40 Prompts to Process Your Emotions
Inner Child Statements
I am allowed to reach out for support.
I won't be afraid of my own voice.
I choose myself every day.
Everything I've experienced in my past has led me to where I am today.
I am my own safe space.
Everything I feel is valid.
I am not overreacting. It is normal to have a strong response to a heavy experience.
Each day, I feel a little bit lighter.
I am allowed to make mistakes.
I am allowed to march to the beat of my own drum.
I am allowed to create a life I want to live.
I love and accept myself unconditionally.
I don't have to earn my own love.
I respect myself immensely.
I am proud of how far I've come.
I am making it out alive.
I can get through hard things.
I remind myself that suffering is only temporary.
I make ongoing strides toward healing.
I won't apologize for who I am.
All I need is my own approval.
My thoughts and feelings are valuable.
I commit to making myself a priority.
Everything I do, I do for my childhood self.
I give myself someone to rely on.
RELATED: 50 Therapeutic Journal Prompts for Emotional Healing
Affirmations are a helpful coping tool, but you'll find the most benefit if you pair them with therapy. Talking to an online therapist can really help you out. It's helped me tremendously with my own trauma. I always recommend Online Therapy because it's a comprehensive, effective online therapy toolkit at an affordable monthly cost. Get 20% off your first month with the link below!
Inner Child Affirmation Cards (PDF!)
How to Correctly Use Affirmations
Now that you have all these inner child affirmations to choose from, here's how to slowly incorporate them into your everyday routine for the best results!
1. Identify negative thoughts you want to overcome
With so many affirmations you could use, you want to make sure they're actually targeting negative thoughts you already have. Take some time to jot down some negative thoughts you struggle with, as this will guide you in choosing the right affirmations.
2. Pick just 3-5 inner child affirmations that counter your negative thoughts
Although this list of inner child affirmations is pretty long, you'll want to keep it simple by choosing just 3-5 of them to commit to. Don't overwhelm yourself! Even if you think you have a lot to work on, take it one step at a time.
3. Repetition, repetition, repetition!
Repeating your affirmations regularly will allow you to reap the most benefit. Doing them just here and there when you think about it won't give your brain the consistent practice it needs to adapt to a more positive mindset.
Plan to speak, read, or write your affirmations every day, ideally at the same time everyday to make the habit stick!
4. Remember that your affirmations are just one piece of your healing puzzle
Affirmations are awesome and super helpful to use, but they are only one activity of several that contribute to your healing process.
I always suggest keeping a journal (here's some journal prompts to heal your inner child!) as well as going to therapy.
Friendly Reminder: if you are struggling with something as serious as trauma, please reach out to a therapist. These affirmations can be a stepping stone, but they cannot replace essential help from a professional who can guide you through your trauma.
If you're in need of this resource, I recommend checking out Online Therapy with my link for 20% off your first month to make it more accessible.
More Resources for Inner Child Work
50 Influential Journal Prompts to Heal Your Inner Child
Trauma Healing Journal Prompts: 40 Prompts to Process Your Emotions
70 Spiritual Self Love Affirmations for a More Hopeful Outlook
50 Therapeutic Journal Prompts for Emotional Healing
LIKE THESE INNER CHILD AFFIRMATIONS? PIN THEM FOR LATER!