30+ Inner Child Worksheets for Healing and Happiness
This post contains affiliate links and I may receive a small commission (at no extra cost to you) if you sign up or purchase products or services mentioned. Read the full disclosure here.
Last Updated on September 6, 2023
Coming out of childhood unwounded is outside of your control. We can't choose our parents, we can't choose our environments, and we can't dictate what we let in and out of our lives as kids.
Your childhood might have ranged anywhere from "just fine" to "eh" or even "god awful." Whatever the case may be, a lasting emotional response from a distressing childhood event is more common than you think. This lasting emotional response is considered trauma.
Sometimes, you might not even recognize the damage that has been done until you really process and assess it all. I know that was the case for me.
That's what these inner child worksheets for adults are here to help you do. This 34-page inner child workbook is JAM PACKED with a huuuge variety of inner child exercises to better understand your childhood, the impact it's had on you, and what you can do about it today.
This post is all about how my inner child worksheets (PDF) can help you reparent yourself by identifying and processing trauma you may have picked up as a child.
First Off: Who Is Your Inner Child?
In simple terms, your inner child is the child you once were–negative and positive traits included.
It is an expression of your childhood self. When well-nurtured, it is the free-spirited representation of you that experiences life through a childlike lens. Your inner child is always within you, but as you get wrapped up in the busy world of adult life, it's no surprise that you might not have spent much time connecting with it.
The first five years of your life make a great impact on the development of your "right brain," which is the part of your brain responsible for your emotions. You can think of this development almost like the origin of your inner child.
How Do I Know If My Inner Child Needs Healing?
If you really dissect your childhood, no matter who you are, you likely experienced some type of negative experience you still think about today. This could be bullying, public humiliation, harsh parents or teachers, a threat to your safety, etc., just to name a few.
Trauma is an experience that is more common than you think. In fact, 61% of adults have had at least one adverse childhood experience (ACE). That's huge!
So with that knowledge in mind, it's pretty likely that your inner child is in need of healing.
Some Signs of an Inner Child In Need of Healing Include:
You feel hypersensitive to emotions, constructive criticism, and negative situations.
You're a chronic people pleaser, even if it means sacrificing yourself.
You seek heavy validation through your achievements, productivity, or work. Often, your worth is tied to these things.
You feel numb or avoidant of your feelings.
You're anti-confrontational, avoiding conflict like the plague.
You find it difficult to set and stick to boundaries in relationships, whether that's familial, friends, or romantic relationships.
My inner child worksheets bring many of these aspects to light. The inner child workbook is designed to guide you through addressing the roots of your potentially wounded inner child, and you may find that many of these aspects come up.
What is Reparenting Your Inner Child?
Reparenting your inner child means working to unlearn the harmful ideas or behaviors you were taught in your childhood. Your inner child deserves to be seen, heard, and loved. If that didn't happen for you as a child, now is the time to take charge of it all.
This means being raw, honest, and vulnerable with yourself. It's validating yourself by affirming that all of your struggles, feelings, and hardships are real. This also builds a strong relationship between your adult self and your inner child!
Some ways you can work to reparent your inner child include:
Acknowledging your inner child and what it needs from you. If you're unsure what your inner child needs in the first place, these inner child worksheets will guide you through ALL of that!
Affirm and validate. Even something as simple as speaking affirmations for the inner child to yourself, like "I am safe," "I am whole," and "I am worthy" can do a lot for your mindset and healing.
Making decisions based on your authentic self. Rather than letting your parents or others sway your decisions, stick to what you value. You are steering the wheel of your life!
Using meditation to become more in tune with yourself – when you have a history of childhood trauma, meditation can be essential in calming the fight-or-flight response that never seems to settle.
Get back in touch with play. Making time for activities you loved in childhood is important. Maybe this is baking cupcakes, watching cartoons, playing board games, or anything else you loved. This is a great break from the busy duties of adult life, too.
There are worksheets in the inner child journal that are dedicated specifically to helping you with each of these!
Let's dive into what you'll find in the printable inner child workbook!
While this workbook includes 34 pages, I will only be highlighting some select pages in this blog post to give you an idea of what to expect from these inner child exercises!
Disclaimer: I, Alexa Davis, founder of Ambitiously Alexa, am not a licensed psychologist, counselor, physician, or therapist, nor am I claiming to heal, treat, cure, or prevent any psychological/emotional/medical conditions. This workbook is not meant to substitute or serve as therapy, professional medical advice, treatment or any diagnostic measure or tool. If you're not sure if this is right for you, show it to your therapist. This is only meant to be used as a helpful guide. (The most I have is a B.A. in Psychology, so I'm not able to do anything fancy here!)
Wounded Inner Child Questionnaire
First things first: let's start from the very beginning. The inner child worksheets start off with 3 pages that you can think of as a bit of a wounded inner child questionnaire.
Back to the Beginning – this is your space to brainstorm the first memories you can recall where you felt ashamed, hurt, abandoned, embarrassed, or uncomfortable.
The Root of Your Wounds – here, you can deep-dive into some of those early memories by analyzing the details, your feelings, and anything you now realize about what happened
Hardest of All Hardships – is there a memory that really stands out as especially painful? Reflect on how it felt and your thoughts on the event from a now-adult perspective.
As this inner child journal is trauma-focused, it's important to recognize the events in your childhood that impacted you in any way. These events can explain a lot about how you think, act, and navigate the world around you. This insight will help you as you progress through the inner child worksheets.
Inner Child Healing Questions
After you've identified the roots of your earliest childhood memories, it's time to expand on them and pave your way forward. The inner child healing questions featured on these 3 pages will help you…
Dissect the times you felt hurt/betrayed, allowing you to release the emotions you've been holding onto about it
Plan out the obstacles you'd like to overcome, such as what you still need to process and unpack, as well as negative messages that need unlearning
Reflect on who you were told to be, especially if it was inauthentic to the person you really are. You'll get space to proudly exclaim the real you!
This section of the inner child workbook will open up A LOT of invaluable realizations for you. This may be the very first time you recognize that you were given negative or harmful messages that threaten your sense of self.
But the good news is: now is your chance to claim your truest self and be unapologetically you! You get to take the reins this time.
Snag ALL of the inner child worksheets right here.
Inner Child Exercises
You've answered some really thought-provoking and insightful inner child healing questions. With that insight under your belt, it's time to work your brain and try these inner child exercises.
This is where you get to take even more control over yourself and your life. You also get to connect the dots between your origins and your present-day thoughts and behaviors! You'll get the chance to…
Rewrite your past in a way that lets you put a stop to an adverse childhood experience. Now that you're an adult with a voice and the ability to exercise your boundaries, how would you step in to protect child-you? This practice is highly empowering.
Discover why you do the things you do. Human behavior is a fascinating thing. You'll be surprised at the connections you can make between what you internalized as a young child and what you do now.
Challenge your inner critic by reframing a negative thought or belief into something more positive or rational. (i.e: you feel like others are judging you for dressing a certain way. Through this exercise, you might realize that others are likely not judging you, and that maybe your parents' criticism of the way you dressed is what created this insecurity.)
Inner Child Worksheets PDF: Your Home Life and Family
Inevitably, you can't process your childhood without assessing all parts of it. Your home environment and parents included.
You may have heard of "nature vs. nurture" which is a debate on how much of a person's characteristics are due to biology, like genetics, and how much is due to life experience and environment.
"Nurture" (AKA environment and lived experience) play a huuuge role in your coping habits and mental health. So we're making sure not to overlook that in these inner child worksheets! Take a moment to consider…
Your childhood home. What did you experience in your home environment? Many people report things like yelling, screaming, fighting. Feeling belittled, being unsafe, being a victim of poverty, and the list unfortunately goes on.
The relationship with your parents then vs. now. Were you close with your parents? Did you tell them more than you wished you had? Do you now, as an adult, enforce stronger boundaries with them? These are all questions to think about.
The secrets your parents kept. This is something I don't see talked about in many inner child worksheets, but it's important to reflect on. These could be things your parents hid from you or from the public. It may have been something you thought nothing of as a child, but now you realize the harm behind it.
What Your Inner Child Needs To Hear
For anyone trying to heal their inner child, the most important priority is to make your inner child feel validated and heard. These two worksheets focus on exactly that, giving you the chance to offer your inner child words of comfort, encouragement, and appreciation.
Knowing what your inner child needs to hear is a suuuper important self-soothing strategy. Strengthening your self-soothing skills with this exercise can better equip you to regulate your stress and anxiety, which in turn is necessary for trauma healing.
These worksheets allow you the space to focus on affirmations for the inner child.
Liking it so far? Get yourself the FULL inner child workbook right here!
Inner Child Play: What Are Some Inner Child Activities?
Identifying good, wholesome inner child activities is the best way to get back in touch with fun, play, and childlike wonder!
As you approach the end of the inner child worksheets, you'll be met with this section focused entirely on fun and enjoyment. So far, these inner child worksheets have been quite heavy, which is necessary for the real work to be done.
But of course, to heal your inner child in the most well-rounded way, you want to focus on processing your trauma and exploring activities that make you feel happy and free!
So, major takeaway: rekindling your inner child involves working through past trauma and exploring play and fun again.
I have a whole post on ideas for inner child activities that you can start implementing right now! You can use that post for inspiration to help you fill out these Childhood Favorites and Back In Touch With Fun worksheets.
Inner Child Journal: Your Self Care Plan
I'm all about making a plan AND making sure that plan is put into action. Self care is immensely important when dealing with anything mental health-related, so you'll get to walk away from this inner child journal with a solid self care plan in place!
Because there's so many areas of your life to practice self care in, I've helped you break things down category-by-category in the Self Care Everywhere worksheet.
Some self care activities probably sound pretty obvious, like getting exercise for your physical health or going to therapy for your mental health. But there's so much more than just that. Practicing balance and healthy habits in each area of your life will aid in the best success.
The Self Care Plan worksheet helps you not only identify self-care activities when you're in a time crunch, or stressed, or anything else that may deter you, but you also get to specify WHEN you'll make time for self care to happen.
Brainstorming some of the potential obstacles is also useful when setting any type of goal, habit, or lifestyle change.
Side note: If you're interested in getting serious about your goals in any area of your life, you would also love my printable goal planner! It breaks your goals and habits down to the most micro-granular details to ensure that you'll actually achieve those goals.
The Inner Child Workbook is available to buy right here!
Inner Child Workbook
All in all, this inner child workbook really packs a punch! It covers so many mega-important aspects of rekindling your inner child.
This goal of rekindling your inner child is no easy feat, but my goal is to equip you as best as I can while bringing awareness to your inner child and what it may need from you.
As always, remember not to put too much pressure on yourself to do this all on your own. Inner child healing will require a whole toolbox of resources and support that no one-workbook can provide.
That said, this inner child journal will get you started in the right direction by teaching you helpful skills to self-regulate, understand your past, and come to terms with it. I certainly hope you enjoy it, and you can grab the FULL inner child workbook right here!
For Best Results: Work With A Therapist
While this inner child workbook is a GREAT first step toward inner child healing and processing trauma, this alone is not enough. These goals require a lot of work to accomplish, and this can't always be done on your own.
In my own journey with overcoming childhood trauma, therapy has given me some serious guidance that I needed to persevere and finally see real progress.
If overcoming your trauma and nurturing your inner child is something you really care about, I cannot recommend therapy enough.
Your best solution? Online Therapy. Not only are you paired with a licensed, effective therapist, but you actuallyyyy get a complete mental health toolbox!
You get:
1 live 45-minute/week video, voice, or text chat session with your therapist
Unlimited messaging
8 easy-to-follow sections, including 25 worksheets
Activity plan, worksheets geared to you, + a journal
Yoga and meditation videos
The ability to change therapists with a click of a button
Therapy on a secure and confidential platform from the comfort of home
Get yourself the support you need to heal your inner child and don't do it alone! You can get 20% off your first month at Online Therapy with my link below.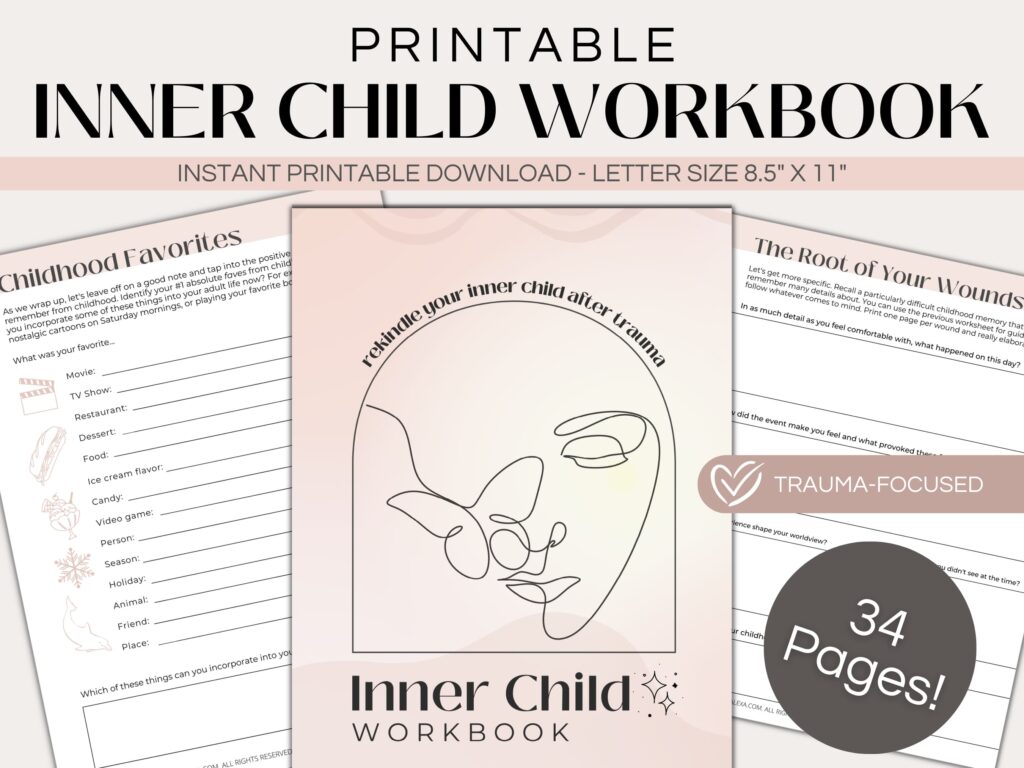 Feeling out of touch with your inner child? Been through a traumatic experience? My printable inner child journal PDF can help you give your inner child the love they deserve but didn't get.
This workbook will help you:
FAQ About Inner Child Work
Why reparent your inner child?
The psychological concept of "reparenting" your inner child can help address unresolved, and even unknown, trauma. When you heal and nurture yourself as if you were nurturing your child self, you give yourself the emotional support you've been yearning for.
Benefits of healing your inner child
Identifying and addressing past wounds – unfortunately, many of us endured negative childhood experiences and unmet needs. This is your opportunity to provide the care, love, and support you may not have received. You might not even be aware of the trauma you have in the first place. Reparenting can often bring many of these events to light.
Improved emotion regulation – the foundation of our emotional responses begin in childhood. If you weren't taught how to cope with your emotions, regulating them in adulthood can feel impossible. Reparenting allows you the chance to develop healthier ways to feel and manage your emotions.
You learn to feel safe again – trauma often causes a long-lasting sense of anxiety, with your body unable to recognize that the threat is no longer present! When you better understand your needs and tend to them, you cultivate the much-needed feeling of security and reassurance.
Restructuring your self-talk habits – if your inner dialogue is often negative and shameful, reparenting can re-shape your self-talk to be nurturing and supportive. The more you practice positive self-talk, the more it becomes second nature!
How does understanding your inner child help past trauma?
With self-awareness comes clarity of your vulnerability. Identifying the vulnerable aspects of yourself, especially after you've likely suppressed them, is a crucial step forward in the healing process.
When you deep-dive into understanding your inner child, you may be surprised at what comes up. Things like your triggers, unresolved emotions, difficult memories, and negative beliefs will all come up.
And although these are difficult to think about at first, this will help you finally begin processing your past trauma. Without processing, these experiences and their impact won't just vanish.
The residual effects of trauma stay bottled up until you can unpack them, acknowledge them, and nurture yourself in overcoming them.
This is best done alongside the support of a licensed therapist or mental health professional. But there are steps you can take, at your own pace, to connect with your inner child after trauma.
How do childhood experiences shape our adult behaviors?
Childhood experiences create the groundwork for our adult behaviors, beliefs, and even our brain chemistry. This is why childhood is called "the formative years" after all.
Childhood experiences can shape your…
Attachment patterns in relationships
Core beliefs about yourself and the world
Ability to emotionally regulate yourself
Coping mechanisms in times of stress
Self-identity and confidence
Ability to trust others and feel safe in your environment
For example, if you had an anxious mother who could not regulate her own emotions enough to help you figure out your own, this can create emotional dysregulation in adulthood.
Your mom interacting with you anxiously can also impact your attachment style, causing you to pick up a more anxious attachment style in future relationships.
Aaaand, it can even affect your self-identity. If all you've ever known was anxiety, it's difficult to label yourself as anything other than an "anxious person."
How can you do your own inner child work?
It is possible to do inner child work on your own, but keep in mind that with something as serious as trauma, you are better off working on this under the care of a professional.
But if you feel ready to do what you can to understand your inner child, it can be deeply healing and transformative!
You can practice inner child work on your own by self-reflecting on childhood experiences, identifying the intense emotions and unmet needs of your child self, and challenging negative beliefs as you trace their origins.
Get the Full Workbook of Inner Child Healing Exercises PDF!
Click here to get the journal that will transform your healing journey!
More Inner Child Healing You'll Love
50 Influential Journal Prompts to Heal Your Inner Child
75 Inner Child Affirmations to Heal Yourself From Within
20+ Inner Child Activities to Heal and Feel Alive
101 Self Reflection Questions You Need to Be Asking Yourself
LIKE THESE INNER CHILD WORKSHEETS? PIN THEM FOR LATER!