80 Insightful Inner Child Journal Prompts to Self-Heal
This post contains affiliate links and I may receive a small commission (at no extra cost to you) if you sign up or purchase products or services mentioned. Read the full disclosure here.
Last Updated on September 18, 2023
Could your inner child use some support? These inner child journal prompts will provide you with the ultimate inner child journaling guide you need to thrive!
When you're at a low, do you…
Find your mind wandering back to memories as a child when you felt stressed, anxious, or negative?
Catch yourself in the middle of an emotional breakdown, wondering where all those pent-up feelings came from?
It's very possible that your "inner child" could use some comfort and support. Even if you had a relatively healthy and supportive childhood, you may have undergone something that has impacted the way you feel and think as an adult.
Ever had embarrassing memories at school? Times where you felt scared of something? Friends who made you feel left out? Yup, even these can contribute to an inner child in need of healing, even though most of us can relate to these very common experiences.
While these events may be "common," the feelings we had during those times can absolutely have a greater impact on us than we think. Some children may internalize these experiences, and therefore their thought processes have been shaped in a certain way into adulthood.
That's where these inner child writing exercises come in. Journaling is a powerful and effective way to connect with your inner child and work through any negative feelings still festering in your unconscious mind. Let's dive in and see how!
What is your inner child?
If you're scratching your head and asking yourself, "what's an inner child?" I'll explain. Your inner child is a representation of the emotional and psychological elements from your childhood that continue to impact you into adulthood.
In simpler terms, "inner child" is an expression for the childlike side of you. This includes experiencing childlike joy, being silly, and making time for fun and play. But that's just one part of what your inner child is all about. Truly, it runs deeper than that.
In this post, we're going to be focusing on how to do the hard work (the inner child work) necessary to heal from negative experiences, through journaling. The goal is to tap into your unconscious mind so you can process events, emotions, and trauma that may have occurred throughout your childhood. These inner child journal prompts are focused on digging deep and addressing the past. Especially in how your childhood continues to influence your beliefs, emotions, and behaviors even today.
What is inner child healing and why is it important?
Inner child healing is going back to early wounds, emotions, and potential trauma from your childhood and unpacking them without judgment. It will help you revisit the negative experiences from the most formative years of your life. Not in a way that causes you further stress, but for doing the necessary work to create a safe space for your adult mind.
We often suppress so much of what we endured in childhood, especially in our busy adult lives. But just because we feel like it isn't affecting us today doesn't mean that's true. This is why paying attention to your inner child's healing is so important.
It's important to take a step back and assess the upbringing, social environment, authoritative influences, cultural values, and life events you faced during your childhood.
These all have a great impact on how you've formed into the adult you are today. This information is crucial to analyze, and one of the best ways to do so is through inner child journal prompts.
Healing your inner child also goes hand in hand with shadow work–which is working with your unconscious mind to uncover parts of yourself you may be suppressing. You can try my shadow work journal prompts to further explore your unconscious thoughts.
80 Journal Prompts for Healing a Wounded Inner Child
If facing your childhood trauma is a struggle for you, these inner child journal prompts will give you the support you need to process the past. Think of it as your inner child journaling guide! These prompts cover childhood trauma, inner child triggers, identifying unmet needs, and self care for your inner child wounds.
Don't lose these journal prompts! Pin them for later!
What questions should I ask my inner child?
Thinking about your inner child right now, what is he/she feeling currently?
As a child, was there anything you felt deprived of?
Did you ever feel like your peers had something you didn't?
Did you feel like you had more going on in your life than your peers?
What is your inner child most afraid of?
In what way does your inner child need support right now?
What was a quality or personality trait you had during childhood that you wish you still had?
In what ways are your mindset and thought processes impacted today by what you experienced as a child?
What happened in your childhood that you didn't realize would have an impact on you at the time, but currently affects you?
How do you feel about the way your parents raised you?
INNER CHILD SHADOW WORK PROMPTS: 20 Shadow Work Journal Prompts for Healing and Self-Awareness
What was the most helpful thing your parents did while raising you?
What was the most harmful thing your parents did while raising you?
If you had to choose one word to describe your childhood, what would it be?
Was your childhood mostly stable or unstable? How so?
Which parts of your personality as a child were you told to hide? How does that make you feel now?
What is one thing you wish you could change about your childhood?
What is your worst memory from school?
What was your best memory from school?
Let out all your thoughts surrounding school during childhood. Do you think your teachers, peers, or the school system harmed you?
Did your childhood have mixed periods where things were sometimes good and sometimes bad?
What was your relationship with your parents like as a child? As a teenager? Now?
Write about a difficult event from your childhood (doesn't have to be traumatic). How did you respond to the event? What were your feelings surrounding the event? How do you feel about it now?
What would you say to your childhood self?
What were 5 activities you enjoyed as a child?
Did you have a "safe space" as a child? If so, what was it?
INNER CHILD ACTIVITIES: 20+ Inner Child Activities to Heal and Feel Alive
What is one activity from your childhood you miss that you could incorporate into your adult life now? How can you incorporate it?
What was your favorite childhood movie or TV show? What feelings does it now bring up? Do you ever watch it now?
Who did you look up to as a child and what did you like so much about them?
What self care or "feel good" activities did you turn to as a child?
Were you close to anyone other than your parents as a child? How did that person shape you?
What did you want to be when you grew up? How does it differ from the way things turned out? Are you happy about the outcome?
Were you allowed to express your emotions as a child or were you encouraged to suppress them?
Did your parents foster you to have a good relationship with food and/or body image? How or how not?
Were your parents strict and overprotective? Or were they more laid back and easygoing? How did this affect you?
Did you feel like your parents allowed you to be your true self growing up?
What was your relationship like with your extended family? Was it negative or positive in any way?
What did your friendships look like growing up? Did you find it easy or hard to make friends?
Did you ever have any friends who were not good to you? Describe them and how they made you feel.
Which positive affirmations did you need to hear more often as a child?
Did you ever face self-esteem issues as a child? What is your earliest memory of these?
Want step-by-step guidance on healing your inner child?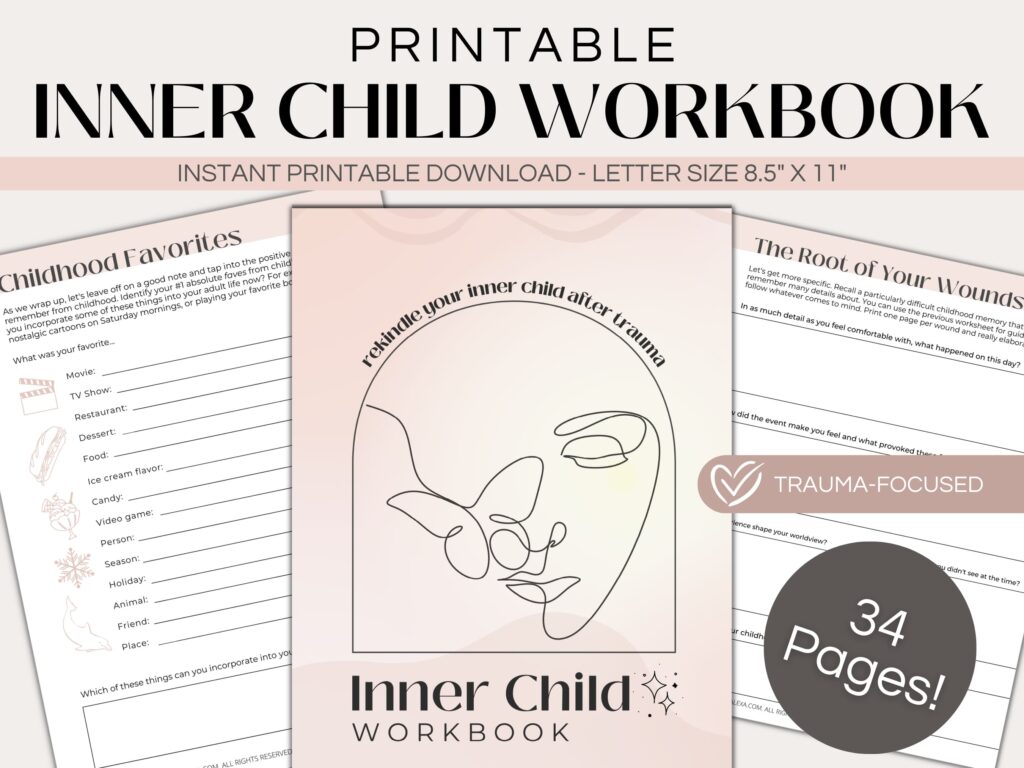 Feeling out of touch with your inner child? Been through a traumatic experience? My printable inner child journal PDF can help you give your inner child the love they deserve but didn't get.
This workbook will help you:
INNER CHILD AFFIRMATIONS: 75 Inner Child Affirmations to Heal Yourself From Within
What are three ways you can make yourself feel safe, reassured, and nurtured today?
Did anyone ever let you down as a child? Have you forgiven them? Does what they did still hurt?
Were you highly sensitive as a child?
What are three things from your childhood that you're grateful for?
What are some ways you can be more creative as an adult?
What did you daydream about as a child?
How can you gain closure from the times you faced hardships or traumas as a child?
What fascinated you the most as a child?
What was your first memory of feeling ashamed?
How can you be kinder to yourself and your inner child?
Journaling is a useful piece of the puzzle for inner child healing, but you'll find the most benefit if you pair it with therapy. Talking to an online therapist can really help you out. It's helped me tremendously with my trauma! I always recommend Online Therapy because it's a comprehensive, effective online therapy toolkit at an affordable monthly cost. Get 20% off your first month at the link below!
RELATED: 50 Therapeutic Journal Prompts for Emotional Healing
What are some journal prompts for inner child trauma?
How did you cope with your trauma as a child? Describe anything you did to protect yourself or survive.
What coping mechanisms did you form in childhood that still affect you today?
What specific emotions do you associate with your inner child?
How do the negative emotions surrounding your childhood manifest in the way you think and behave today?
What negative messages were you sent about yourself or the world?
Do these negative messages affect the way you view yourself and the world now?
Were there any experiences that felt like a direct hit to your self-esteem and self-worth?
How is your inner child coping with the residual feelings of trauma now?
What is your inner child telling you they need in the form of validation, comfort, or healing?
Do you notice any patterns about yourself or your life that stem from your childhood trauma?
When do you think those patterns started manifesting? Can you pinpoint a specific experience that triggered them?
Who all is a part of your support system?
Are you satisfied with your support system, or do you think you need something more?
What self care activities can you begin today to promote your inner child healing?
You don't wanna forget these journal prompts! Make sure you pin em for another time!
Inner Child Journal Prompts for Triggers
What is the first thing that comes to mind when you think about what triggers your inner child?
What events, people, or situations seem to be a trigger for your inner child trauma?
What are some negative core beliefs you catch yourself falling into during triggers?
Of these negative beliefs, are they a result of your childhood trauma? When did they first begin?
What seems to happen physically, emotionally, and mentally when you're caught in the middle of a trigger?
What effect do your triggers have on your overall mindset and wellbeing?
What do you think is the first step for you to take to better manage/tolerate unavoidable triggers?
What coping mechanisms do you use when facing a trigger? Are these coping mechanisms healthy or unhealthy?
If you realize you struggle with unhealthy coping mechanisms, what are some good swaps you can make for healthier ones?
If you're in the middle of a trigger, what is one small self-soothing action you can take that is easy to remember in times of limited mental resources?
Do your triggers affect any of your relationships with others?
How can you better communicate your triggers to loved ones so that they're aware of them?
What boundaries can you enforce that would help lessen certain triggers?
What kind of self care plan could you create to include more nurturing, soothing inner child activities into your routine?
What are 3 go-to positive affirmations you can say to yourself when you're triggered?
In what areas of your life could you show yourself more self-compassion?
Click here to get the journal that will transform your healing journey!
FAQs About Inner Child Healing & Journaling
How do you heal your inner child through journaling?
Remember that as a child, you needed the support and guidance of your parents to fulfill your needs as you were incapable of doing so on your own.
So when those needs weren't met for one reason or another, it may have led you to feeling vulnerable. If this happened to you, that is very unfortunate and should not have happened.
But the good news is that you CAN heal from your childhood. This can be done by essentially re-parenting ourselves to give ourselves the things we lacked during childhood.
Learning skills such as how to self-soothe, practice self care, and address (rather than suppress) our difficult thoughts and emotions all help toward healing your inner child, which can all be accomplished through journaling.
Through journaling, you can also heal your inner child in ways like:
Journaling to cultivate self love and practice positive self-talk.
Taking note of activities you enjoyed during childhood
Reflecting on both positive and negative childhood memories
Writing out positive affirmations geared toward healing your inner child
Writing a letter to your inner child
Using these inner child journal prompts!
Healing your inner child through journaling is effective because you're taking the time to revisit past struggles to either A. work through them or B. reach a point of acceptance so that you can move forward.
Besides journaling, what are some ways to connect with your inner child?
Get back into creative activities – your inner child yearns for creativity! Remember how much fun it was to draw, paint, doodle, dance, play, and just be yourself? Even as adults, we need to allow ourselves to use our imagination and feel free from our normal mundane tasks. This is truly good for the soul.
Practice self care – whatever this may look like for you. Journaling is a great way to do this and I always advocate for it, but there's also prioritizing your sleep, eating foods that make you feel good, and doing things that bring you relaxation and happiness.
Show self-compassion – if you make a mistake, is your knee-jerk reaction to get angry with yourself? Would you react this same way if your childhood self was the one who made the mistake? Treat yourself with kindness, patience, and grace. Stop any negative self-talk in its tracks by immediately reframing it into positive, caring language.
Practice exercises specific to inner child healing – like meditation, visualization, and shadow work. Connecting with your inner child on a deep, self-reflective level like this is where a lot of the real work and healing happens.
Make therapy a priority – I know that accessing therapy is not always easy or affordable for everyone. But if you're able, I cannot recommend it enough. There is only so much you can do on your own. A trained professional can give you the expertise and support you can't get anywhere else, and that alone pays for itself ten times over.
There's no right or wrong way to connect with and nurture your inner child. It's a personal process, so explore which activities are right for you and your own healing journey!
How to Heal Past Trauma From Your Childhood
Be aware that journaling is just one piece of the pie in healing something as serious as childhood trauma. You need a wide range of tools, and more important than anything is going to therapy.
More specifically, you want to work with a therapist that specializes in trauma. Not every therapist is equipped to help with trauma, so make sure to request someone who specializes in this when seeking therapy.
I went and checked to see if Online Therapy has therapists specializing in trauma/PTSD so I can safely recommend them to you, and they do! They explain this in more detail here. If you want to finally take the leap and get serious about trauma healing, don't forget to use your discount for 20% off your first month with them!
Along with therapy, you'll see the best results with a well-rounded toolbox of several forms of support.
This means utilizing self care (meditation, exercise, whatever rejuvenates you!), challenging negative beliefs, having an outlet or support system for expressing your emotions, and setting good boundaries, which these journal prompts will teach you how to do. These alllll come together to make for a transformative trauma healing journey.
Pssst…want to practice more self care? Grab my (free!) daily self care check in sheet below to bring quick and easy self care into your morning and night routines!
MORE JOURNAL PROMPTS & INNER CHILD RESOURCES YOU'LL LOVE
20+ Inner Child Activities to Heal and Feel Alive
75 Inner Child Affirmations to Heal Yourself From Within
20 Shadow Work Journal Prompts for Healing and Self-Awareness
Trauma Healing Journal Prompts: 40 Prompts for Processing Your Past
LIKE THESE INNER CHILD JOURNAL PROMPTS? PIN THEM FOR LATER!