30 Self Care Night Ideas for Ultimate Bedtime Relaxation
This post contains affiliate links and I may receive a small commission (at no extra cost to you) if you sign up or purchase products or services mentioned. Read the full disclosure here.
Last Updated on February 7, 2023
If you find it difficult to ease into bedtime and fall asleep smoothly and soundly, you might need to take a look at your self care night routine.
Our bedtime hygiene and habits really do play a huge role in our feelings of comfort, stress management, and sleep quality.
Without adequate time to make that separation from focus-mode to rest-mode, your sleep will unfortunately suffer. Take it from me, because I've made this mistake too many times!
So, where to start to change your nighttime routine? These self care night activities will guide you in the right direction!
Whether you're looking for self care night ideas at home, with friends, with your boyfriend or significant other, or just little acts of self care that make you feel good, you're in the right place.
What is a self-care night?
A self-care night is the chance for you to unwind and completely disconnect from the stressors of the day.
It's also the prime opportunity to assess your needs and check in with yourself at the end of the day. If your brain has felt 110% overloaded all day long, that's a sign you'd probably benefit from doing a brain dump in a journal. If your skin is dry and under-hydrated from a chaotic day, then doing some skincare might be the answer!
What can I do as a self-care night?
The options are endless and you can feel free to tweak your self-care night routine to best fit your needs! Luckily, this post will cover a huuuge variety of self care night ideas, like…
Setting the mood. Candles, aromatherapy, dimming the lights, playing soft instrumentals or lo-fi beats…these all contribute to your relaxation!
Practicing mindfulness. This can be a short meditation for anxiety or grounding exercises like being hyper-aware of your surroundings.
Having a cozy night-in. Self care sometimes means choosing to stay in and recharge instead of going out. I've got you covered with at-home self care ideas.
Quality time with friends. There's nothing better than inviting your bestie over for a night of movies and ice cream! No doubt this is good for the soul every once in a while.
Connecting with your significant other. Chances are you and your boyfriend, girlfriend, spouse, etc. lead different lives during the day. It's important to wind down together and reconnect as a couple as the day comes to a close.
Beauty self care ideas. Who doesn't want to feel pampered and put together?! I know I love taking the time to catch up on things like face masks, self-tanning, exfoliating, and all those feel-good things.
Why have a nightly self care routine?
A nightly self care routine is a must for your mental health, overall productivity, and to simply give your brain a break.
You don't want to jump straight from work or chores into bed because this definitely won't allow your brain a distinct boundary between productivity vs. relaxation time. Taking a self-care night is the perfect solution to bridge the time between being focused and winding down!
Take advantage of this precious time because it really is special and necessary for your wellness and head space.
30 Mega-Relaxing Self Care Night Ideas to Try Tonight
Setting the mood for a self-care night
1. Light your favorite candles
Not only do candles smell amazing, but they give the perfect ambiance for winding down at night. I know I just love getting a new candle with just about every season change so I can set the mood to match the season!
Here are some of my favorite candle scents. Click on them to get them for yourself!
2. Use an essential oil diffuser
Sometimes I prefer essential oils over candles because I can feel better about running my diffuser all evening long without any safety hazards. Essential oils are also ideal if you're trying to feel a certain way–calm, invigorated, focused, soothed.
Don't forget a diffuser if you don't have one already! This Vitruvi Stone Diffuser is one of my favorites–super sleek too!
These are my essential oil recommendations based on the mood you're trying to create:
3. Adjust the lighting
Lighting can really influence your mood, especially when considering the brightness and color. Dimmer light is relaxing, and red light is the best calming light color for sleep.
But, how do you achieve these light colors and brightness settings? The game changer for me has been my LED light strips. I can control the brightness and color from my phone and I love being able to set the mood this way for any occasion!
4. Put on some relaxing tunes
I have a rotating collection of lo-fi beats, cozy instrumentals, and cozy coffee shop jazz for my self care night playlists. Soft music can really help us ease into the nighttime, so it's a great choice!
Lately, I've been running this cozy coffee shop jazz video because the animation loop along with the music is just *chefs kiss.*
5. Sip on a warm drink
Whether you're a tea or coffee gal (I'd recommend decaf so close to bedtime though!), or hey, maybe even a hot chocolate gal, warming up with a relaxing drink before bed is the best feeling ever. Chamomile tea is my go-to, or if I'm really craving something sweet, peppermint hot chocolate!
Self-care night ideas for mindfulness
6. Try a grounding exercise
5-4-3-2-1 grounding is a great exercise for feeling grounded in the present moment, but there are plenty of others! I like 5-4-3-2-1 because it requires me to really think and focus on my present environment. If you're unfamiliar with this exercise, it goes like this:
Look around and notice…
5 things you see
4 things you can feel
3 things you can hear
2 things you can smell
1 thing you can taste
I like to use this practice on nights when I'm overthinking or too in my head. It can help take me out of that negative thought loop and remember that all that really matters is what's right in front of me.
7. Journal for your mental health
Journaling is hands down one of the best, most effective activities you can do for your mental health. From gaining clarity, to organizing your thoughts, to self-reflection, to recognizing your triggers, journaling has endless mental health benefits.
My printable mental health journal is PERFECT for guiding you through these things if you're not sure where to start! By the end of this journal, you'll learn to make sense of your complex emotions, understand your negative thought patterns, and overcome unhelpful behaviors. Get yourself one below and journal your way to better mental health!
8. Use a guided meditation with a goal in mind
You can try guided meditations for sleep, anxiety, overthinking, focus, and pretty much anything else you can think of! Guided meditations are ideal for beginners who have no idea how to meditate or feel awkward doing it.
I always recommend Headspace because they have an enormous library of guided meditations for any goal like sleep, relaxation, anxiety, and way more! Give it a shot, since you can get your first 14 days free anyway!
9. Describe your current surroundings in great detail
This is another great grounding tool. Grab your journal, and jot down everything you notice in your immediate environment brain-dump style. This can shift your attention to something more context-focused, rather than emotion-focused if your emotions are running wild.
10. Yoga
Yoga doesn't have to be some crazy, long, involved activity! There are short 5-10 minute yoga flows that are ideal for winding down for bed and having a soothing self care night.
Give this one on YouTube a try!
Self-care night ideas at home
11. Take the best bubble bath ever
I'm talking lights dimmed, candles burning, yummiest smelling bubble bath, hair up, face mask on…you get the picture! Taking an all-out bubble bath is a pretty well-known self care act, but it's popular for good reason because you'll feel amazing!
12. Lay out anything you need for tomorrow, tonight
This practice has been life-changing for me. Reducing decision fatigue anywhere I can has been a huge priority of mine this year, and this small habit is a great place to start.
Laying out my active wear if tomorrow is a gym day, or laying out my dressier clothes if I'm having a work meeting is a big help!
13. Get tomorrow's to-do list squared away
Similar to preparing your outfits, you'll also thank yourself in the morning if you include this habit in your self care night routine. Preparing my planner for the day ahead is a must for my productivity and leads to less confusion in the morning when my brain isn't quite working yet haha!
14. Do nostalgic activities for your inner child
Recently, I realized how little thought we give to our "inner child." Your inner child reflects the child you once were, in both negative and positive aspects. If your childhood wasn't the greatest, there are likely some inner child wounds that pop up in your behaviors today.
The idea of "re-parenting" your inner child can help combat some of this. This includes taking time for play and childlike fun, even as an adult! Watching your favorite cartoons, playing your favorite video games, eating nostalgic foods, and anything else you loved as a kid.
If exploring your inner child interests you, go check out my post on inner child activities. If you want to go really in-depth, grab my inner child healing workbook below!
15. Read positive affirmations before bed
Starting my day and ending my evening with positive affirmations has helped my mindset A LOT! We get so accustomed to talking poorly about ourselves. We need to swap that negative self-talk for positive self-talk, and affirmations are great for that.
Here are some positive affirmations you'll definitely want to read before bed…
Self-care night ideas with friends
16. Have a DIY spa night
Inviting your besties over for a full night of pampering–what could be better?! Ideas include hydrating face masks, hair masks, leg scrub, hand massages, moisturizing, painting each other's nails…the list goes on!
17. Have an ice cream and movies night
If you want a low-energy, but super fun night together, ice cream and movies are your best bet. Who doesn't love a good ole pint of Ben & Jerrys and rom coms?! Or, if you want to switch things up, I personally love watching stupid reality shows and making fun of the characters lol.
18. Create vision boards
Sharing your goals, dreams, and passions with close friends is a great bonding experience. To make it more fun, you can make your own vision boards together! Get on Pinterest, go crazy printing out all the images that inspire you, and compare and contrast your masterpieces!
Here's some vision board ideas you'll want to copy NOW.
19. Bake some treats
Baking with friends is always a blast. When friends are over, we've done brownies, cookies, cupcakes, you name it. If neither of you are bakers, don't worry, no need to bake from scratch. Boxed mixes will do, and they're always reliable!
20. Go for a late night drive
Late night scenic drives, especially if you can catch the sunset while blasting your favorite jams, make for the best memories with friends! Sometimes, you need to get out of the house every once in a while and this is a unique take on a fun self care night idea!
Self-care night ideas with your boyfriend, girlfriend, significant other, etc.
21. Give each other massages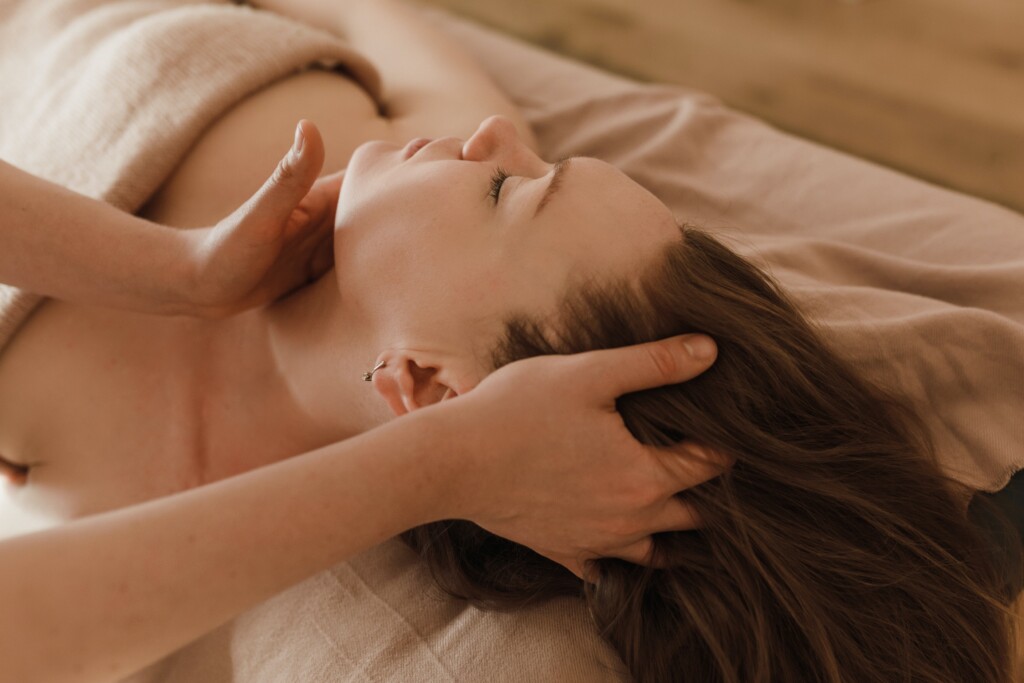 This is definitely one of those go-to self care night ideas for couples. You can also incorporate some of the mood setting ideas from earlier, like lighting candles, dimming the lights, using scented lotions, and making it a truly soothing experience!
22. Have late night deep talks
I love this one because it's an opportunity to learn more about each other! I've been with my boyfriend for almost 5 years and we are still learning more and more about each other with every deep talk.
We started using these "So…" deep conversation cards and they are a hit! They're a collection of deep, thought-provoking questions for deep, thought-provoking discussions. It's a fantastic way to deep-dive into your world views and opinions.
23. Build a blanket fort in the living room
Especially if you or your significant other has their own place, this makes for the best self care night ever! I love grabbing the sleeping bags, comfy quilts, sheets, and pillows to create an awesome blanket fort. Better grab snacks and a good movie too!
24. Binge watch your favorite shows without guilt
If you have a favorite show together as a couple (as of lately, ours has been Ginny & Georgia) go binge watch the heck out of it until the wee hours of the morning! This is ideal for a Saturday night self care activity so you can sleep in the next day.
25. Stargaze
You have to admit stargazing is such a romantic activity. Especially when done in a quiet place on a clear night, where everything around you feels still and peaceful. Stargazing can also be paired quite well with deep talks and self-reflection!
Beauty self-care night ideas
26. Paint your nails
I never paint my nails as often as I'd like, but taking the time to do so is always a good little pick-me-up after a busy day. It makes my life feel put-together even if my day was anything but! Play around with different colors you love for some added fun!
27. Full body self care–shave, exfoliate, self tan
This can definitely be more time consuming, but sooooo incredibly worth it!! Some people are diligent enough to do this every week, but for me this is more of a once-every-couple-months occasion. But to me, that makes it even more special.
So take the ultimate shower where you exfoliate, shave, feel all nice and clean. Then, lather on the self tan (if that's your thing!) and embrace the glow up! I have a whole glow-up checklist right here for more ideas.
28. Dermaplane your face
Okay, you might be asking what the heck is dermaplaning?!
It's essentially shaving your face, but with a tiny facial razor so you can remove more than just hair. It's ideal for removing dead skin cells and other gunk that might be sitting on your face too. My makeup always goes on much smoother after I do this!
29. Put in a hair mask
Another one of my shower-oriented self care night activities is to put in a hair mask! I feel that it goes a little deeper than conditioner to really make the difference in hydrating my hair the next day. This Deeply Reparative Hair Mask from Kiehl's is soooo raved about!!
30. Lotion up
Lathering up with lotion is a great way to soothe dry skin and it really doesn't take too long! If you find yourself short on time on your self care night, this is a great idea to get a little something squeezed into your routine.
This Philosophy Warm Cashmere Body Lotion is the bees knees!! Philosophy always has the best body care stuff.
How to establish a nighttime self care routine
There's two things to consider when establishing a self care night routine: you want the routine to be easy and convenient.
What do I mean by that?
By easy, this means not overloading your nighttime self care routine with a thousand different activities, or having unrealistic expectations for how long you plan to spend on self care. Spending a whole hour every single night might not be manageable for you. Instead, you may want to shoot for 30 minutes every other night.
By convenient, you want to know exactly what you're doing in advance so you don't run into problems like decision fatigue. My favorite "hack" to this is to keep an easy-to-reach list of my favorite self care activities in a note on my phone. I can conveniently refer to them and I've pinned down what I like and don't like as a result.
So be intentional with how you schedule, when you schedule, and for how long you intend your nightly self care to look like. Getting specific makes for a higher chance of the routine actually sticking!
Final thoughts on relaxing self-care night ideas
Your self care night routine should bring you peace, joy, and relaxation before bedtime. It's a time to disconnect from the day and put it behind you. I hope this list gave you plenty of ideas to choose from for the best nighttime self care routine EVER!
Take care.
More Self Care You'll Love
15 Bedtime Journal Prompts to Ease Into the Night
5 Minute Self Care: 90 Quick but Wildly Helpful Ideas
24 Unusual Self Care Ideas You Probably Haven't Tried
25 DIY Self Care Kit Ideas That Are Simple & Soothing
LIKE THESE SELF CARE NIGHT IDEAS? PIN THEM FOR LATER!