2023 Vision Board Ideas for Adults You'll Want to Copy NOW
This post contains affiliate links and I may receive a small commission (at no extra cost to you) if you sign up or purchase products or services mentioned. Read the full disclosure here.
Last Updated on September 18, 2023
Looking for the best vision board ideas for adults (2023)? Look no further! These vision board examples will have you inspired to create a vision board of your own that symbolizes YOU!
If you have yet to hop on the vision board trend…you absolutely must! I'm obsessed, and you will be too after seeing these stunning 2023 vision board ideas for adults.
I know I love finding ways to spark inspiration and motivation at every turn, and it really does help you shift into the right headspace and feel motivated about the future. The best part is that it's unique to YOU! Whatever you desire in life, whatever you wish your ideal life looked like, and whatever you're striving for…you can bring it to life right on your wall!
Visualizing your goals is a great way to keep you on track to achieving them. So if you're like me and could use all the help you can get with goal-reaching, you'll love having your very own vision board to refer to for that little extra boost of motivation!
This post is all about 2023 vision board ideas for adults.
What is a vision board?
A vision board is a collage of images and words used as visual representation of your goals and dreams. The whole idea behind a vision board and why it's so powerful is that it serves as a reminder of WHY you do what you do every day! Visualization techniques have been used by therapists for years to create desired emotion states, enhance performance, and achieve life goals.
Vision boards work best when placed in a prominent place you'll look at frequently. This could be your bedroom, your office space, your living room, or wherever you feel it would inspire you the most.
It's all about sparking motivation, depicting goals in various areas of your life, or even just showcasing images that fill you up with joy. Overall, it's a great inspirational tool that you should totally introduce into your life.
What should a vision board for adults include?
Vision boards are so open to your own creative decisions, so no rules here! Be sure to include whatever inspires you, lifts you up, or helps you visualize what you'd like to achieve.
But if you're looking for specific ideas to include when planning out your vision board, consider…
Personal goals
Professional goals
Success
Relationships and family
Home
Travel
Spirituality
Social life
Health and wellness
I suggest writing your categories and goals down by hand first. From there, you can see about bringing them to life through the images you choose to match! Writing my areas of focus down before searching for pictures helped guide my vision board process so much easier.
You can grab my (free!) goal planner below to get started planning your goals the S.M.A.R.T (specific, measurable, attainable, relevant, time-bound) way, so that your vision board will be based on the right type of goals you'll actually stick to!
Best Vision Journals and Vision Board Kits in 2023 for Adults
You can grab photos from the internet, or if that's a little overwhelming and too open-ended, you can always use a vision board kit or a vision journal to give you additional guidance! Check out these super useful journals and kits.
1. Legend Planner PRO – Deluxe Weekly & Monthly Life Planner to Increase Productivity and Hit Your Goals.
Legend Planner Pro will help you create your personal vision to use in your vision board, define and break down both short and long-term goals, and implement them into each area of your daily life. This planner will help a TON to prep you for creating a vision board that will actually work!
2. Law of Attraction Planner 2023 | Deluxe Weekly, Monthly Planner, a 12 Month Journey to Increase Productivity & Happiness
This Law of Attraction Planner includes 248 pages of life transformation; 52 weekly, 12 monthly planning overviews, 45 journal pages, habit trackers, mind maps, foldable vision board, AND morning & evening routines. Jam-packed with seriously everything!!
3. Good Vibes Kit – Inspirational/ Vision Board cards
How cute is this good vibes vision board kit! If you love the symmetrical, neat look as opposed to a crazy collage, this kit is a great one. You get 35 high quality inspirational prints that are "a mix of uplifting quotes, photos from some magical places around the world and a few beautiful illustrations – all about good vibes only."
4. Vision Board Kit | Mood Board Kit
This vision board kit gives off the most calming vibes. This includes almost 90 high-quality picture cards and inspiring quotes for your vision board. This is filled with tons of positive affirmations reminding you that YOU CAN!
Here are some super inspiring examples of 2023 vision board ideas for adults you've GOT to try!
1. My own vision board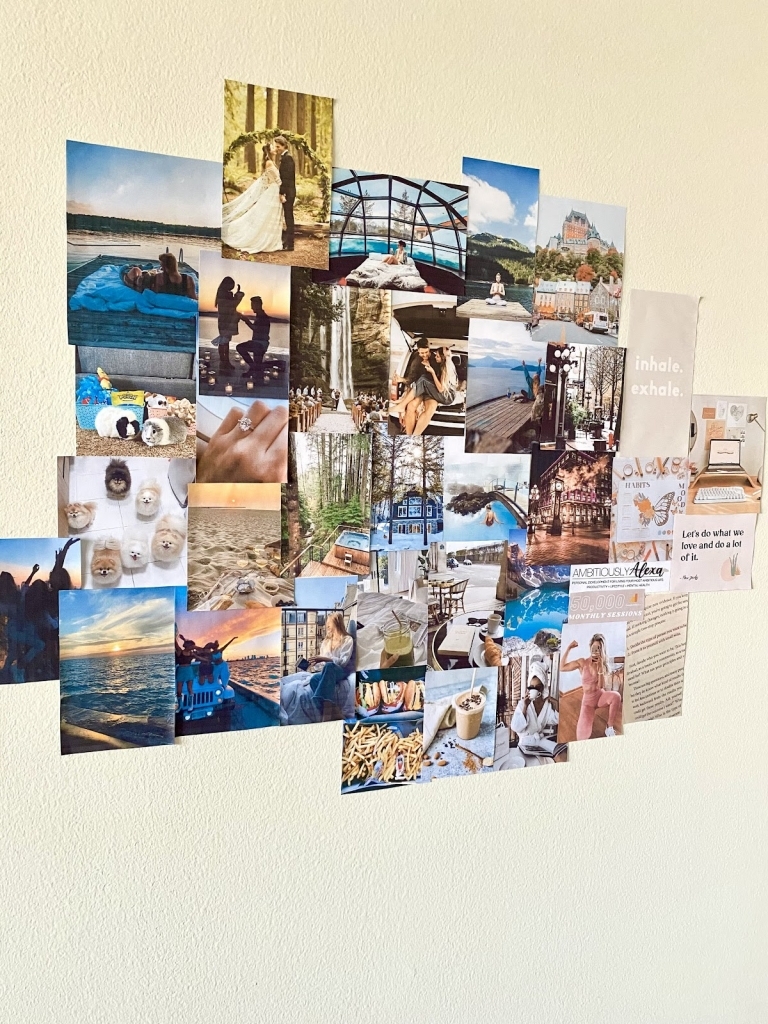 First up is the vision board I made through a collection of mostly photos I found on Pinterest (except for my two guinea pigs on the far left, second photo down from the top–they're mine! They just make me happy!).
I think Pinterest is the best site to draw inspiration from and find pictures on, because there's so much specific, niche, aesthetic content.
My vision board includes a lot of inspiration from travel, nature, good food, aesthetic scenery, cute proposals and weddings, a few "that girl" vibes, and productivity/mental health. These are the things that speak to me and the things I aspire to experience, which is what a 2023 vision board is all about!
Think about what speaks to you and what gets you excited, and you'll be mirroring the same framework I used to create my vision board. I have a second bedroom in my apartment that I use as an office, so best believe that's where my vision board is living!
RELATED: 90 Journal Prompts for Manifesting Exactly What You Want
2. Neatly organized Polaroid vision board
I love how neat and clean this design is, and Polaroid photos are always a classic! Did you know that you can even print Polaroid photos straight from your phone, without the need for a Polaroid camera?
I got SO excited when I found out that that's a thing!! There's something called the Polaroid Lab that you place your phone screen onto and it prints your photos right onto Polaroid photo paper. Beyond just using it for your vision board, that's a worthwhile tool to keep around for SO many future uses!
3. Quote-focused vision board
This is a great way to take the simple approach! Quote-focused vision boards get the point across clearly, and looking at affirmations and goals that are explicitly written out can be super useful! Think about your overarching goal or an aspect of personal growth you'd like to achieve and see which phrases you can connect to it.
RELATED: 23 Goals to Set in 2023: Goal Ideas for Personal Growth
4. Aesthetic vision board
This is a good example of what I tried to mirror my own vision board to look like in #1, and I love the look! Filled with aesthetic modern photos, minimalist quotes, a neutral color theme, and truly capturing the "collage" look with messy borders, it's super aesthetic and definitely something you'd find on Pinterest!
In 2023, we're manifesting lucky girl syndrome on our vision board.
Psstt…these cards are the PERFECT addition to your vision board!! Print 'em out and add them right to your board!
Lucky Girl Syndrome: The belief that you are the luckiest girl in the world, thus creating a mindset where good things come to you easily, always.
This deck of 32 affirmation cards based on "lucky girl syndrome" will help you…
5. Hanging vision board
With some yarn or string and wood clothespins (PLUS those polaroid lab photos we were talking about a second ago!), you can create a cute quirky vision board full of character! I like that this vision board example shows memories, but you can also make it future-focused with inspirational photos too, of course.
6. Journal vision board
No one said a vision board has to be on a wall! You can totally do it bullet journal style by pasting a smaller collection of photos into a journal. It's nice to flip back to whenever you need the inspiration!
7. Cork board vision board
Image by Tim.
Pinning your photos onto a cork board is a great way to keep your vision board in one cohesive block. You can move it to different walls with ease! And aside from functionality, a cork board is a pretty cool look.
RELATED: New Month Journal Prompts for Goal Setting
8. Heart shaped vision board
If your vision board includes all the things you love, what better way to display that than in the shape of a heart?! Or if your vision board includes a lot of relationship-related photos, the heart concept is a super cute touch.
9. Hanging rod vision board
Using a metal rod with rings is a great way to easily move around your vision board contents and remove and replace them as your goals and dreams may change! I'm also loving the travel-based concept of this vision board idea.
10. Intertwining a vision board into your desk decor
This concept isn't exactly a designated board, but I love that it's got different designs, photos, and cards all around the desk space! If you're looking for a look that meshes well with what you already have, or if you have limited wall space, this is a fabulous idea!
11. Bold vision board
If you're a fan of bold, bright, loud colors, this might be the direction you want to take with your vision board! Also if you have stickers lying around like I do, this is a great way to put them to use! You can even connect your photos together using stickers.
---
This post was all about 2023 vision board ideas for adults.
Making a vision board is a fun and creative way to feel fired up about what inspires you! These 2023 vision board ideas for adults are a great place to start on your goal-planning journey.
Not to mention what a fantastic mood boost it is to create one. Having a vision board in my office to look at everyday puts me in a positive mood and gets me excited about the things I love! You just feel organized, determined, and productive! It's a great exercise for providing me clarity on where I'd like to be.
So if all that's got you convinced that creating a vision board is pretty dang inspiring and motivating, come jump on the bandwagon! Let me know what you do!
More Self Improvement Ideas in 2023
New Month Journal Prompts for Goal Setting
24 Unusual Self Care Ideas You Probably Haven't Tried
40 New Year Journal Prompts to Make 2023 The Best Year Yet
65 New Year Affirmations for a Successful But Balanced 2023
LIKE THESE 2023 VISION BOARD IDEAS FOR ADULTS? PIN THEM FOR LATER!