60 Motivating New Year, New Life, New Beginning Quotes
This post contains affiliate links and I may receive a small commission (at no extra cost to you) if you sign up or purchase products or services mentioned. Read the full disclosure here.
Last Updated on November 27, 2023
There's no better time for a fresh start than the new year. There's just something about January 1st that feels like a clean slate, so why not take advantage of that?! If you need a little push to change things around this year, these new year new life new beginning quotes are exactly the motivation you need!
Getting your mindset in the right place is the first step toward making meaningful change. This is why new year's quotes can be so useful! They allow us to tap into the direction we want to go. Once your mindset is in the right place, it's much easier for your actions to follow suit. And taking action = achieving your goals.
So get ready to feel inspired, motivated, and encouraged to make the changes necessary to make this new year your most ambitious one yet!
This post is all about new year new life new beginning quotes.
Don't forget about these new year quotes! Pin 'em to come back later!
New Year, New Life, New Beginning Quotes
The start of a new year feels so magical, powerful, and uplifting. It gets us thinking about our habits and goals, as well as what we want more of and what we'd rather cut out as we move forward. Let these quotes get you thinking about the direction you'd like to take in the next 12 months!
Make sure you grab your (free!) goal planner below to start planning your goals for the new year too!
Quotes about new beginnings and change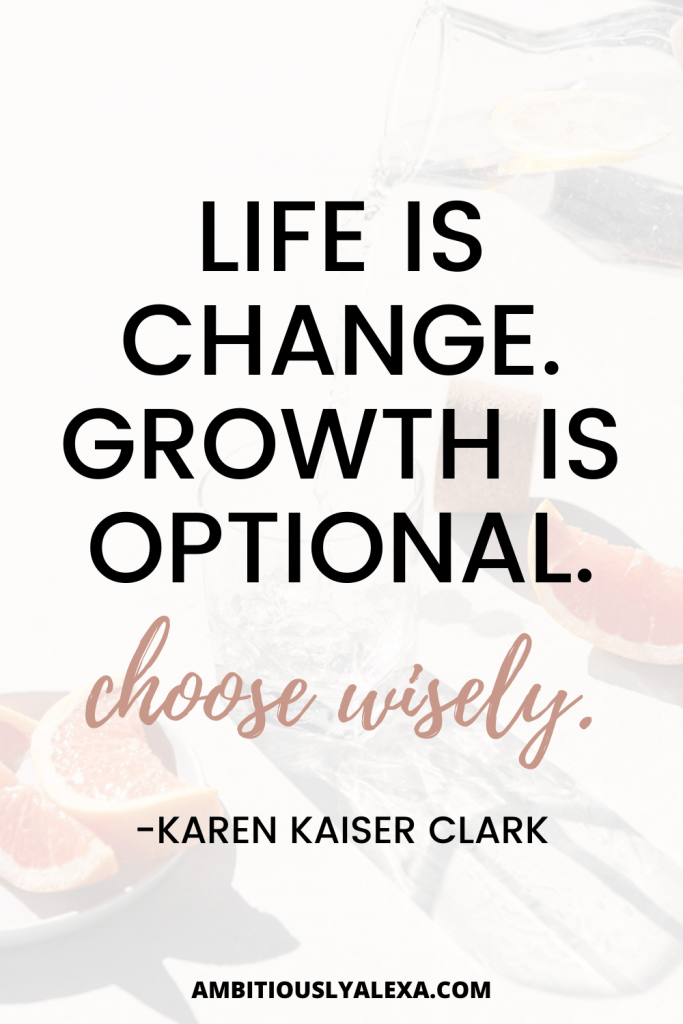 "Life is change. Growth is optional. Choose wisely."
"Change can be scary, but you know what's scarier? Allowing fear to stop you from growing, evolving, and progressing." — Mandy Hale
"The joy of life comes from our encounters with new experiences, and hence there is no greater joy than to have an endlessly changing horizon, for each new day to have a new and different sun…. Don't settle down and sit in one place. Move around, be nomadic, make each day a new horizon." -Jon Krakauer
"What the new years brings to you will depend a great deal on what you bring to the new year." -Vern McLellan
"We spend January 1 walking through our lives, room by room, drawing up a list of work to be done, cracks to be patched." -Ellen Goodman
"The first step towards getting somewhere is to decide you're not going to stay where you are." —J.P. Morgan
"And now we welcome the new year, full of things that have never been." – Rainer Maria Rilke
"We will open the book. Its pages are blank. We are going to put words on them ourselves. The book is called opportunity and its first chapter is New Year's Day." -Edith Lovejoy Pierce
RELATED: 24 Goals for 2024 – Goal Ideas for Personal Growth
Quotes about new beginnings and starting fresh
"I discovered that a fresh start is a process. A fresh start is a journey – a journey that requires a plan." – Vivian Jokotade
"I hope you realize that every day is a fresh start for you. That every sunrise is a new chapter in your life waiting to be written." -Juansen Dizon
"But there's a beginning in an end, you know? It's true that you can't reclaim what you had, but you can lock it up behind you. Start fresh." – Alexandra Bracken
"Although no one can go back and make a brand new start, anyone can start from now and make a brand new ending." ~ Carl Bard
"Each new day is a blank page in the diary of your life. The secret of success is in turning that diary into the best story you possibly can." -Douglas Pagels
"No, this is not the beginning of a new chapter in my life; this is the beginning of a new book! That first book is already closed, ended, and tossed into the seas; this new book is newly opened, has just begun! Look, it is the first page! And it is a beautiful one!" — C. JoyBell C.
"Nothing in the universe can stop you from letting go and starting over." —Guy Finley
"You are never too old to reinvent yourself." -Steve Harvey
"Your present circumstances don't determine where you can go. They merely determine where you start." -Nido Qubien
"Failure is the opportunity to begin again more intelligently."
"When you feel that you have reached the end and that you cannot go one step further when life seems to be drained of all purpose; what a wonderful opportunity to start all over again, to turn over a new page." – Eileen Caddy
"It's never too late to become who you want to be. I hope you live a life that you're proud of, and if you find that you're not, I hope you have the strength to start over." — F. Scott Fitzgerald
RELATED: 40 New Year Journal Prompts to Make 2024 the Best Year Yet
New beginnings quotes to help you erase the past
"No matter how hard the past, you can always begin again." -Buddha
"You can get excited about the future. The past won't mind." -Hillary DePiano
"For last year's words belong to last year's language. And next year's words await another voice. And to make an end is to make a beginning." – T.S. Eliot
"New beginnings are often disguised as painful endings."

– Lao Tzu
"Every new beginning comes from some other beginning's end." —Seneca
"Begin today. Declare out loud to the universe that you are willing to let go of struggle and eager to learn through joy." – Sarah Ban Breathnach
"Some of us think holding on makes us strong, but sometimes it is letting go." – Herman Hesse
"The visionary starts with a clean sheet of paper, and re-imagines the world." –Malcolm Gladwell
RELATED: 100 Exciting End of Year Journal Prompts to Review 2023
Quotes about new beginnings to make you better
"Every day is a chance to begin again. Don't focus on the failures of yesterday, start today with positive thoughts and expectations." – Catherine Pulsifer
"Be willing to be a beginner every single morning." -Meister Eckhart
"In order to be successful in the new year, stay focused, develop a positive attitude and be passionate with your dreams." -Bamigboye Olurotimi
"No one can ever take your memories from you – each day is a new beginning, make good memories every day." –Catherine Pulsifer
"The bad news is time flies. The good news is you're the pilot."

-Michael Altshuler
"Cheers to a new year and another chance for us to get it right." —Oprah Winfrey
"Whatever you do or dream you can do – begin it. Boldness has genius and power and magic in it." – Johann Wolfgang von Goethe
"Write it on your heart that every day is the best day in the year." —Ralph Waldo Emerson
"It is never too late to be what you might have been." -George Eliot
"New year—a new chapter, new verse, or just the same old story? Ultimately we write it. The choice is ours." —Alex Morritt
"Celebrate what you want to see more of." -Tom Peters
RELATED: 65 New Year Affirmations for a Balanced but Successful 2024
Quotes about new beginnings to inspire and teach
"Never allow waiting to become a habit. Live your dreams and take risks. Life is happening now." -Paulo Coelho
"You'll never get bored when you try something new. There's really no limit to what you can do." -Dr. Seuss
"Take the first step in faith. You don't have to see the whole staircase, just take the first step." -Martin Luther King, Jr.
"Do not wait until the conditions are perfect to begin. Beginning makes the conditions perfect." -Alan Cohen
"New year is the glittering light to brighten the dream-lined pathway of future." -Munia Khan
One day you will wake up and there won't be any more time to do the things you've always wanted. Do it now. – Paulo Coelho
"Don't live the same year 75 times and call it a life." —Robin Sharma
"You are never too old to set another goal or to dream a new dream." -C.S. Lewis
"Packaged inside of every mistake there lays a great lesson. And while I don't want to take the mistake into the New Year, I most certainly want to take the lesson that's packaged inside of it." -Craig D. Lounsbrough
"Dreams are renewable. No matter what our age or condition, there are still untapped possibilities within us and new beauty waiting to be born." – Dr. Dale Turner
"An optimist stays up until midnight to see the new year in. A pessimist stays up to make sure the old year leaves." -William E. Vaughan
RELATED: Intellectual Self Care – 13 Ideas to Expand Your Mind
Inspirational quotes about new beginnings
"Celebrate endings—for they precede new beginnings." – Jonathan Huie
"I don't know where I'm going from here, but I promise it won't be boring." -David Bowie
"To the old, long life and treasure; to the young, all health and pleasure." -Ben Johnson
"The best is yet to come." -Frank Sinatra
"In our perfect ways. In the ways we are beautiful. In the ways we are human. We are here. Happy New Year's. Let's make it ours." -Beyonce
"The magic in new beginnings is truly the most powerful of them all." -Josiyah Martin
"Every day I feel is a blessing from God. And I consider it a new beginning. Yeah, everything is beautiful." – Prince
"Tomorrow is the first blank page of a 365-page book. Write a good one." —Brad Paisley
"Enter this new year with a gratitude for this new chance to create your dreams." -Avina Celeste
"Now, as we close one chapter, the pen is gradually inking up, preparing itself to write the next." – Mie Hansson
RELATED: The Monthly Reset Routine You Didn't Know You Needed
---
This post was all about new year new life new beginning quotes.
Feeling inspired now? Viewing the new year as a fresh start for new beginnings is the best way to position your mindset! There's so much opportunity right in front of you. Take advantage of it! Here's to a brand new year, new life, and new beginning with these motivating quotes! 🥂
Don't forget your free goal planner to start off the new year the productive way!
IF YOU LIKED THIS POST, YOU'LL LOVE THESE TOO!
24 Powerful and Achievable Goals for 2024
40 Monthly Reflection Questions to Identify Your Needs
35 January Journal Prompts for a Clean Slate
41 January Affirmations to Start the Year on a High Note
LIKE THESE NEW YEAR NEW LIFE NEW BEGINNING QUOTES? PIN THEM FOR LATER!