7 Day Self Care Challenge: Start Self Care the Easy Way
Last Updated on June 1, 2023
If you can't seem to get into a self care routine that sticks, this 7 day self care challenge is exactly what you've been looking for.
And NONE of these activities are time-consuming or complicated! Most of them can be accomplished in under 30 minutes each day, so they're super practical to add into your schedule. 
This 7 day self care challenge will also help you get more comfortable with learning how to put yourself first without feeling guilty. You deserve to prioritize your wellbeing and you are 100% justified in doing so. So let's go ahead and take your self care journey one day at a time!
Self Care Challenge List
You probably get the picture that self care is important to maintain a well-oiled machine (that being your brain and body). But no doubt have we all run into some struggles when it comes to actually practicing those healthy self care habits.
Before you launch into this 7 day self care challenge, you'll want to be aware of the potential barriers you might have when it comes to your mindset surrounding self care.
Common challenges preventing you from practicing self care include:
Having no dang free time – This is easilyyy the most common complaint when it comes to self care! Let's face it, in today's hustle culture, schedules are demanding and free time is lacking. This is why we need to find ways to make self care as streamlined and practical as possible. Aiming for even just 15 minutes of self care a day makes a difference!
Loose boundaries – feeling the need to say "yes" to every request or demand thrown at you will, of course, reduce the time you have to yourself. Take some time to think and deeply assess the boundaries you could be setting in your life to buy more time back.
The misconception that self care is expensive – it absolutely does not have to be. Tik Tok can skew our perception to believe that self care means $15 green smoothies, luxury pilates classes, and throwing all your money at the nail salon. But this is not fully representative of self care at all! Self care can be as inexpensive as journaling, finding free guided meditations, and reframing your mindset through positive affirmations.
Perfectionism – this often comes in the form of thinking you don't deserve self care until all your obligations and responsibilities are met.
Feeling guilty – some people feel "wrong" or "selfish" for putting their needs above others. Societal expectations, especially from the older generations, seem to harp on this idea. But it is flat out wrong. You can't pour from an empty cup, so addressing your self care needs first actually puts you in a better position to then help others! So yup, self care is necessary, warranted, and non-negotiable. 
How To Put Yourself First Without Feeling Guilty 
This self care challenge in particular is one worth expanding on, because guilt is the last thing that should hold us back from our right to practice self care. Here are some friendly reminders and tips for how to overcome the guilt that might prevent you from well-deserved self care!
Reframe your mindset surrounding self care – mindset is everything when it comes to feelings of guilt. Remind yourself of the importance of self care and that your needs DO matter just as much as anyone else's. You deserve a moment of self care even if you didn't cross everything off your to-do list. You also deserve it even if it means saying "no" to someone when your battery is low.
Don't be afraid to speak up about your needs – let your needs be known! Do not be afraid to communicate your boundaries with others and be honest when you know you need a break or need to decline another obligation or social event.
Start small – if you really feel like you do not have time in your schedule to dedicate an hour each night to self care, start small! A 15 minute bedtime journal session or even a 5 minute morning meditation are perfectly great ideas to fit self care in.
Allow yourself permission to not please everyone – it is, quite frankly, not possible to give 100% to everyone all the time. You cannot meet everyone's expectations in every capacity. The sooner you accept this, the sooner you can let go of perfectionism and allow yourself the leeway to prioritize rest over productivity from time to time.
Only keep supportive people in your life – if you feel like people in your life are expecting too much out of you, not respecting your boundaries, or making you feel guilty about self care, well…they might not be worth your time and energy anyway. Keep a close circle of understanding, respectful, and supportive people and you'll release a ton of pressure off your back!
7 Day Self Care Challenge Ideas
If you're looking for ways to treat yourself, ideas to get into a self care routine, or how to practice self care one step at a time without feeling guilty, this 7 day self care challenge is just for you!
Daily Self Care Challenge 
Self Care Challenge Day 1: Add More "Me Time"
I know many of us feel like there aren't enough hours in the day. But if you really sit down and evaluate your schedule, there's gotta be some little stretch of time in there for some "me time!" See if there's anything in your schedule that can be reduced, delegated, or even cut out.
If push comes to shove, you can also try waking up just 30 minutes earlier to carve more of this time into your day. Or, if possible, try winding down for bed 30 minutes earlier to better-ease you into sleep. Having a relaxing night routine is so important! Try a few of these self care night ideas to see what jives with you. 
Self Care Challenge Day 2: No Overthinking
Today, we're going to reduce your decision fatigue! One of the best rules to live by is:
"If it's not an immediate yes, it's a no."
Of course, with really BIG decisions, this rule may not apply and there will be cases where it is in your best interest to weigh pros and cons from all angles. But for little decisions like what to wear, what to eat for dinner, or what color phone case to buy, go with your first instinct. You'll save yourself so much time and mental exhaustion!
I realize that in the grand scheme of things, I tend to put way too much mental effort into irrelevant, insignificant decisions. What does that really accomplish in the end?
You can also ask yourself: "will this decision impact my life in a week or a month from now?"
Self Care Challenge Day 3: Put Together a DIY Self Care Kit
Having a DIY self care kit at the ready is amazing for those low-energy days where you just can't get out of your funk. You'll be glad to have all the feel-good, self-soothing items you love conveniently put together in advance.
You can grab yourself a cute little box or container, add things like a scented candle, your favorite fuzzy socks, a stress ball, your journal, coloring book, packet of hot chocolate…the list goes on! I have a complete guide on how to create the ultimate low-energy day DIY self care kit here!
Self Care Challenge Day 4: Journal to Start & End the Day
Even if it's been a hot minute since you journaled, take today to check in with yourself first thing in the morning and then again at night. You can either follow journal prompts like these morning prompts and these night prompts, or you can simply do a brain dump to release everything that's on your mind. 
My printable gratitude journal makes this morning + night journal routine even easier with templates conveniently laid out for you!
The morning and night pages included in this journal address all the most beneficial things to reflect on to start your day right and end things off on a positive note. Grab it below to streamline your morning and night routines!
Self Care Challenge Day 5: Make Your Inner Child Smile
This is something we often overlook, but it's actually so important! When's the last time you did something good for your inner child? Like…putting together a puzzle? Playing a nostalgic video game? Eating ice cream for breakfast on a special occasion?
It's little things like these that can actually boost your overall mental wellbeing. If you'd like to further explore this idea, you'll love my printable inner child workbook.
Not only does it offer space to make your own inner-child-based self care plan, but it helps you dig even deeper to address the root of some more challenging thought patterns and emotions that stem from childhood experiences.
Grab it below and learn how to best-support that inner child that's reaching out for you!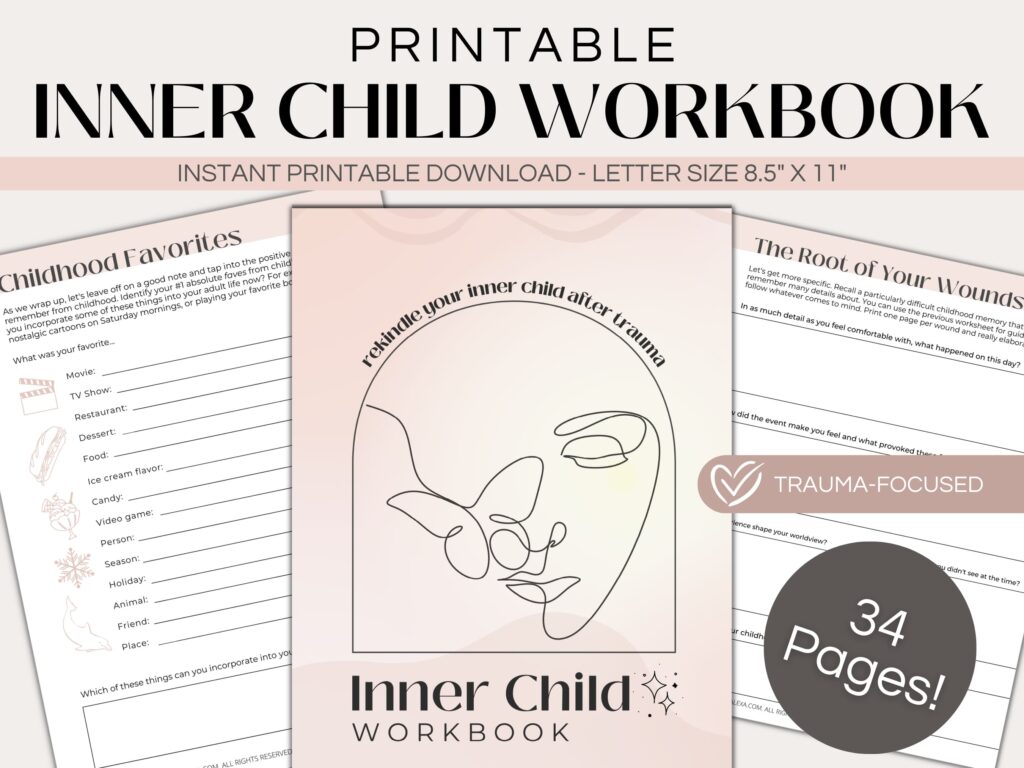 Feeling out of touch with your inner child? Been through a traumatic experience? My printable inner child journal PDF can help you give your inner child the love they deserve but didn't get.
This workbook will help you:
Self Care Challenge Day 6: Do a Voice Memo Vent
This one might sound unusual, but recording a voice memo on your phone of a verbal vent can sometimes be even better than journaling. Especially if you have A LOT to say. (If it's been a rough week, your writing hand might cramp up, LOL). When I do this, I can easily end up with a 30 minute voice memo and the biggest feeling of release! Give it a try!
Need to talk it out with someone who can actually give you guidance? Talking to an online therapist lets you vent and you get to step away with better coping skills. I know my therapist has helped me SO much with managing my emotions! I always recommend Online Therapy because it's a comprehensive, effective online therapy toolkit at an affordable monthly cost.
Self Care Challenge Day 7: Move In Tune With Your Body
Regular exercise has some maaajor mental health benefits and is a must for any 7 day self care challenge in my book. That being said, it's not uncommon to kinda hate exercise! If that sounds like you, it might be because you're not trying exercise that jives with what your body is asking for.
If high-intensity cardio only makes you want to puke, you don't have to do it! Your body may be better-suited for something lower impact like yoga, or something less cardio-intensive like weight lifting. Or, even just taking a walk around the neighborhood today is a perfectly valid act of self care too! Listen to your body and see where you can find your flow.
RELATED: Ultimate List of Self Care Hobbies: 32 Ideas You've Gotta Try
FAQs Before Starting A 7 Day Self Care Challenge:
How To Do A Self Care Challenge
Doing a self care challenge is truly as simple as just starting. You've gotta start somewhere, and this 7 day self care challenge is a relatively low commitment with easy, practical activities that are perfect for starting out!
Additional 7 day self care challenge ideas include:
Read 10 pages of a book for 7 days straight
Introduce a new healthy recipe into your dinner plans
Take a "do nothing" day where you do exactly that: nothing.
Catch up with an old friend
Spend a day in nature
Give yourself a massage or roll out your muscles
Take a bubble bath
Try a clay face mask
How to Form Healthy Habits That Actually Stick
The biggest reason why people fail at new habits is getting overly ambitious and doing too many things at once. It's easy to get motivated in the beginning and feel like you have more energy than you really do. But at some point, it's going to be hard to juggle it all.
My best advice is that after you run through this 7 day self care challenge, pick just one or two things that you felt really made a difference in your mood and mindset. That's what's so great about this challenge: it introduces you to new activities you may not have tried before, then it's up to you to decide what works and what doesn't.
Setting specific goals is another big one!! Your habits are the driving force that leads you to reaching your goals, so they're very intertwined. If you just tell yourself, "I'm going to eat healthier," what exactly does that mean? That statement doesn't outline any action, which means it's going to be hard to pull any habits out of that goal.
Instead, you could try, "I'm going to include a vegetable with every dinner I cook." This way, you know exactly what you're going to do, which takes the guesswork out of what you should do, how you should do it, and how often you should do it.
All in all, start with just one habit at a time and make it a clear, specific habit that leads you toward a clear, specific goal. This is the key to forming healthy habits that stick!
My Easy-to-Follow 7 Day Self Care Challenge
Want a recap? Here's my 7 day self care challenge in a neat little bullet-point list!
Day 1 – Add more "me time" to your day
Day 2 – No overthinking low stakes decisions
Day 3 – Put together a DIY self care kit
Day 4 – Journal to start and end the day
Day 5 – Make your inner child smile
Day 6 – Do a voice memo vent
Day 7 – Move in tune with your body
And there you have it! If you choose to do this 7 day self care challenge, feel free to follow up with a comment down below and let me know how it went!
More Self Care Ideas You'll Love
Self Care When You're Sick: 30 Sick-Day Ideas
5 Minute Self Care: 90 Quick and Wildly Helpful Ideas
Self Care for Empaths: 13 Activities to Protect Your Energy
72 Self Care Quotes So Funny You'll Forget Your Bad Mood
LIKE THIS 7 DAY SELF CARE CHALLENGE? PIN IT FOR LATER!