Intellectual Self Care: 13 Examples to Expand Your Mind
This post contains affiliate links and I may receive a small commission (at no extra cost to you) if you sign up or purchase products or services mentioned. Read the full disclosure here.
Are you looking to give your brain a little extra care and support? We often think about self care in terms of mental and emotional health (which are super important!) but we overlook the cognitive side of self care and what we can do to stimulate our minds to learn and grow.
The thing is: intellectual self care is essential for preventing cognitive decline as we age, improving our problem-solving and critical thinking skills, and strengthening our self-awareness!
These intellectual self care examples will teach you all the marvelous ways you can nurture your mind in a way that furthers your personal growth, intelligence, and sense of self!
What does intellectual wellness mean?
Best way to sum up intellectual wellness? Leaning into curiosity.
Anything that stimulates your mind and expands your understanding of the world around you is what intellectual self care is all about. This means tapping into your cognitive, creative abilities to expand your skills and knowledge.
Much of intellectual wellness is a mindset game.
If you approach the world as an active, continuous learner who never boxes themselves into a "fixed mindset," you are doing fantastic! Reading books, going to therapy, gathering information, and using your resources will all contribute to your intellectual wellness.
Then, there's the cognitive side of intellectual self care. Strengthening your critical thinking and problem solving abilities is another aspect that will keep your brain active and engaged. This can include questioning social norms, recognizing biases, and analyzing dilemmas from all angles.
Why is it important to practice intellectual self care?
Your intellectual side is probably not the first thing that comes to mind when you think of self care, but it's just as important as all the rest!
To create a well-rounded self care practice, your intellectual self care is worth nurturing and paying attention to for the following reasons.
It keeps your mind active and "fit"
Just as you might prioritize regular movement for your body, your brain can use a workout too in order to perform at its best! Not only will approaching life with a growth-mindset make life more exciting, but it will keep your cognitive abilities sharp.
Research has shown that people in their 70s and 80s who do mentally stimulating activities (think crossword puzzles, reading, writing, card games) were half as likely to develop cognitive impairments compared to those who did not.
But even if your 70s and 80s are a long way away, the sooner you get into the habit of regular mental stimulation, the better your brain will be!
You'll get better at decision-making
It's no surprise that improving your critical thinking skills will help you make more informed and rational decisions.
Think about your intellectual capacity at age 25/26, when the brain fully develops, compared to your brain at 15 years old. Everyone almost universally agrees that they make better decisions at 25 than they did at 15!
This is because with further brain development comes improved logic and rationality. Some of this happens naturally with age, but working your brain like it's a muscle in addition to this development will only do you favors when it comes to analyzing problems and arriving at solutions.
You improve your personal growth
Intellectual self care is great for your cognitive growth, but it also does so much more than that. Your personal growth benefits too, in more ways than one. Engaging in activities that promote intellectual wellness can help you…
Step outside your comfort zone
Keep yourself challenged
Foster a growth mindset of lifelong learning
Engage in innovative thinking
Instill a sense of accomplishment
You gain a sense of purpose
Intellectual interests tend to be goal-oriented, giving you a sense of discipline and direction. When you have a reason to set and achieve objectives, you feel accomplished! The more you get to know yourself and your goals, the clearer your purpose becomes.
The ability to plan effectively and create action plans for your goals is a great form of intellectual self care.
Goal setting is one thing, but discovering the systems that best help you actually achieve those goals is a whole 'nother beast to master!
13 Intellectual Self Care Examples and Activities
Is your goal to have more well-rounded self care? These intellectual self care examples will help you with that!
Finding the right activities that help you feel challenged, creative, and focused can have huge benefits for your overall psychological self care. Browse through these intellectual activity examples and choose the best ones for you!
Don't forget about these intellectual self care examples! Pin 'em to come back later!
1. Educate Yourself In Many Ways
This means books, podcasts, YouTube videos…the list goes on! If you aren't a big reader, or you're short on time, no worries. One of my favorite ways to keep my mind active and learning is to pop on a podcast while I do chores or work. Take advantage of the resources that work best for you!
Podcasts recommendations for your intellectual self care
A Better You by Fernanda Ramirez (my favorite right now!)
Not Your Typical by Katelynn Nolan
Girls with Goals by AnnCatherine and Caroline
Psychology of Your 20s with Jemma Sbeg
I also love watching YouTube videos to help with my self growth! My recent favorite is this one about how to reinvent yourself!
2. Try Better Ways to Meditate
Meditation can be such a challenge for many. First of all, it's so normal for your mind to wander, but gently bringing your mind back into the present is a skill that's difficult to master.
If you can never seem to meditate because your brain simply gets too distracted by other thoughts, part of the problem could be the way you meditate. What works for one person won't work for another.
If the standard "close your eyes and focus on your breath" advice just isn't cutting it, try alternatives! Meditate with your eyes open, fixating on one object in the room. Choose one of your senses to focus on, like your sense of hearing, and tune into all the sounds in your environment.
Or, better yet, try a guided meditation! Listening to someone else's voice walking you through the meditation process can make it easier to focus and stay tuned into the meditation.
3. Try an Online Course
This doesn't have to be through college either! There are so many amazing courses out there to help you learn practical skills, languages, or other subjects you're curious about.
When I first started my blog, I had no freaking clue what I was doing! So instead of wasting time figuring it all out on my own piece-by-piece, I invested in both a blogging course and a Pinterest marketing course. Let me tell you…these were worth every penny!
If you've ever wanted to start a blog of your own, I highly recommend the courses I took because it made everything a billion times easier. Check them out yourself!
4. Deep Talks and Debates
Sounds so simple, but incredibly intellectually stimulating. Not only do you practice articulating your viewpoints, thoughts, and beliefs, but you can also learn from others and open your perspective to a wide variety of outlooks on life.
If you have friends or family that you can discuss deep topics with, do it! I know almost all of my sleepovers with friends evolve into some sort of in-depth debate at 1am lol! Learning from others is always an invaluable resource.
These journal prompts for all your relationships will give you endless juicy questions to ask your friends, boyfriend, or anyone you're close to!
5. Try a Variety of Puzzles
Puzzles of any sort are a great form of intellectual self care that keeps your mind sharp as a tack! Whether it's your classic jigsaw puzzle, crossword puzzles on your phone, or sudoku, these practices can be a big help. Not to mention, they can be very soothing!
6. Goal-oriented Journaling
Journaling has so many benefits and can make a huge difference in your self-awareness, but only if you understand why you're doing it.
Do you just want a place to vent your thoughts and emotions at the end of the day? Are you journaling to work toward improving your mental health? Or maybe you're journaling to help you gain clarity and identify your goals or 5-year plan? (Psst…I have a printable mental health journal and printable goal planner exactly for this!)
But one of the best ways to get some journaling in AND stay on top of your self care is to keep a self care journal. Knock out two birds with one stone, am I right?
If you're a busy woman who wants to practice self care but can't manage to keep up the routine, then you'll love my Self Care Journal for Busy Women! It walks you through making a self-care plan from A-Z–and one that actually fits into your life.
The Ultimate Self Care Plan Template to Journal Your Way to Self Care!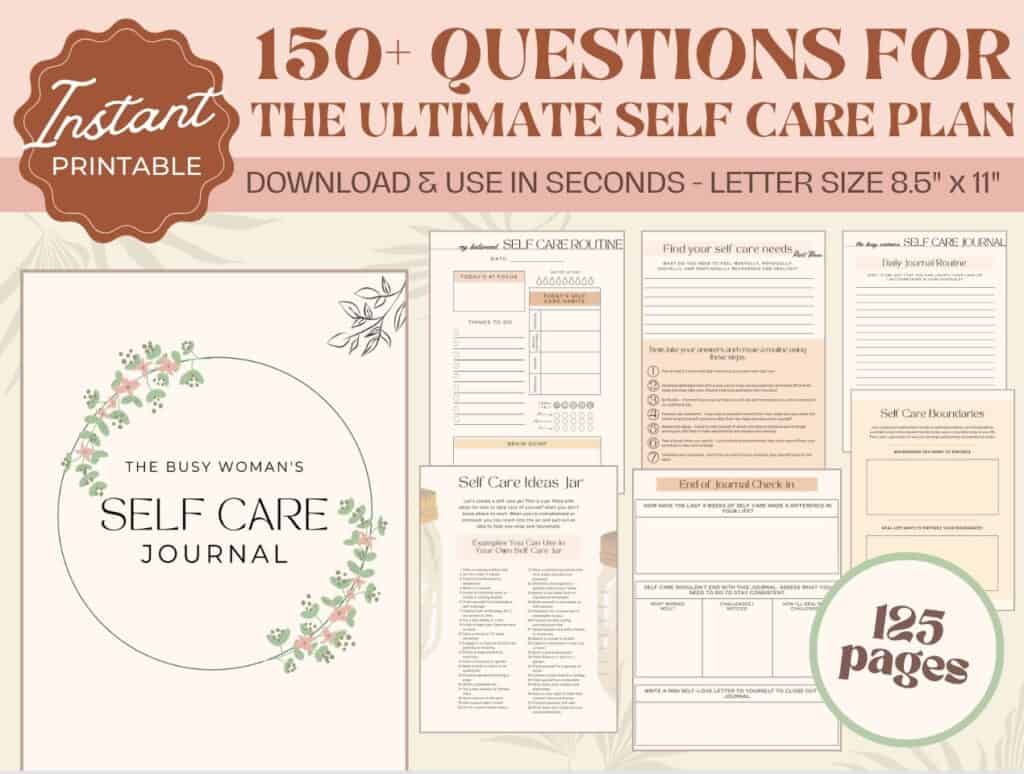 Life too hectic for self care? Not with The Busy Woman's Self Care Journal!
Made by a busy woman, for busy women, the goal of this journal is simple: to make an effective self care plan that works for your unique needs. No matter how crazy life gets!
Get step-by-step guidance to create your personalized self care plan by…
7. Go to Museums
Art museums, science museums, history museums…there's something for everyone. You can learn so much about different cultures and ways of life through museums! National parks or guided nature tours are also a great learning experience if you're not a huge museum person.
8. Learn to Play an Instrument
You probably haven't thought about instruments since high school band practice, but it's never too late to learn! Music can be an amazing creative outlet while also challenging your cognitive abilities. And let's be real, who hasn't wished they could play their favorite song on guitar?
9. Get into Creative Writing
Writing short stories, pouring your heart out through poetry, or anything that gets your creative juices flowing through writing is wonderful!
This is also the perfect opportunity to start your own blog if you've ever wanted to get your thoughts out there into the world! My guide on how to start a blog that makes money will tell you everything you need to know.
10. Attend Workshops
Your local library, college, or other organization may offer workshops to the public for a whole variety of topics. My local library has plenty of workshops for entrepreneurs, working professionals, and hobbyists, so see what you can access! This is a great way to pick up some practical skills and useful information.
Now that we have the beauty of the post-Covid era, there are so many virtual workshops at your disposal too! Check those out if your area is limited in its offerings.
11. Join a Book Club
It's amazing that your local library can be such a resource for intellectual self care, but it's true! Chances are you can find a book club at the library to join. Not only is this awesome for your intellectual development, but it's a chance to support your social well-being too!
12. Go down a rabbit hole of an interesting topic
This is an intellectual self care activity that's perfect for late nights when you can't sleep! It's pretty low-effort too, you can just go wherever your brain takes you and see what questions you end up searching for.
I like reading a variety of blog posts, or even just reading about people's personal experiences on Reddit.
13. Take personality tests
These are endlessly entertaining and you can learn a lot about yourself! There's personality tests for finding your love language, whether you're an introvert or extrovert, your enneagram number, your Myers-Briggs personality type…so many options for picking your brain!
RELATED: Self Care for Introverts: 16 Ways to Recharge Your Social Battery
What is an example of an intellectual self-care plan?
Intellectual self care can look like a whole array of different things. With such a broad concept, it's helpful to create a specified plan for how you'll incorporate this type of self care into your routine!
Your intellectual self care plan could look something like this:
Step 1: Set Intentions and Pair Them With Goals
What intellectual interests do you have? Is there a subject you'd like to learn more about? A skill you'd like to challenge yourself to master? Consider what you'd like to gain out of practicing intellectual self care and which activities would benefit you best.
Once your intentions are set, define specific goals for yourself. This could be reading 1 book a month, learning how to play guitar in 6 months, or working on a painting every weekend.
Step 2: Pair Your Goals With Relevant Habits
Most people set goals…and stop there. This doesn't help you put anything into action! This is why you need to assign habits to your goals to create an active plan for achieving them.
For example, if your goal is to learn guitar, what steps will you take each week to get there? You can schedule weekly guitar lessons or dedicate your weekends to watching YouTube tutorials. Whatever the case may be, schedule those habits in your planner once you've decided on them!
Step 3: Track Your Progress
You've gotta keep yourself accountable when practicing intellectual self care! Keep a journal, spreadsheet, or any other tools that can help you stay on track and assess how you're doing. This also lets you reflect on challenges along the way so you can adjust your strategy if needed.
Step 4: Celebrate Your Wins, No Matter How Small!
This is immensely important! If, for example, you take on a large project as an intellectual self care hobby, you're likely to get overwhelmed and discouraged if you view it as one giant project!
Instead, break it down into bite-size steps. Celebrate each step along the way. Even if it means you only got to dedicate 30 minutes to your goal this week, that is 100% valid! Some progress is always better than no progress.
What are the 8 types of self-care?
Did you know there were this many areas of self care? Self care can be applied to so many aspects of your life! These 8 types include:
Physical self care – a balanced diet, regular exercise, adequate hydration, and 8 hours of sleep.
Mental self care – your psychological well-being, including a positive mindset, stress management, and practicing gratitude.
Intellectual self care – your cognitive well-being, including things like learning new skills, setting goals, and reading personal development books.
Emotional self care – understanding yourself and regulating your emotions through activities like journaling, going to therapy, setting boundaries, and practicing positive affirmations.
Financial self care – not only does this mean good spending/saving habits, but it's also developing a healthy relationship with money. Increasing your financial literacy, investing in your future, budgeting, and expense tracking all contribute to your financial self care.
Social self care – humans are social creatures. Keeping healthy interpersonal relationships is a must for your well-being. This can include being open to new friendships, making your social circle a priority, and leaning on your support system.
Recreational self care – this is the "fun" type of self care! This can be traveling, treating yourself to a spa day, going on an adventure, or taking a fun workout class.
Spiritual self care – think of spiritual self care as fuel for the soul. This can look like reflecting on your purpose in life, meditating, praying, tuning into your body, and manifesting.
Good self care includes all areas of wellness
There is so much joy to be gained out of nurturing your intellectual side! Your intellectual self care can really impact your sense of competency, self-worth, and self-discovery. This is part of you that always has room to grow, no matter how old you get.
As much as we think about the more common aspects like our mental and physical health, intellectual self care has its place in your journey too!
My best advice is to walk forward with a growth mindset and burning curiosity. Ask yourself: how can I challenge myself more? How can I seek more opportunities to keep my mind active and engaged?
Keep learning, growing, questioning, and seeking new ways to expand your knowledge to reach new heights. Not only are you growing your intellect, but you're contributing to your overall fulfillment and potential in life. And how empowering is that?!
More Self Care Ideas You Have to Try
Ultimate List of Self Care Hobbies: 32 Ideas You've Gotta Try
60 Journal Prompts for Self Care When You're Struggling
5 Minute Self Care: 90 Quick and Wildly Helpful Ideas
7 Day Self Care Challenge: Start Self Care the Easy Way
LIKE THESE INTELLECTUAL SELF CARE IDEAS? PIN THEM FOR LATER!