80 Journal Prompts for Women to Embrace Your True Self
This post contains affiliate links and I may receive a small commission (at no extra cost to you) if you sign up or purchase products or services mentioned. Read the full disclosure here.
Last Updated on March 23, 2023
Are you a woman looking for journal prompts specifically to aid your self growth and self discovery as a woman?
Look no further, because these journal prompts for women are here to help you embrace your femininity, whether you're a young adult woman, a single woman, a mom, or any age and stage you may be at in your life!
Before we get started, you should know that…
Journal prompts can be an incredible self care tool for women.
Women of all ages, whether you're a young adult or well beyond, can begin a solid self care practice with this one tool: journaling.
You don't need anything more than a notebook, your fave pen, and perhaps some journal prompts (like these journal prompts for women!) to get those thoughts flowing!
What makes journaling so great for self care is that it's such an effective and accessible tool. Journaling can help you work through just about any thought and work toward just about any goal.
Need to journal for better goal-setting habits? There's journal prompts for that.
Feeling stuck and struggling to find your purpose? There's journal prompts for that. 
Want to work on healing your inner child? Heck, there's even journal prompts for that!
Journaling really allows you to focus on self care for anywhere in your life that you may need it. It is the ultimate self-discovery, self-care, and self-love tool. It is so comprehensive that I was able to make an entire blog/business all about it! That's pretty dang powerful.
80 Journal Prompts for Women to Get to Know Themselves
Want to learn more about YOU so you can embrace your true self? These journal prompts have something for every woman: young adult women, moms, women wanting to embrace their femininity, and explore self discovery!
Journal Prompts For Young Adult Women
Since entering adulthood, what's the most important thing you've learned about yourself?
What's the most important thing you've learned you won't tolerate?
If you could give any words of support or reassurance to your teen self, what would it be?
In what ways have you gotten closer to "finding your place" in the world?
Has adulting gotten any easier? In what ways?
What's the most important thing to you at this stage in your life?
Have you started to prioritize your mental wellbeing more as you've entered adulthood?
What is the most conflicting/confusing thing in your life right now?
Are there any areas of your life in which you feel lost or stuck?
How have you adapted to entering working life/your career? Was the transition smooth or rocky?
In what ways do you think you'll feel more secure/confident with age and time?
What do you need most right now as a young adult?
Is there any guidance you didn't get but wish you had as a young adult?
What is the most liberating thing about being a young adult woman?
What is something you used to worry about as a teenager that you no longer stress over?
What has gotten easier with time?
What is the biggest thing you want to accomplish in your 20's? (or 30's? Wherever you're at)
What is the best habit you've added into your routine as a young adult?
What skill have you picked up in your young adult years?
What hobbies have you picked up in your young adult years?
RELATED: Hobbies for Women in Their 20s: 100 Fun & Interesting Ideas
Support your adult growth by reconnecting with your inner child!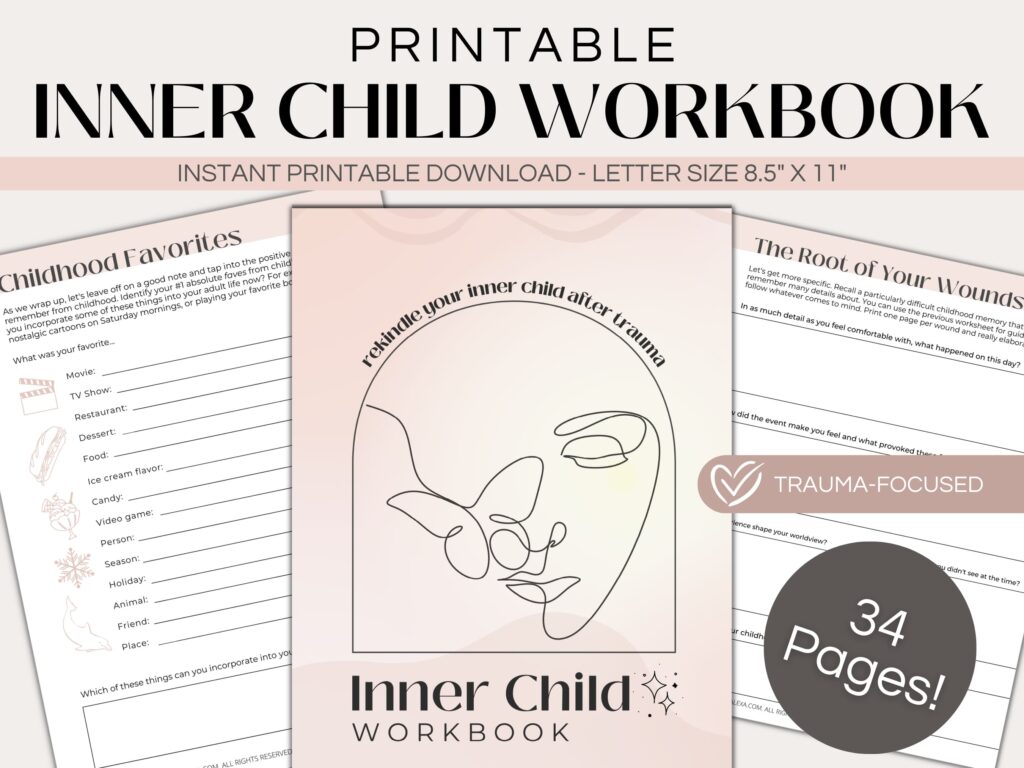 Feeling out of touch with your inner child? Been through a traumatic experience? My printable inner child journal PDF can help you give your inner child the love they deserve but didn't get.
This workbook will help you:
Journal Prompts For Femininity
What do you love most about being a woman?
What makes you feel empowered as a woman?
What advantages are there to being a woman?
What is the best thing you've done for your confidence?
What has influenced your beliefs about women?
Do you have a special woman in your life you look up to? Describe her.
When you catch yourself comparing yourself to other women, why do you do it?
What is something positive that you are completely unapologetic about?
What makes you feel most like a woman?
Do you think society as a whole perceives women positively nowadays? Why or why not?
What is the best thing about being a woman in this current time.
If you could meet an influential female figure from the past, who would it be and what questions would you ask?
What are your favorite strengths and skills?
Is there a woman you follow on social media that inspires you? Describe her.
Do you consider yourself a feminist? Why or why not?
Describe your unique experience in this world from your female perspective.
Have you ever felt held back from something because you're a woman? Explain.
Do you think there is more to have to worry about as a woman? Explain.
What is the best advice another woman has ever given you?
How is your body image doing at the moment?
What's the biggest hurdle to achieving body acceptance?
RELATED: 100 Affirmations for Body Image to Achieve Acceptance
Journal Prompts For Moms
What is the biggest roadblock you're facing right now?
When was the last time you felt proud of yourself?
What is something in your life you wish was different?
What do you wish you knew before becoming a mom?
How can you improve your self care routine?
What would make life easier?
What is most rewarding in your life?
How do you differ from your own mom?
What is something from your childhood that has shaped the way you parent?
How do you feel about asking for help from someone? Is it difficult?
What made you decide you wanted to become a mom one day?
If you could drive home any one important lesson to your child, what would it be?
Do you still feel like you have a strong identity outside of being a mom? Why or why not?
What is the biggest thing you hope for in your children's future?
How has your view of parents changed since becoming one?
How did the reality of parenthood differ from your expectations?
What is your biggest fear in raising your children?
What can you do to remind yourself that you're doing a good job as a mom?
In what ways did becoming a mom shape your personal development?
Journal Prompts For Self Discovery
What changes have happened in the last 5 years? How did you adjust to them or cope with them?
What is the most adventurous thing you want to do one day?
Where would be your dream place to live or settle down one day?
What are your top 3 values right now?
What can you do to live more in alignment with your values?
In what areas of your life do you feel most secure? Least secure?
What do you want to be remembered for?
What is the best positive affirmation you want to start believing in?
What seems to affect your energy levels and mood the most?
What is no longer serving you right now? What can you do to change it?
What do you need to let go of?
What sparks your creativity, motivation, and enthusiasm the most?
What holds you back from going after the things you want to pursue?
If fear did not exist, what would you do?
What limiting beliefs have you been struggling with lately?
What are your 3 biggest goals right now?
Are the habits you have right now helping you toward your ultimate goals? Why or why not?
How can you treat yourself with more self love, grace, and compassion?
How do you imagine your future self?
RELATED: 35 Future Self Journal Prompts for Becoming Your Best Self
3 Reasons Why All Women Should Journal
Wondering what the specific benefits of journaling are as you browse these journal prompts for women? Here are 3 super important reasons why ALL women should give journaling a try.
1. Journaling reduces stress in the lives of busy women
One of the best benefits of journaling is that it is a proven stress-reducer. This benefit is especially crucial for women, as women are actually more likely than men to report that stress levels are on the rise.
Every woman needs a go-to self care tool in times of stress and to make sense of their thoughts and emotions. Journal prompts for women can be just the thing to help you self-soothe and make day-to-day life a little more manageable–in spite of the chaos!
2. Journaling increases self-confidence
And what woman couldn't use a little more of that in her life?! Journaling is known to be a great confidence-booster in a few ways.
If you give yourself the space to reflect on your accomplishments, and even the little "wins" throughout the day, you'll see a visual reminder of all the awesome things you're capable of doing. It's easy to feel like we're never doing enough, but this practice reinforces that you are doing enough!
You can also use your journal as a space to practice positive affirmations. By writing down affirmations that encourage self-love, you are essentially reminding your brain to gravitate toward positive self-talk instead of negative! With enough practice, you'll start to develop a more positive mindset throughout your daily life.
Lastly, you can start reframing your negative thoughts into more rational ones in your journal. For example, if you feel like nothing has been going right in your life lately, you can talk yourself down from this extreme language.
As you work through your thoughts by writing them down, you might realize "okay, it's not like literally nothing has gone right. In fact, here is X, Y, and Z examples of things that have gone my way in the last month."
3. Journaling enables you to organize and prioritize
If you're a busy bee, you know organizing and prioritizing are an absolute must to keep things running smoothly. But, you know those days where there's a million thoughts running through your mind? So much so that you feel stuck and don't know where to begin?
It's in those times that you need to whip out that journal! My best recommendation is to start with a brain dump (here's an entire brain dump trigger list to help you!). Brain dumping will allow you to empty all those thoughts out of your head and onto paper, exactly as they flow to you.
From there, you can observe what you just wrote and begin to identify and organize the most important tasks and to-do's. You can even write out a numbered list and place each item from your brain dump by order of importance!
And if you ever get stuck on what to journal about, now you have this handy dandy list of journal prompts for women to refer back to! 😉
More Journal Prompts You'll Love
Intentional Journaling: Here's The BEST Way to Journal
Morning Journal Prompts: 12 Prompts to Kickstart Your Day
14 Journal Prompts for Limiting Beliefs
70 Easy and Fun Journal Prompts for Beginners
LIKE THESE JOURNAL PROMPTS FOR WOMEN? PIN THEM FOR LATER!