60+ Self Care Sunday Quotes to Reset Yourself
Last Updated on July 22, 2023
Sundays are for thinking about anything that's NOT work! If your knee-jerk reaction is to jump into the hustle and bustle of planning the week ahead, I encourage you to stop yourself for a sec.
Ask yourself this: are you truly incorporating enough balance into your weeks? Or are you feeling the need to be productive 24/7, even on the weekends when you could be relaxing?
If this is something you struggle with, these self care Sunday quotes are exactly what you need to shift into a more balanced mindset. These quotes will encourage you to take some well-deserved time for yourself.
If your self care routine has fallen by the wayside, now's the time to pick it back up again!
So take a seat, sit back and relax, and let these quotes fuel you to have the best self care Sunday imaginable!
What is Self Care Sunday?
This idea of having a "self care Sunday" (a Sunday full of rest, relaxation, and recharging) has grown increasingly popular.
The last thing you want is to jump into the work week full-force, feeling like you're running on empty! You're so much better off using your Sundays to tend to your needs so that you can perform your best during the week ahead.
Taking a Self Care Sunday means checking in with yourself, giving your body and mind what it's been asking for, and allowing yourself permission to take it easy. There's so many relaxing activities and encouraging self care Sunday quotes out there to help you accomplish this!
Why Should You Do a Self Care Sunday?
First of all, you should know that performing a self-care routine has been shown to reduce anxiety, alleviate depression, increase happiness, and recover from setbacks.
With fast-paced lives and busy work weeks, self care is, quite frankly, a MUST in order to stay sane! Taking a self care Sunday for yourself can help you…
Take a break from life's demands – between work, school, chores, kids, or any other obligations you have, you've got to remember that you're not a machine. You can't do it ALL, all of the time. We're human and we need breaks. Doing a self care Sunday gives you dedicated time to take a step back from it all.
Maintain your mental health – if you're constantly working, you're preventing your central nervous system from calming down and shifting away from stress. This can have long-term effects like excess cortisol, the stress hormone, floating around in your body–which you do not want! Using Sunday as break-time can help tremendously with "resetting" your mental health.
Add balance and enforce boundaries – taking Sunday to recharge will help you enforce healthy work-life boundaries. Allowing yourself time to rest, enjoy some hobbies, and have a little fun should be one of your non-negotiables!
What To Do On a Self-Care Sunday?
Aside from using these self care Sunday quotes to shift yourself into a healthy mindset, there's other activities you can do on Sundays to help yourself "reset"!
Try these activities if you're looking for some inspiration!
Have a Sunday morning ritual – it doesn't have to be time-consuming. 5 minute meditations, a quick journaling session, or reciting a few positive affirmations all help to recenter you.
Get some (enjoyable) movement in – whether it's a leisurely walk, hot yoga, lifting weights at the gym, or whatever strikes your fancy, do something your body will thank you for!
Pamper yourself guilt-free – have an at-home spa day, take a nice warm bubble bath, get a massage…the list goes on! Whatever you choose to do, give yourself full permission to enjoy it without the guilt. We all deserve this!
Read a book – if you need to shut your brain off, read a good fiction book to give yourself a little "escape." Or, if there's a certain goal you're working toward, there are so many amazing self-help books out there that can guide you in the right direction!
Have a gratitude practice – taking even just 10 minutes to reflect on what you're grateful for in a journal can set your mood up for success on Sundays.
60+ Self Care Sunday Quotes to Reset Yourself
Ready to have the best self care Sunday?! Whether you're looking for encouraging self care Sunday quotes, or maybe some short quotes that inspire you, or even motivational self care weekend quotes, you'll find 'em all right here!
Don't lose these self care Sunday quotes! Pin 'em to come back next weekend!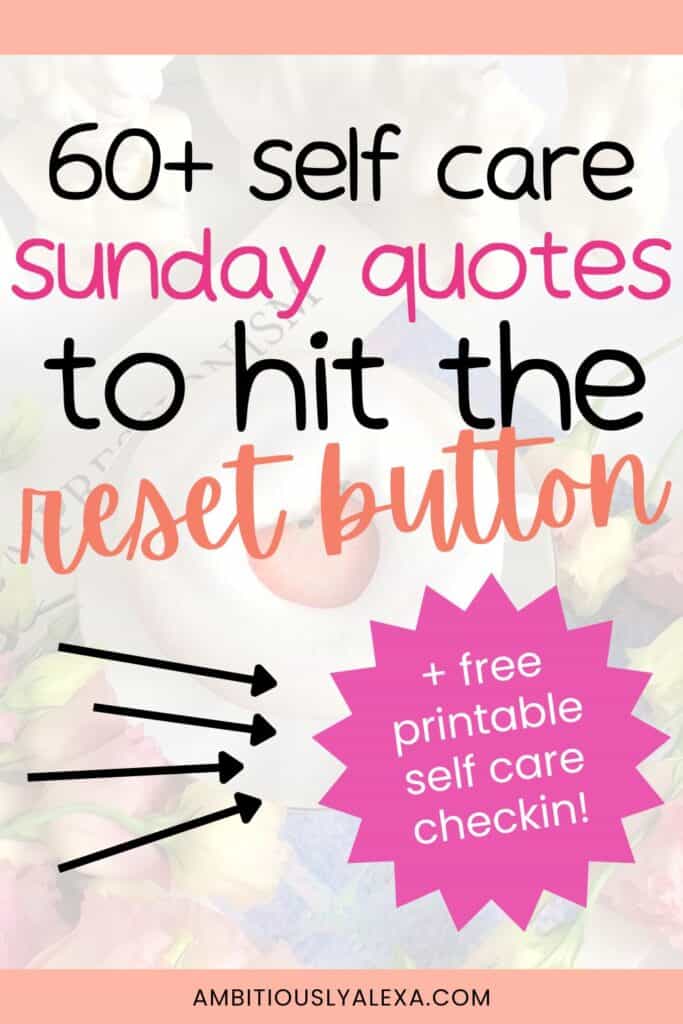 Self-Care Quotes to Rest and Recharge on Sundays
"Rest when you're weary. Refresh and renew yourself, your body, your mind, your spirit. Then get back to work." – Ralph Marston
"In this fast-paced world, rest is not a luxury; it's a necessity." – Unknown
"Rest and self-care are so important. When you take time to replenish your spirit, it allows you to serve others from the overflow. You cannot serve from an empty vessel." – Eleanor Brownn
"Rest is not idleness, and to lie sometimes on the grass under trees on a summer's day, listening to the murmur of the water, or watching the clouds float across the sky, is by no means a waste of time." – John Lubbock
"Rest is not a reward for the weary; it is a necessity for the inspired." – Unknown
"Take rest; a field that has rested gives a beautiful crop." – Ovid
"The journey back to yourself is calling. Take a rest when you need it, and come back recharged." – Unknown
"Rest is the sweet sauce of labor." – Plutarch
"Rest is the foundation of a healthy mind, body, and soul." – Unknown
"Rest and self-care are essential to your overall well-being. Prioritize them, and you'll be amazed at how much better you feel." – Unknown
"Rest, nature, books, music… these are the things that make life worthwhile." – Elbert Hubbard
"Rest when you need to. Drink water. Get fresh air. Take breaks. You are worthy of taking care of yourself." – Unknown
"Rest is not a sign of weakness, but a symbol of wisdom." – Unknown
"Rest, relax, and rejuvenate. Your body and mind will thank you." – Unknown
"Rest doesn't mean quitting; it means refueling for better days ahead." – Unknown
RELATED: 65 Sunday Affirmations to Regenerate Before a Big Week
Encouraging Self Care Sunday Quotes
"Be gentle with yourself, you're doing the best you can." – Unknown
"Nourishing yourself in a way that helps you blossom in the direction you want to go is attainable, and you are worth the effort." – Deborah Day
"Caring for myself is not self-indulgence, it is self-preservation, and that is an act of political warfare." – Audre Lorde
"You yourself, as much as anybody in the entire universe, deserve your love and affection." – Buddha
"You can't pour from an empty cup. Take care of yourself first." – Unknown
"Self-compassion is simply giving the same kindness to ourselves that we would give to others." – Christopher Germer
"Talk to yourself like you would to someone you love." – Brené Brown
"Taking care of yourself doesn't mean me first, it means me too." – L.R. Knost
"Put yourself at the top of your to-do list every single day and the rest will fall into place." – Unknown
"Invent your world. Surround yourself with people, color, sounds, and work that nourish you." – Susan Ariel Rainbow Kennedy
"You owe yourself the love that you so freely give to other people." – Unknown
"Self-care is how you take your power back." – Lalah Delia
"Self-care is never a selfish act—it is simply good stewardship of the only gift I have, the gift I was put on earth to offer to others." – Parker Palmer
"Self-care is giving the world the best of you, instead of what's left of you." – Katie Reed
"An empty lantern provides no light. Self-care is the fuel that allows your light to shine brightly." – Unknown
Self-Care Short Quotes for Sundays
"Self-care is the key to your vitality, energy, and happiness." – Unknown
"Taking care of yourself is part of taking care of others." – Unknown
"Self-love is the greatest medicine." – Unknown
"Love yourself first, and everything else falls into line." – Lucille Ball
"Self-care is giving yourself permission to pause." – Cecilia Tran
"Nourishing yourself is a necessity, not a luxury." – Unknown
"Be kind to your body, gentle with your mind, and patient with your heart." – Unknown
"Make time for yourself. You're worth it." – Unknown
"The love and attention you always thought you wanted from someone else is the love and attention you first need to give to yourself." – Bryant McGill
"Self-care is an investment in your future." – Unknown
"Be kind to yourself." – Unknown
"Rest and self-care are the roots of productivity." – Unknown
"Take time for yourself, or time will take you." – Unknown
"You are enough, just as you are." – Unknown
"The better you feel about yourself, the less you feel the need to show off." – Robert Hand
RELATED: Sunday Journal Prompts: 7 Prompts to Rest and Reset
Crafting the perfect self care plan just got easier!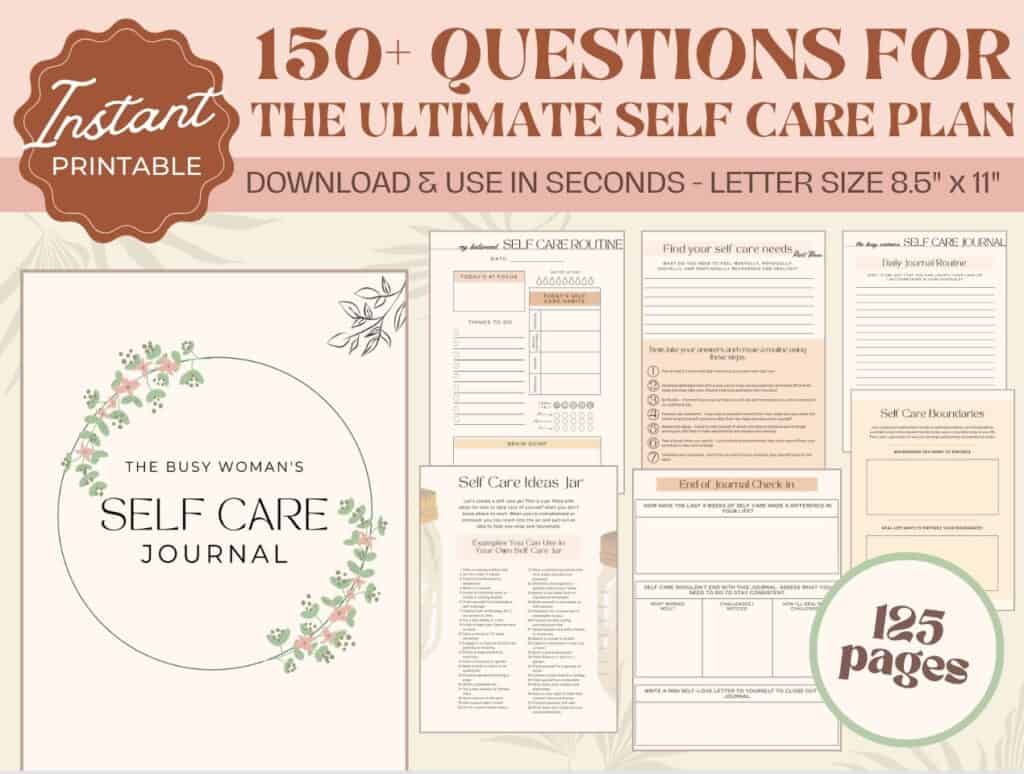 Life too hectic for self care? Not with The Busy Woman's Self Care Journal!
Made by a busy woman, for busy women, the goal of this journal is simple: to make an effective self care plan that works for your unique needs. No matter how crazy life gets!
Get step-by-step guidance to create your personalized self care plan by…
Self Care Weekend Quotes
"The weekend is a time for self-care and renewal. Take the time to relax, unwind, and recharge." – Unknown
"The weekend is a reminder that you deserve to take a break and enjoy the little moments in life." – Unknown
"Weekends are a time to refuel your soul and to be grateful for the blessings that you have." – Unknown
"It's weekend o'clock. Time to do nothing and chill out." – Unknown
"Weekends are a time to celebrate the little things and to enjoy the present moment." – Unknown
"The weekend is the perfect time to practice self-care and do what makes your soul shine." – Unknown
"Weekends are a gift. Embrace the joy of being present and making memories." – Unknown
"Weekends are for adventures, relaxation, and self-discovery." – Unknown
"The weekend is a time to pause, reflect, and focus on what truly matters." – Unknown
"The weekend is a time to let go of stress and embrace the beauty of life." – Unknown
"Weekends are meant for slowing down, savoring moments, and enjoying life's little pleasures." – Unknown
"The weekend is an opportunity to nurture yourself and do what makes your heart happy." – Unknown
"Weekends are a chance to recharge your batteries and start anew." – Unknown
"Weekends are for self-care, laughter, and creating beautiful memories." – Unknown
"The weekend is a reminder to find balance and make time for the things that bring you joy." – Unknown
"Weekends are like rainbows; they brighten up your day after a stormy week." – Anthony T. Hincks
"The weekend is a sanctuary of self-care and the perfect time to reconnect with yourself." – Unknown
RELATED: 25+ Ultimate Self Care Weekend Ideas for Unwinding
Self Care Instagram Captions and Hashtags
"Taking time to care for myself because I deserve it 💕 #SelfCareSunday"
"Today's agenda: Self-care and chill 🛁✨ #MeTime"
"Investing in self-care is the best kind of self-love 💖 #SelfCareRoutine"
"Happiness blooms from within. Nurturing myself today and every day 🌼 #SelfCareMatters"
"Finding my balance and embracing self-care like never before 🧘‍♀️✨ #SelfLove"
"Inhale peace, exhale stress. #SelfCareGoals"
"Taking a break to recharge my mind, body, and soul 🌿💆‍♀️ #SelfCareModeOn"
"Self-care isn't selfish; it's essential. Prioritizing my well-being 💕 #SelfCareIsASuperpower"
"Learning to be kind to myself in every way possible 💖 #SelfCareJourney"
"Today's mantra: I am worthy of love and self-care 🙏💕 #SelfCareAwareness"
"Taking a moment to breathe, relax, and be present in this beautiful journey of self-care 🌺✨ #SelfCareVibes"
"Nourishing my soul and replenishing my energy today 🌟 #SelfCareTime"
"Remember to give yourself the same love and care you give to others 💛 #SelfCareReminders"
"In the chaos of life, self-care is my sanctuary 🌈💆‍♂️ #SelfCareHaven"
"Practicing self-care isn't a luxury; it's a necessity for a happy life 🌻 #SelfCareEssentials"
Self Care Sunday Ideas
So, what's the best way to spend a self care Sunday? These ideas will keep your Sundays chock-full of relaxation and unwinding!
Morning meditation
Gratitude journaling – list 3 things you're grateful about
Mindfulness to ground yourself in the present moment – eliminates the Sunday scaries!
Take a relaxing bath with a face mask
Take a walk in nature
Curl up with a good book
Do some gentle stretching
Go out for brunch with the girls
Take a digital detox away from screens
Do something artistic or creative
Take a long nap
Practice positive affirmations (Here's 65 Sunday Affirmations to Regenerate Before a Big Week!)
Declutter one space in your home
Use essential oils/aromatherapy
Have a little dance party for one
Self-reflect on the things you're struggling with
Connect with friends, family, and loved ones
Visualize your goals and dreams (and brainstorm how you'll get there!)
Honestly, there's so many things you can do to make Sundays your favorite day of the week. Make it a day that helps prepare you for your busy week!
How to Use These Self Care Sunday Quotes
You can use these Sunday self care quotes in a variety of ways that uplift, encourage, and inspire you! Some ideas include…
Using these quotes and self care captions for your next Instagram post
Use the quotes as journal prompts and elaborate on how they make you feel
Turn them into daily affirmations
Write them on sticky notes and stick them where you could use the reminder most (your mirror, your desk, and your nightstand are all good places!)
Include them in cards to friends and family
Choose a self care Sunday quote that resonates deeply and make it your personal mantra
Put the quotes into Canva using an aesthetic font, print them out, and add them to your vision board
Use the quotes as part of your personal brand or on product packaging, if you have a self care business (copyright limitations may apply, however)
Replace the Sunday Stress with Sunday Self Care
If Sunday feels like your cue to stress about Monday (aka "getting the Sunday scaries"), then it's especially important to be intentional about restructuring your Sundays.
Make Sundays your dedicated day to let go of stress and put yourself first! Think about it: you work hard all throughout the week. You deserve one day, at the very least, of self-pampering and time to unwind.
Nurture yourself and reframe any negative thoughts that may pop up into more positive or rational thoughts. Don't be afraid to tell your inner critic to shut the heck up!
Your #1 priority should be to make Sundays completely work-free and immerse yourself fully in the present moment. Hopefully these self care Sunday quotes make that a little easier.
After all, Mondays are a tomorrow-problem!
Take care above all else ♡
More Inspiration to Help You Make the Best Self Care Sunday
65 Sunday Affirmations to Regenerate Before a Big Week
Sunday Journal Prompts: 7 Prompts to Rest and Reset
25 DIY Self Care Kit Ideas That Are Simple & Soothing
72 Self Care Quotes So Funny You'll Forget Your Bad Mood
Let me know in the comments:
Which Self Care Sunday Quote Will You Live By?
LIKE THESE SELF CARE SUNDAY QUOTES? PIN THEM FOR LATER!