55 Affirmations for Perfectionists to Trust In Yourself
All my perfectionists out there know the deal: the pursuit of perfection is a never-ending, exhausting, and frustrating thing that you wish you could just let go of!
It can be so discouraging to feel like your best is never good enough. Self-doubt can hold us back from so so much. It makes every endeavor feel like a failure waiting to happen. If this sounds like you, I promise you're not alone!
If you're struggling to break free from the chains of perfectionism, a fantastic place to start is with affirmations.
These affirmations for perfectionists are simple to implement into your everyday life, without taking too much time out of your day. They also target what matters most when it comes to perfectionism: your mindset, thought patterns, and beliefs about yourself.
Let's see how you can reframe your negative self-talk into a voice of acceptance, self-compassion, and realistic expectations!
What Is Perfectionism?
Let's talk perfectionism. Perfectionism is a type of mindset that involves setting unrealistic standards for yourself. It's expecting yourself to be flawless in everything you do. Perfectionists are hard on themselves and may feel like their efforts are never enough.
Chasing a level of "perfection" that you will never reach is exhausting. When you're so obsessed with the end result, you can't enjoy the process because of the pressure you place on yourself.
Causes Of Perfectionism
Perfectionist-level standards you set for yourself are often formed as early as childhood. Did your parents place high expectations on you? Were they "control freaks," whether it be about their own efforts or yours?
Or, maybe you did great academically when you were young, but that "greatness" was difficult to maintain. All these factors and more can contribute to perfectionism! This includes factors like:
Excessively high expectations from your parents
Receiving a lot of praise for your achievements at one point, but less praise later on
Feeling inadequate or incompetent
Feelings of imposter syndrome (these imposter syndrome journal prompts can help!)
Tying your self-worth to your productivity or achievements
Extreme need for control
Can You Overcome Perfectionism?
Thank goodness, perfectionism is not a fixed personality trait. It can be deeply embedded into your mindset and habits, but with enough self-awareness and effort, you can re-route these negative thought processes.
Along with these affirmations for perfectionists, taking these steps can make a big difference in your ability to overcome perfectionism:
Discover and acknowledge your perfectionism – if perfectionism is your norm, you might not always notice it. Be on the lookout for it so that you can catch yourself and acknowledge that this is a problem for you.
Challenge your inner critic – don't be afraid to question your inner critic's authority! Evaluate if these high standards are rational in the first place. Ask yourself: how much do you really believe you must be perfect in order to be successful?
Be self-compassionate – I always say treat yourself with the same kindness you'd give to a friend. Do you beat your friends up for not being perfect? No! Be flexible, gentle, and encouraging to yourself just like you would with loved ones.
Accept your imperfections – the reality is that we all have imperfections. But these imperfections don't deserve our judgment. Accept what you can't control about yourself and only focus on improving what you can–while preserving your mental sanity.
Give yourself more credit – celebrate even the smallest of wins! You don't need to reach some giant milestone to be worthy of enjoying your progress. Did you check at least something off your to-do list today? Recognize that!
How Affirmations Can Help With Perfectionism
Affirmations are ALL about challenging negative thought patterns. Overcoming perfection starts with a more balanced, understanding mindset toward yourself. This is exactly what positive affirmations target.
When you reframe your negative self-talk into positive self-talk, you are training your brain to choose more of that positive self-talk. The more you practice affirmations, the more a positive mindset will become second-nature. 
Soon enough, instead of panicking when you make a mistake, you'll be able to self-soothe and remind yourself that the world won't catch on fire because of you!
55 Positive Affirmations For Perfectionists
If you've spent far too long asking the question, "can you really overcome perfectionism?" then you're in the right place! These affirmations for perfectionists are the best first-step you can take to toning down your perfectionist tendencies and working toward a more balanced, accepting mindset!
Don't forget about these affirmations for perfectionists! Pin 'em so you can come back later!
I am worthy exactly the way I am.
I do not need to change anything about myself to be accepted.
My best IS good enough.
My achievements have nothing to do with my self-worth.
I show myself the grace I deserve when I make mistakes.
Imperfections are 100% normal. I, as well as everyone else, have them.
Imperfections may open me up to opportunities for healthy growth.
I release the need for perfection and control.
My progress, no matter how small, is worth celebrating.
I am always learning, evolving, and growing to become the best version of myself.
I am more than my productivity.
Breaks and rest are necessary for my well-being and performance.
I trust myself to make the right decisions that serve me best.
I am worthy of love and acceptance, both from myself and others.
I celebrate the efforts I give, not just the results.
The fact that I tried is worth being proud of.
I am resilient and strong.
I don't need to label anything a "failure" because failures are only temporary setbacks.
My flaws are normal.
I am allowed to ask others for help.
RELATED: 60 Transformative Journal Prompts for Negative Thoughts
Self Affirmations for Perfectionism
I look to others through a lens of inspiration, not comparison.
I may not be in charge of achieving perfection, but I am in charge of my happiness.
I value progress over perfection.
"Done" is better than perfect.
The details I've been nitpicking myself over are not even noticeable to others.
No one is paying as much attention to me as they are to themselves.
I trust in whatever timing is meant for me.
I am gentle and kind to myself, even when I'm struggling at something.
I deserve to treat myself with the same love and compassion I give to my friends.
I release the need for external validation.
I have no reason to seek the approval of others.
I'm confident in my abilities, without the need to be perfect.
I am doing amazing exactly where I am at.
Life is a learning process and it is okay for me to not have it all figured out.
I am flexible with myself and my expectations.
I am proud of the person I am.
I don't need to have all the answers.
I release the need to be certain about everything.
I accept what I can't control and only focus on what I can.
RELATED: How to Deal With Low Self-Esteem: 6 Effective Methods
Find it hard to stick to a self care routine? This journal will fix that!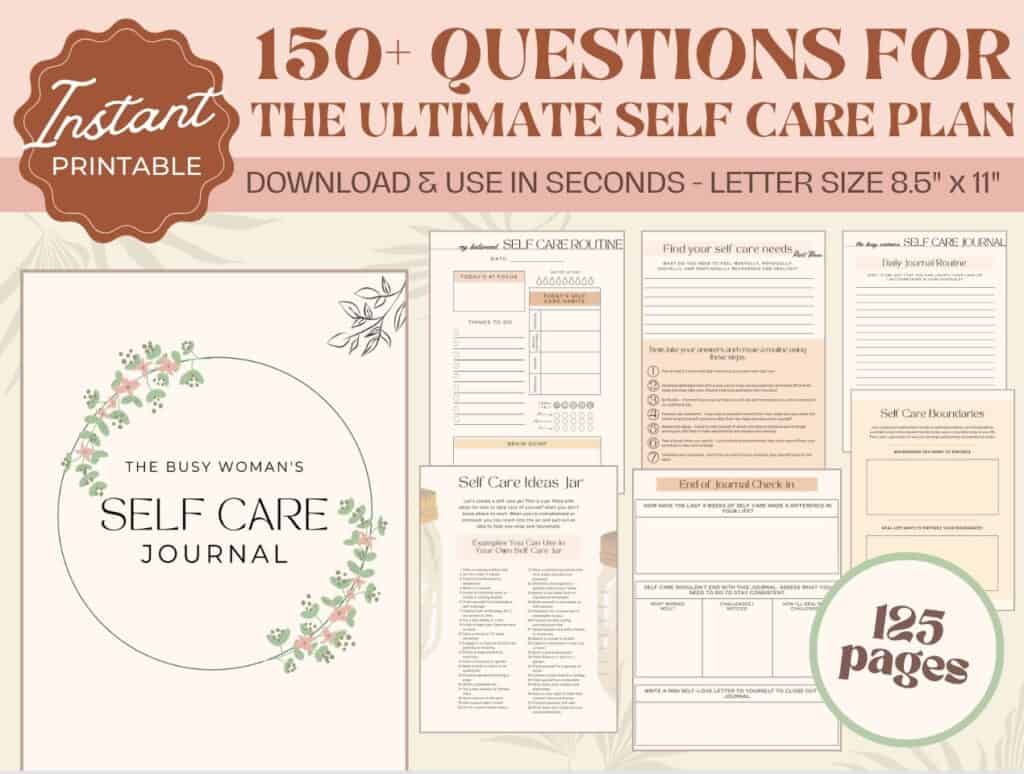 Life too hectic for self care? Not with The Busy Woman's Self Care Journal!
Made by a busy woman, for busy women, the goal of this journal is simple: to make an effective self care plan that works for your unique needs. No matter how crazy life gets!
Get step-by-step guidance to create your personalized self care plan by…
Affirmations to Trust in Yourself and Your Abilities 
The only person I need to compare myself to is the person I was yesterday.
I will let myself try new things, even if I'm "bad" at them at first.
Risks are worth taking in life.
My mistakes do not define me.
My mistakes only contribute to my learning process and self-growth.
I will not feel embarrassed to celebrate even my smallest of wins.
All of my wins, big and small, are valid and worth recognizing.
I am getting better at what I do every day.
It is okay to step back and take a deep breath.
My self-validation is more valuable than anyone else's.
If I run into a challenge, I maintain kindness toward myself.
Feedback is not always meant to be critical, or an indication of personal failings.
I trust that I have the ability to handle whatever the future has in store for me.
I am patient with myself throughout all of life's ups and downs.
I trust that I am doing my very best in all situations.
Life is a journey and I love the person I am blossoming into along the way.
RELATED: 14 Journal Prompts for Limiting Beliefs
How To Use Affirmations for Perfectionists
Consistency is everything when it comes to making affirmations effective for you. Remember, affirmations retrain your brain to gravitate toward positive self-talk over time. For this to happen, you have to get into the habit of practicing affirmations for perfectionists regularly.
Try these tips for getting the most out of these affirmations:
Identify what triggers your perfectionism. Think about how you feel at work, when taking on a new task, or when you're in front of your peers. Knowing your triggers will help you curate affirmations that are uniquely helpful to you.
Get specific. Make your affirmations specific! If you know you struggle with comparing yourself to others, you may want to try a statement like, "the only person I need to compare myself to is the person I was a year ago."
Practice affirmations DAILY! I can't stress this enough! For affirmations to really work their magic, you'll need to be including them in your routine on the regular. All you need is to set aside 5 minutes when you first wake up or before you go to bed, and you're golden.
How Do You Tone Down Perfectionism?
If your perfectionism feels all-consuming at times, you can work on toning it down and managing the stress it causes. Key things to focus on include increasing your self-awareness, self-compassion, and restructuring your negative thought patterns.
Coping Strategies For Perfectionism
Try these strategies the next time you're struggling with perfectionism:
Observe how your perfectionism manifests. What exactly do your thoughts and actions do when you are in perfectionist-mode?
Shift away from "all or nothing" thinking. Easier said than done, I know. But remember that very few things are set up in terms of extremes. It's not always pass or fail. There are middle grounds and happy mediums that can be perfectly sufficient.
Practice mindfulness – sometimes we need to draw ourselves back to the bigger picture of what is really happening in the present moment. See how you can enjoy the process, rather than frantically scrambling your way through it.
Notice your language. Do you often use words like "always" or "never"? This is exactly where affirmations for perfectionists can come in to help you practice avoiding words that reinforce extremes.
You've likely had some perfectionist tendencies for the better part of your life. Bad habits that we acquired in childhood are never easy to break, and perfectionism often falls into that category!
Luckily, you can do the work to challenge these perfectionist thoughts and slowly begin to stop them in their tracks. Make sure to use your resources: these affirmations for perfectionists, journaling, mindfulness, speaking with a therapist, or anything that provides value to you!
More Affirmations You'll Love
65 Affirmations for Protection to Feel Safe Just as You Are
80+ Self Worth Affirmations to Validate Yourself
45 Mindfulness Affirmations to Immerse Yourself in the Present
Affirmations for Friends: 100 Words for Closer Friendships
LIKE THESE AFFIRMATIONS FOR PERFECTIONISTS? PIN THEM FOR LATER!