72 Self Care Quotes So Funny You'll Forget Your Bad Mood
Last Updated on July 20, 2023
On hard days where you just wanna forget about everything, you could probably use a good laugh! Self care is often serious and goal-oriented, which is fantastic, but every once in a while it's healthy to let loose and be silly with it.
If it feels like everything kiiinda sucks right now, these funny self care quotes are the perfect little pick-me-up to remind you that there's still plenty to smile about!
I used to always write down short funny quotes for self-love in my notebook whenever I needed a little boost. I figure I should share these same types of quotes with you, so you can experience the same joy, laughs, and confidence in your day!
This post is all about funny self care quotes.
What Is A Good Quote About Self Care?
If I could share just one amazing quote about self care, it would be this one:
"If it costs you your peace of mind, you've overpaid."
Think about all the times you've probably tried to save money at the expense of your peace of mind.
Parking somewhere questionable to avoid paying a meter, but spending your whole day worrying about getting a ticket.
Finding the cheapest rent possible, but living in a not-so-safe neighborhood.
Spending hours researching how to properly do your taxes by yourself, but having looming anxiety about if you did everything right.
I mean, sure, you're saving money. But you always have to ask yourself: at what cost?
Not to get too deep or anything, because this post is all about funny self care quotes after all! Just thought I'd share a quote that gives you some food for thought. Now, on with the light-hearted stuff!
72 Self Care Quotes (Funny & Happy!)
Want to forget about those overwhelming stresses of adult life for a sec? Let loose and enjoy yourself with these silly, goofy, funny self care quotes!
Whether you're looking for short and funny self-love quotes, cute quotes for Instagram, sarcastic quotes about yourself, or funny quotes about self confidence, I've got all of that right here for ya!
Short Funny Self-Love Quotes
"Great things never came from comfort zones." -Unknown
"I got it all together. But I forgot where I put it." -Unknown
"It's not your job to like me…it's mine!" -Byron Katie
"Accept who you are. Unless you're a serial killer." -Ellen DeGeneres
"Self-love seems so often unrequited." -Anthony Powell
"Loving yourself isn't vanity. It's sanity." – Andre Gide
"I don't trust anyone who doesn't laugh" – Maya Angelou
"When life gives you lemons, squirt someone in the eye." – Cathy Guisewite
"When life gives you a dumpster fire, roast marshmallows." – by Unknown
"If it's out of your hands, it deserves freedom from your mind too." – by Ivan Nuru
"Sometimes the most productive thing you can do is relax" – by Mark Black.
"If it costs you your peace of mind, you've overpaid." -Rigel J. Dawson
"If you don't have wrinkles, you haven't laughed enough." – Phyllis Diller
"Suffering is part of our training program for becoming wise." – Ram Dass
"All you need is love. But a little chocolate now and then doesn't hurt." — Charles M. Schulz
"Be yourself. An original is so much better than a copy." -Unknown
"I used to just crastinate, but I got so good, I went pro." -Unknown
"Worrying is like paying a debt you don't owe." -Mark Twain
RELATED: 5 Minute Self Care: 90 Quick and Wildly Helpful Ideas
If your schedule makes self care seem impossible, you need this journal!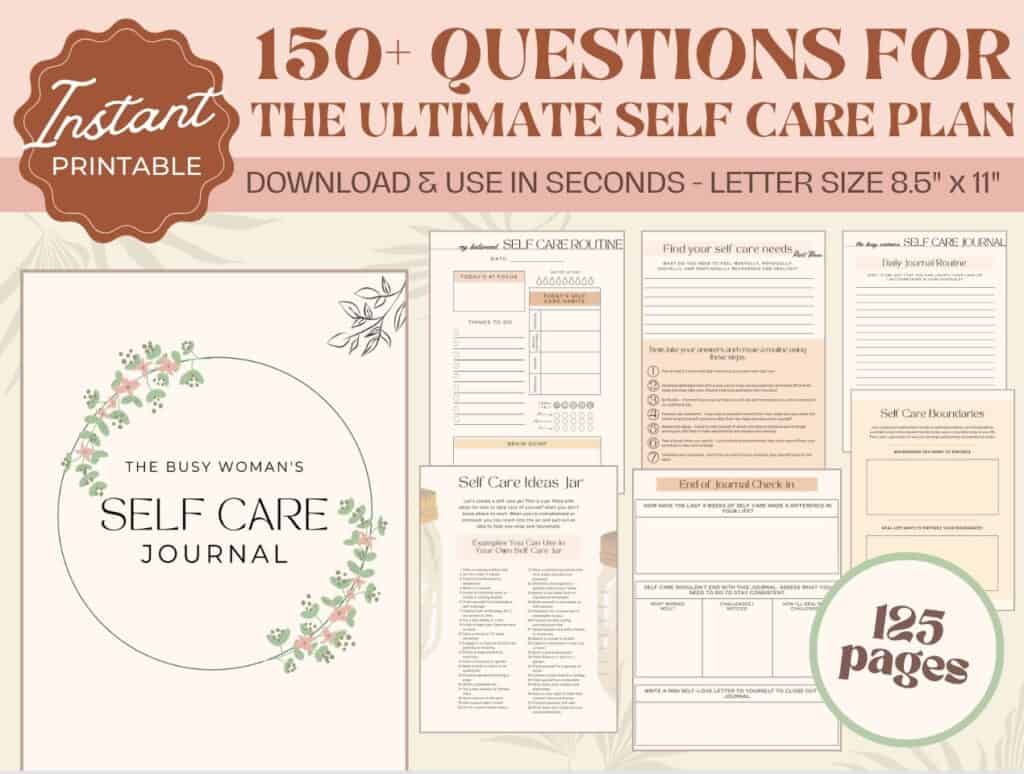 Life too hectic for self care? Not with The Busy Woman's Self Care Journal!
Made by a busy woman, for busy women, the goal of this journal is simple: to make an effective self care plan that works for your unique needs. No matter how crazy life gets!
Get step-by-step guidance to create your personalized self care plan by…
Funny Self Love Quotes For Instagram
"Life is like photography, we develop from the negatives." -Unknown
"My mission in life is not merely to survive, but to thrive; and to do so with some passion, some compassion, some humor, and some style." – Maya Angelou
"Become a priority in your life" – Unknown
"Know your worth, and then make sure to add tax." -Unknown
"If you're searching for that one person that will change your life, take a look in the mirror." — Unknown
"Love yourself no matter who you are or where you come from." — Diane Guerrero
"Be enough for yourself first. The rest of the world can wait." -Unknown
"They say good things take time, so that's why I'm always late." -Unknown
"You carry so much LOVE in your heart. Give some. To yourself." -Unknown
"The more you love yourself the less nonsense you tolerate." -Unknown
"Too glam to give a damn."
"Don't get bitter get better." -Alyssa Edwards
"Humble as ever, but aware of my value." – Unknown
"Breathe. Let go. And remind yourself that this very moment is the only one you know you have for sure." –Oprah Winfrey
"No is a complete sentence." –Anne Lamott
"If your compassion doesn't include yourself, it is incomplete." –Jack Kornfield
"If they are speaking behind your back, they should be standing behind you." -Unknown
"They say nobody's perfect. Guess what? I'm nobody." -Unknown
"Ice cream is cheaper than therapy." -Unknown
"Objects in the mirror are cuter than they appear." -Unknown
"Relationship status: committed to growth, self-love, and inner peace." -Unknown
EVEN MORE Funny Affirmations: 60 Funny Positive Affirmations to Make You Laugh
Self Sarcastic Quotes
"They say self-care is the greatest middle-finger of all time. We should all make use of it more often." – by Adelina Vasile
"Just because you take breaks doesn't mean you're broken." – by Curtis Tyrone Jones
"Your problem is you're … too busy holding onto your unworthiness." -Ram Dass
"I am the only person in the world I should like to know thoroughly." -Oscar Wilde
"It's important in life if you don't give a shit. It can help you a lot." – George Carlin
"If you end up with a boring miserable life because you listened to your mom, your dad, your teacher, your priest, or some guy on television telling you how to do your shit, then you deserve it." – Frank Zappa
"This is my cup of care. Oh, look, it's empty." -Unknown
"Don't forget to drink some water and get some sun. You're basically a house plant with more complicated emotions." – by Pearl Haggard
"When you say 'yes' to others make sure you are not saying 'no' to yourself." – by Paulo Coelho
"I'm staying home today. I have mood poisoning." -Unknown
"A wise woman once said, "fuck this shit" and lived happily ever after." -Unknown
"The secret to success is to offend the greatest number of people." – George Bernard Shaw
"Self-love is a good thing but self-awareness is more important. You need to once in a while go 'Uh, I'm kind of an asshole." — Louis C.K.
"Ever loved someone so much, you would do anything for them? Yeah, well make that someone yourself and do whatever the hell you want." — Harvey Specter
'Are you free tomorrow?' 'No, I'm expensive.' -Rebel Circus
"People often say that motivation doesn't last. Well, neither does bathing—that's why we recommend it daily." -Zig Ziglar
"When I hear somebody sigh, "Life is hard", I am always tempted to ask, "Compared to what?" Sydney Harris
Funny Quotes About Self Confidence
I'm too busy working on my own grass to notice if yours is greener. -UNKNOWN
"I think everybody's weird. We should all celebrate our individuality and not be embarrassed or ashamed of it." -Johnny Depp
"You have been criticizing yourself for years, and it hasn't worked. Try approving of yourself and see what happens." -Louise L. Hay
"When you realize your self-worth you'll stop giving people discounts." -Unknown
"Sometimes I pretend to be normal. But it gets boring. So I go back to being me." – Ain Eineziz
"You are worth more than second thoughts and maybes" – by Tina Navarro
"Be good to your skin. You'll wear it every day for the rest of your life." -Renee Rouleau
"Being different is a revolving door in your life where secure people enter and insecure exit." — Shannon L. Alder
"Beauty begins the moment you decide to be yourself." — Coco Chanel
"When I was around, I looked in the mirror and said, 'You're either going to love yourself or hate yourself.' And I decided to love myself. That changed a lot of things." -Queen Latifah
"She remembered who she was and the game changed!" -Lalah Deliah
"When a woman becomes her own best friend life is easier." -Diane Von Furstenberg.'
"The hardest challenge is to be yourself in a world where everyone is trying to make you be somebody else." – E.E. Cummings
"I am odd and odd is fine. "Ordinary" is overrated." -Unknown
"I saw a lady in her 80's checking herself out in a mirror today. She said, 'Once I was young and beautiful. Now I'm just beautiful.' Slay." —​ unknown
"Be messy, complicated, and afraid. And show up, anyway." – Glennon Doyle
RELATED: 15 Best Affirmation Cards for Every Day Confidence
This post was all about funny self care quotes.
More Self Care Quotes and Affirmations You'll Love
80 Healing Inner Child Quotes to Feel Validated
70 Spiritual Self Love Affirmations for a More Hopeful Outlook
30 Day Self Love Affirmations to Bump Up the Confidence
60 Funny Positive Affirmations to Make You Laugh
LIKE THESE FUNNY SELF CARE QUOTES? PIN THEM FOR LATER!