65 Affirmations for Protection to Feel Safe Just as You Are
Last Updated on March 29, 2023
Safety and security are some of the most basic, non-negotiable needs. Safety is so fundamental that it's one of the first needs in Maslow's hierarchy of needs to meet before fulfilling pretty much any other need. So, pretty darn crucial.
Just after bare necessities like food, water, and shelter, your safety is next in line in order to thrive.
And you won't be able to soothe other needs like love and belonging, self-esteem, or self-actualization until you are completely firm in your feelings of safety.
This is why focusing on protecting your energy, like through these affirmations for protection is something you don't want to overlook.
Make sure to pin these affirmations for later!
Mindset is key for protecting your energy. You get back what you put out.
This is where the "fake it til ya make it" mentality actually holds some truth.
If you start prioritizing healthy boundaries and being intentional about what you allow into your life, even if you feel passive and insecure right now, you will make progress in protecting your energy.
Basically, acting the part results in becoming the part. AKA the Law of Attraction.
(Keep in mind that the law of attraction isn't actually based in science, it is more of a belief system meant to strive for what you want in your life. Still valid, just in a different way.)
So by reframing your mindset to be more positive (which is the WHOLE goal of affirmations!), and by believing that you deserve to be safe, and are allowed to assert your boundaries, there will come a point where this assertiveness becomes who you are.
What are some affirmations for defending yourself?
If you'd like some quick examples of affirmations for protection, I got you! Try these affirmations when you need the confidence boost to defend yourself:
I'm allowed to stand up for myself.
I'll never be afraid of my own voice.
I trust my gut instinct and take the time to listen to it.
I am done with tolerating disrespect from anyone.
If you're ready for more, keep on reading!
65 Affirmations for Protection to Feel Safe Just as You Are
You deserve to feel safe in your own skin. Maybe you're seeking out spiritual protection, or perhaps there's someone toxic in your life and you need affirmations for protection from a particular person, or you could just use some grounding and protection in general. These affirmations cover all of that!
Don't lose these affirmations! Pin them to go back to later.
Affirmations for spiritual protection
I feel brave, confident, and secure in my ability to defend myself.
I feel empowered to protect myself.
I am 100% capable of managing anything life throws at me.
I deserve unconditional safety and security.
I don't have to second-guess my decisions, because I trust my ability to make the right ones.
I release all negative thoughts, feelings, and energy from my mind.
I don't need to stress because I am being guided.
I live in mindfulness of the positive energy all around me.
I choose to seek out the good and refuse to give my time to the bad.
I trust in my belief system to keep me safe from harm.
I am strong to the point where no negative energy can shake me.
I can rest easy knowing that things just work out for me.
I cut off toxic people with no hesitation.
I remove myself from toxic environments without any guilt.
I feel at ease in my own body.
Achieving inner peace comes easy to me.
I don't attract negative energy in the first place because I only give off positive energy.
I am connected to my intuition and don't need to question it.
I trust the process of everything happening for my best interest.
My wisdom allows me to make the right decisions for me and my life.
I trust my intentions and am able to guide myself with confidence.
I am grateful for each and every one of the blessings in my life.
I will nurture and tune into my inner child and their needs, too.
This journal will help you reconnect to your inner child!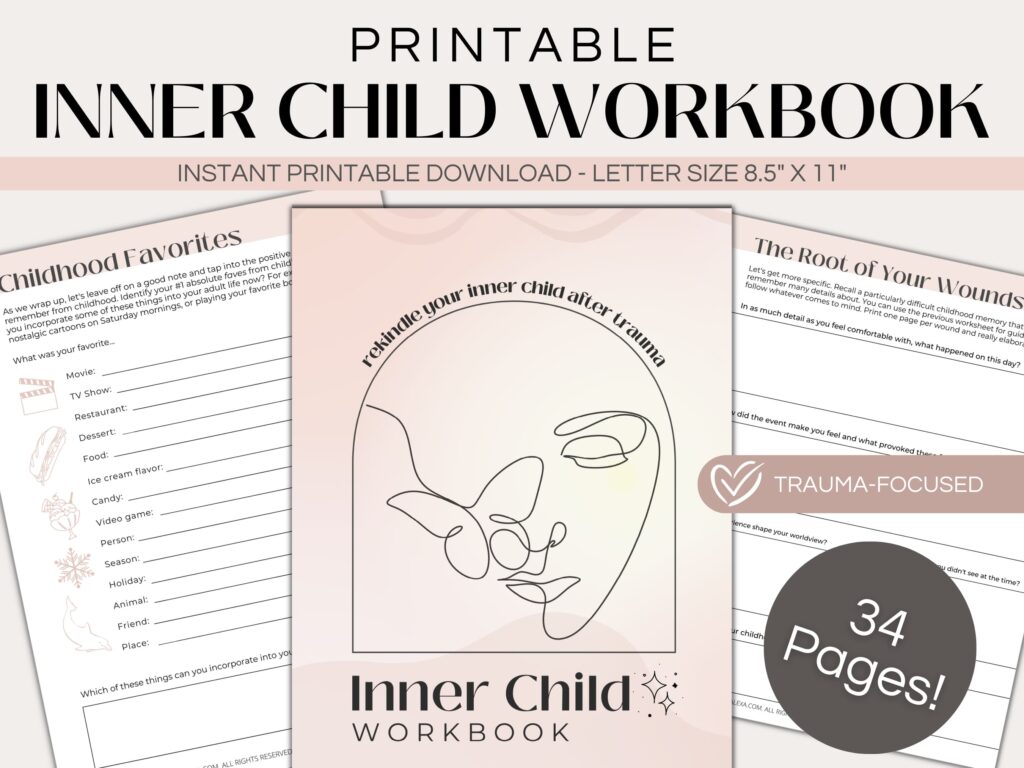 Feeling out of touch with your inner child? Been through a traumatic experience? My printable inner child journal PDF can help you give your inner child the love they deserve but didn't get.
This workbook will help you:
Affirmations for protection from a particular person
I am well within my rights to set firm boundaries and enforce them.
I don't need external validation. My self-validation is more valuable anyway.
I choose to surround myself with only supportive people.
I'm allowed to be choosy about who I let into my circle.
I will listen to my gut when I feel it telling me something about a toxic person.
I ultimately know what is best for me and my own interests.
I will not live my life for others.
My life choices will not be contingent on the opinions or behavior of others.
I define what my worth is. No one can decide that for me.
I value myself and all the good I have to share with others.
I do not need to give myself and my energy to those who drain me.
I won't let others' negative influences impact my own behavior.
I deserve love, kindness, and care at all times.
I am in charge of the steering wheel of my own life.
I am in control of my decisions and will not allow toxic people to dictate them.
My needs are important and I won't let anyone sway me otherwise.
I deserve only the best treatment.
I am not responsible for the emotions and actions of others.
I am allowed to set limits to protect my mental wellbeing.
I feel fully comfortable in communicating my boundaries with others.
It's okay to put myself first.
I cannot fulfill the needs of others without first taking care of myself.
My boundaries deserve to be recognized and respected.
RELATED: Self Care for Empaths: 13 Activities to Protect Your Energy
Remember to pin these affirmations for next time you need them!
Grounding and protection affirmations
I have full control over my actions and the way I react.
It's possible to assert myself and voice my needs without offending others.
As I ground myself in the present moment, I feel peace.
I make choices based on what aligns with my values.
I am taking in my whole body and its connection to my environment.
I am safe and secure right now in this very moment.
I feel fully immersed and engaged in the present moment.
There is nothing else I need to be doing right now.
I release all worries and fears of how others perceive my boundaries.
I am proud of my strength and resilience.
I can feel the abundance all around me and the abundance coming my way.
I am experiencing myself just as I am, without the need to judge anything. Just observing.
I welcome guidance from the universe/God/etc.
I go about my day being very mindful of living in the now.
I am able to romanticize my life without comparing it to others.
Good things are meant to happen to me.
In this moment, I am not experiencing any bad energy, thoughts, or vibes.
I am a calm, confident person.
I protect my "me-time" whenever I recognize I need it.
RELATED: 25 Journal Prompts for Boundaries You Might Need to Set
Final Thoughts on Affirmations for Protection
By using these affirmations for protection, you can build a positive mindset and protect yourself and your energy. You're more worthy than you know, believe me!
And, good news is: the more you practice affirmations like these, the more you start to truly believe them–making a huuuge impact on your inner dialogue!
Affirmations always work best when they feel personal to you. So feel free to run back through these affirmations for protection and choose the ones that match what you really need most right now.
Soon enough, you'll notice a shift in your mindset, self-talk, and confidence in asserting your boundaries.
More Affirmations You'll Love
21 Affirmations for Setting Boundaries That Best Serve You
70 Spiritual Self Love Affirmations for a More Hopeful Outlook
114 Empowering Affirmations for Letting Go
72 Trauma Affirmations to Support Your Healing Journey
LIKE THESE AFFIRMATIONS FOR PROTECTION? PIN THEM FOR LATER!