40 October Affirmations for a Mindful, Peaceful Month
Last Updated on September 14, 2023
Are you feeling the cozy, comforting vibes of the fall? I know I am!
Feeling the crunch of the autumn leaves, the crisp fall air, and the pumpkin-spiced everything really creates the mindset refresh we're all looking for!
So obviously, there's no better time to bask in the joy of the season by practicing October affirmations.
This month is the perfect time to slow down, prioritize your mental well-being, and practice mindfulness, while still balancing the productivity you need to reach your goals. These aspects are the driving force behind the affirmations in this post.
So if those areas match your needs in this season of your life, you're in the right place.
Get ready to affirm what you need the most out of October!
40 Daily Positive October Affirmations for a Happy Fall Mindset
Working on your mindset and healthy habits this October? Then these are the October affirmations you need to get yourself on the right track for your mental health, productivity, and self care to thrive!
Don't forget about these October affirmations! Pin 'em to come back later!
October Affirmations for Mental Well-being
October is my month to see real transformation and self-growth.
I am a magnet for attracting amazing opportunities in October.
I radiate warmth, positivity, and confidence as I go about my month.
I release what no longer serves me, just like the trees letting go of their leaves.
I am whole just the way I am.
I attract abundance in each area of my life.
I appreciate the new beginnings and fresh perspectives this month has to offer.
I am a source of warmth, comfort, and support to my loved ones.
Each day, I am getting more confident and sure of the person I am.
I welcome the unknowns that I encounter with curiosity, rather than anxiety.
I am open to receiving all the positive experiences this month has in store for me.
I release fear and self-doubt, as my energy is too precious to waste.
RELATED: October Self Care: 15 Ideas for a Soothing Month
October Affirmations for Mindfulness
I ground myself in the present moment of the fall season.
I am grateful for the beauty of the changing season and the nature I get to see.
I am in tune with the rhythm of the world around me.
I inhale the crisp autumn air whenever I get the chance, allowing it to energize me.
I am at peace with change without passing any judgment, allowing it to just be.
I bask in the joy of the simple pleasures of October.
My job is to face the present moment, not the future.
I feel completely grounded in my purpose and passions.
I am aligned with the natural flow of life, wherever that may lead me.
This month, I choose to embody peace and serenity.
I trust in the journey I am on.
My breath is my anchor, guiding me to ground myself.
I seek out moments of stillness, giving myself the breaks I deserve.
I let go of distractions, reserving my focus for the here and now.
RELATED: 45 Mindfulness Affirmations to Immerse Yourself in the Moment
Make October your month to get serious about self care that works for YOU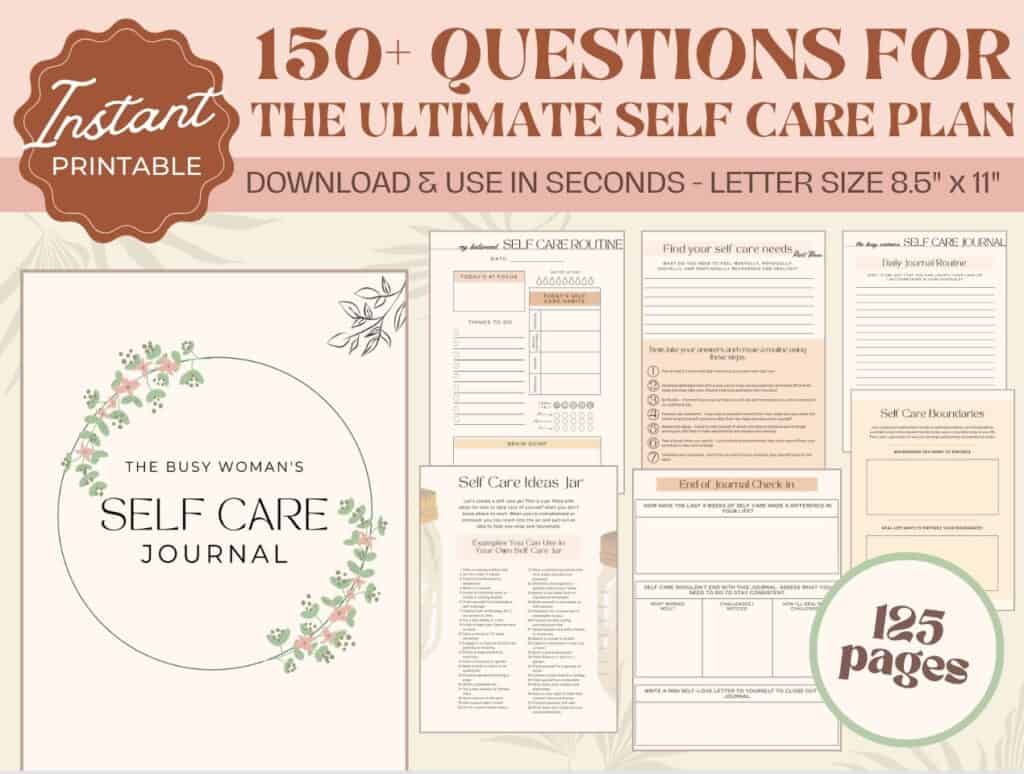 Life too hectic for self care? Not with The Busy Woman's Self Care Journal!
Made by a busy woman, for busy women, the goal of this journal is simple: to make an effective self care plan that works for your unique needs. No matter how crazy life gets!
Get step-by-step guidance to create your personalized self care plan by…
October Affirmations for a Productive Work Month
My goals will be seamlessly achieved.
Each day in October is a fresh new start with a fresh new chance.
I have big dreams that deserve to be pursued.
I will no longer stand in my own way of success.
I am resilient and capable.
I feel immensely fueled by my creativity this month.
Every challenge I face in October is simply an opportunity to grow and persevere.
October's challenges are just stepping stones to where I want to be.
I am eager and ready to smash my October goals.
Task management and organization are my strengths.
With each new month, I am getting closer to achieving excellence.
I am filled with motivation, passion, and enthusiasm about my projects this month.
I find joy in romanticizing the process of working on my goals.
October is my time to shine and become a productive powerhouse.
RELATED: 58 October Journal Prompts to Get Inspired This Fall
Why Practice Affirmations in October?
If there's a lot on your plate this month, you should still make self-care and positive affirmations a priority. Here's why.
As the year winds down, there's no better time for self-reflection and soul searching. October affirmations can nudge you to consider your current needs and affirm whatever it is you need to feel your best.
We often overlook our needs, unaware of the fact that they change throughout the year! When you ask yourself what your needs are, and you pair positive affirmations to address them, this is the perfect way to get some self-care in…especially if you're in a time crunch!
For example, maybe you recognize that you need to be more compassionate and gentle with yourself. Make October your month to challenge your inner critic! You can gear your affirmations toward positive self-talk that counters the negative language your inner critic has been feeding you.
How to Use Affirmations Effectively
With affirmations, you only get out what you put in. They can't change your mindset overnight, so it's important to make practicing affirmations a consistent habit if you want to see true change in your mindset and self-talk.
If you want to actually get the most out of your October affirmations, these tips are your best friend!
Go into affirmations with the right mindset – now, I know you're here because you aren't exactly experiencing "the right mindset" (that is, a healthy and positive one.) That's okay! What matters is your mindset about the effectiveness of affirmations and what they can do for you. Approach them with an open mind and an optimistic outlook, believing that they will, in fact, improve your mental well-being.
It's all about YOU! – Make your affirmations personal! No two people will have the same needs, so ask yourself what you need to hear most right now. Choose the affirmations that will guide your month based on those needs!
The more specific, the more effective – do you think a generic statement like "I am happy" is going to have a big impact? Probably not. When you use more specific affirmations like "I am happy with where I am at in this chapter of my life, knowing I'm on track to reach my goals," your brain can more truthfully envision feeling that way.
Repetition is a must – I can't stress enough how necessary it is to practice your affirmations consistently, ideally on a daily basis. Without repetition, your brain will not get enough feedback to form new neural pathways (and science confirms that this is the way affirmations improve your self-talk).
Following these tips will help you develop an effective affirmations practice–one that continues well beyond October!
Click to finally create the self care plan that's personalized to YOU!
More Fall Self Care You'll Love
58 October Journal Prompts to Get Inspired This Fall
October Self Care: 15 Ideas for a Soothing Month
85 Halloween Self Care for a Feel-Good Spooky Season
35 Fall Self Care Ideas to Stay Cozy and Happy
LIKE THESE OCTOBER AFFIRMATIONS? PIN 'EM FOR LATER!