125 New Month Affirmations to Live With More Intention
Last Updated on September 20, 2023
Months just seem to fly by, don't they?! Can you believe it's already time to welcome a new month? If you want to make your months more intentional, focused, and centered around supporting your self-care, you've gotta try these new month affirmations.
Take this time to pause for a moment. Consider this: how do I want to set the tone for the next 30/31 days? What do I truly want to get out of this month?
Whether you want to manifest new goals, embrace new beginnings, or simply walk into the next month with a fresh perspective, these affirmations will help you with that!
Here's to a happy new month.
Why New Month Affirmations Are Important for a Monthly Mindset Reset
If you jump from month to month without much thought, you're missing out on the opportunity to do things like…
This is why we want to do something to make the 1st of a month feel like we just hit the "reset" button! This is your chance to have a thoughtful, supportive meeting with yourself to set yourself up for success in the new month.
Practicing affirmations regularly can even create new circuits in your brain–truly reshaping your self-talk patterns and forming a real difference in your mindset.
New Month Affirmations = A Chance to Recenter Yourself and Your Intentions
Time can really pass us by if we don't pay attention. How many times have you thought to yourself, "how is it already June?!" when January 1st was obviously yesterday (right?)?!
Moving from one month to the next, making all the months blend together in one big blur, doesn't feel the best! If your goal is to live life more intentionally and be more present, these new month affirmations are a must to help you evaluate your months more mindfully.
These new month affirmations are perfect for every month of the year!
January – to get in the right mindset for yearly goal planning
February – to help you make it through the home stretch of winter
March – to celebrate the first signs of spring
April – to cozy up on rainy days with some uplifting affirmations
May – to gear up for the summer months ahead
June – to do a mid-year reflection and check in on your goals
July – to be present in the moment and enjoy every fun summer day
August – to take things nice and easy
September – to start embracing the fall vibes
October – to appreciate cozy self care evenings indoors
November – to reflect on the gratitudes that make your life happy
December – to focus on family, connection, and celebration
125 New Month Affirmations to Get You Motivated About the Month Ahead
Want to create a happy new month for yourself? Perfect! Whether you want to embrace new beginnings, pick up some motivating new month affirmations for work, or want to focus on new month manifestations to get you closer to your dreams and goals, these new month affirmations cover it all!
Don't forget about these new month affirmations! Pin 'em to come back next month!
Happy New Month Affirmations
This month will be a major success.
This month will get me so much closer to achieving my goals.
I cannot wait to experience the everyday joys this month will bring.
I will choose positivity and optimism.
I am excited to apply what I learned last month to this month.
I will shift my focus onto what serves me best and makes me happiest.
I will say "yes" to new adventures and make time for fun.
I am surrounded by love and support.
I will think more deeply and more mindfully this month.
I embrace any changes that may come my way.
My creativity will be at its peak this month.
I approach each day with enthusiasm.
This month's possibilities excite me.
I am looking forward to a month filled with abundance.
I am in control of my mindset and I can shape it for the better.
I walk into this month with an open mind and an open heart.
I take this as an opportunity to establish a growth mindset.
I am adaptable and adjust easily, even to difficult changes.
I nurture my well-being.
I understand self care is a necessity and I treat it as such.
If last month wasn't so great for self care, I will prioritize it this month.
I do not judge myself, I just observe and re-route myself as needed.
I deserve to experience good things that help me create good memories.
I will give myself grace and compassion where needed.
I will be gentle with myself if I am struggling.
I feel myself exuding positive energy and good vibes.
I will take the time to slow down and be present.
I will notice the little joys that make life worth living.
This new month is a fresh chapter.
I am grateful for the chance to start again.
I release any negativity or stress that has stuck around from last month.
RELATED: 40 Helpful and Refreshing Morning Gratitude Journal Prompts
New Month Affirmations for Work
This month, I'm ready to accept new challenges.
I look forward to the opportunities that await me.
I make for a valuable addition to my team.
I have the skills and expertise necessary to be great at what I do.
I am open to growing in my professional journey.
I will prioritize actions that align with my long-term goals.
I have the confidence to overcome any setbacks.
I am a fantastic problem-solver who always finds unique solutions.
I am proactive in what I do.
I have a deep appreciation for learning and perfecting my craft.
I am proud of my work ethic.
I am an aspiration to those around me.
I feel dedicated and enthusiastic about what I do.
I am grateful for the chance to make a difference through my work.
I radiate positivity whenever I walk into the office.
I am organized and efficient with excellent time management skills.
I value what I learn through collaboration with my colleagues.
I only view challenges as opportunities for further development.
I am resilient whenever I encounter pitfalls.
My work-life balance is my #1 priority.
I will always make self-care a priority, no matter how busy work gets.
Even partaking in small acts of self care helps me to perform my best.
I know exactly what my goals are and I take steps toward them daily.
I ensure that my habits guide me toward achieving my goals.
I set clear boundaries with both work and my personal life.
I am able to communicate my needs and thoughts without fear of rejection.
I have nothing but room to grow and excel in my career.
I attract success as I move about the month.
I welcome feedback as an opportunity to improve. It's not a personal attack.
My work is meaningful.
I release any feelings of self-doubt and imposter syndrome.
RELATED: 20 Powerful Imposter Syndrome Journal Prompts
Trouble managing a healthy work-life balance? My Self Care Journal for Busy Women is the guide you need!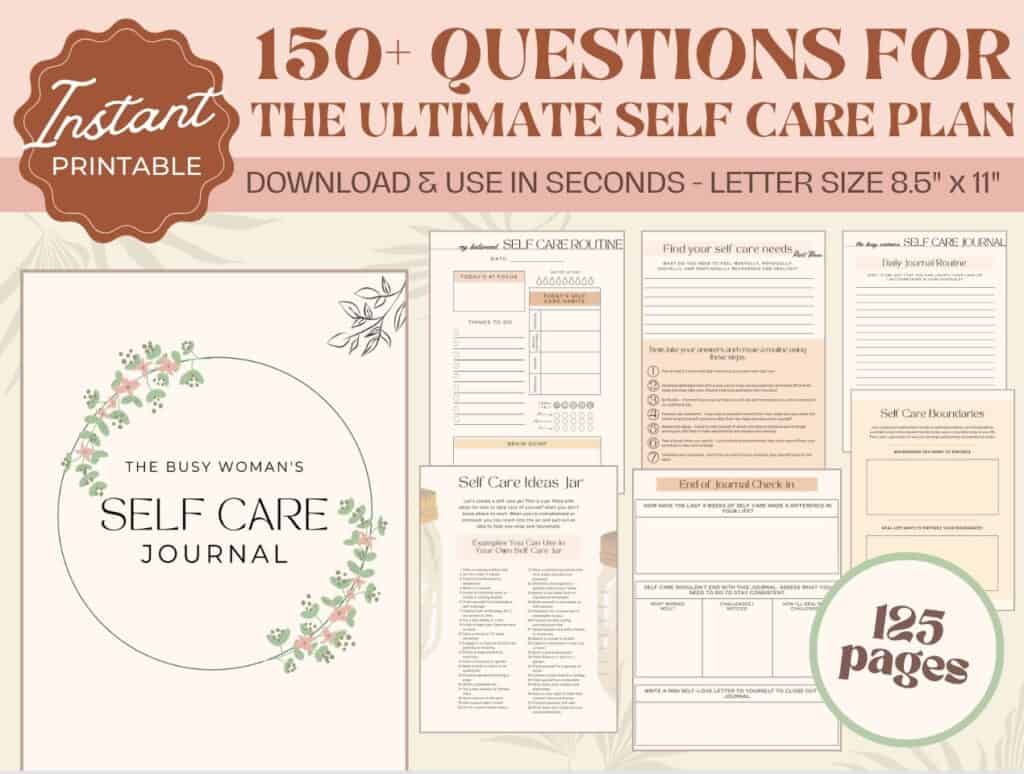 Life too hectic for self care? Not with The Busy Woman's Self Care Journal!
Made by a busy woman, for busy women, the goal of this journal is simple: to make an effective self care plan that works for your unique needs. No matter how crazy life gets!
Get step-by-step guidance to create your personalized self care plan by…
New Beginnings Affirmations
Each new day brings me happy blessings.
I will start this month with a fresh perspective.
I let go of any limiting beliefs and walk forward with confidence in myself.
I can take this new month in any direction I choose.
I will take the time to assess what is supporting me and what is draining me.
I choose to seek more balance in my lifestyle.
I choose to put myself first more often.
I will create a month filled with laughter and good times.
Happiness is always within my reach.
New months bring me yet another chance to evolve.
I leave the past behind me and move forward with a positive outlook.
I am capable of creating a rewarding new chapter of my life.
I trust the journey I am on.
I feel a sense of joy and pride in my ability to take action and change things when I am unhappy.
My potential is limitless and I can do anything I set my mind to.
I approach this month through a lens of curiosity.
A new month is a blank canvas for me to paint however I please.
A new month is a chance to rewrite my story.
I am open to learning new lessons along the way.
I trust in the timing of new beginnings.
I feel guided toward positive transformation in my personal growth.
I courageously enter new seasons of my life.
I feel empowered by the chance to keep moving forward.
I choose to let go of the limitations I've imposed on myself.
I choose to challenge my negative core beliefs and restructure them for the better.
Each day, I get closer to creating a life that more closely aligns with my values.
I gain more and more clarity with each passing month.
I visualize myself succeeding in whatever I strive to accomplish this month.
I let go of any preconceived ideas or feelings of dread about the month ahead.
I walk into the next month free of judgment from how I think it will go.
I will let the next month simply be however it ends up being.
I can make it through any challenging time in my life.
I cannot wait to continue the learning process that is life.
RELATED: New Month Journal Prompts for Goal Setting
New Month Manifestation Affirmations
I can fully envision this month working out in my favor.
I can see myself accomplishing everything I set out to do.
This month is filled with boundless opportunities for me to better myself.
I welcome positive experiences into my life this month.
I am able to manifest my goals and dreams with ease.
I express immense gratitude for everything coming my way.
Good things are just around the corner and I can feel them.
I am worthy of fulfilling my dreams.
I am worthy of crafting the reality I've been working toward.
I feel guided and supported by the universe/God/etc. in my endeavors.
I allow space for my dreams to manifest this month.
I am not under any pressure for anything to happen at a certain time.
Good things will come to me when the time is right.
My thoughts and emotions are working in tandem with my desires to lead me closer to my goals.
I consciously attract what I value most into my life.
As I shift my focus more and more toward what I want, I get closer to receiving it.
My intentions for the month ahead are strong, clear, and a powerful guiding force.
I am grateful for all the manifestations that have been fulfilled for me so far.
I welcome more positive manifestations to develop and become my reality.
I am in alignment with my highest self.
I am meant for positive outcomes.
I do not feel any resistance to my dreams and goals.
I believe in my ability to manifest what I care about.
I release any limiting beliefs that are getting in the way of my goals.
I am open to receiving unexpected blessings.
I feel my inner wisdom growing more and more each day.
I am getting to know my truest self more deeply.
Everything in my life feels aligned just as it should be.
I feel the flow of abundance of all good things.
This month is an open door for me to manifest my dreams into reality.
RELATED: How to Manifest Something by Writing It Down: 6 Must-Try Tips
How to Use New Month Affirmations Effectively
The short answer is that you want to be consistent, intentional, and mindful about practicing these new month affirmations. If you want to make the most of these powerful tools, follow these tips!
Use Affirmations That Are Personal To You
Personalized affirmations will resonate stronger and be more effective! Feel free to choose affirmations from this list that you actually identify with. Or use them as a starting point to then adjust into something unique to you.
Have a big, exciting possibility coming up this month? Maybe you should try an affirmation like, "I will hear good news from that company I've been interviewing with."
Reassess and Set New Intentions
What does the new month have in store for you? Do you have different priorities this month compared to the last?
As the months change, so should your intentions. Maybe this month you want to focus on more balance and compassion toward yourself. Make that your monthly intention and keep it on the forefront of your mind!
Make Affirmations Part of Your Monthly Routine
Just like the other monthly habits you may have, like checking your expenses or deep cleaning your house, affirmations can become a monthly habit too!
Set a reminder on your calendar right now: for every 1st of the month, you'll spend 30 minutes reflecting on your intentions and crafting new month affirmations that make sense for that month.
Final Thoughts on New Month Affirmations for a Happy New Month
Start viewing each month like a new gift, giving you a fresh opportunity for new beginnings. New month affirmations will help you reinforce this idea so that you can feel proud about how you structure each passing month!
You are the author here. The affirmations you recite will become the narrative that shapes your inner dialogue over time. They are 100% worth prioritizing in your self care routine if you're working on your mindset and mental health right now.
Maybe you could use some new month affirmations for work to instill a better work-life balance this month. Maybe you've got big dreams and could use a little pep-talk from some new month manifestation affirmations. Think about what you need and chase it ambitiously!
Let these new month affirmations guide you to a more grateful, intentional, and positive headspace!
More Inspiration to Start a New Month Right
New Month Journal Prompts for Goal Setting
The Monthly Routine That Will Reset Your Life
30 Day Mental Wellness Challenge For Serious Self Improvement
5 Minute Self Care: 90 Quick and Wildly Helpful Ideas
LIKE THESE NEW MONTH AFFIRMATIONS? PIN THEM FOR LATER!