60 June Journal Prompts to Hype Yourself Up for Summer
Last Updated on May 19, 2023
June marks that very first step into summer! What could be more exciting?! We've been yearning for those warm sunny days, more time outdoors, and maybe even a good vacation!
June Writing Prompts
These June journal prompts for adults are here to help you jump into summer with a fresh start.
This is the perfect time to start a new journaling practice or get back into the swing of things if it's been foreverrr! We love to gravitate toward things that signify a fresh start, whether that be New Year's or the start of a new season.
Allow June to be that little motivating spark to reflect on your goals and intentions for the month. This is a good halfway point in the year to reassess and check in with yourself so that you can reorient the next 6 months of the year to be in alignment with your needs.
Journaling is also a great way to get some self-care in, so do yourself a favor and get writing!
60 June Journal Prompts for a Fun & Successful Summer
Don't lose these June journal prompts! Make sure to pin 'em for later!
What enjoyable things can you do to make June truly feel like the start of summer?
What are your top 3 goals for June? (this list of summer goal ideas will help you out!)
What is your #1 intention to focus on in June?
What can you add more of this month to make it fulfilling and memorable?
What can you do less of to ease your body and mind?
What would your ideal summer day, from morning to night, look like?
What is your favorite summer memory from childhood?
How can you re-create a little bit of that memory now?
Where is your favorite place you've ever traveled to during the summer?
What is your dream summer vacation destination and why?
Do you have any vacations planned this summer?
If not, what can you do to still ensure that you have some "getaway" time?
How does all the nature around you in June make you feel?
What excites you most about this time of year?
What do you have planned for June that makes you smile?
Do you ever wish you lived by the beach? If so, where would you move to?
Think back to a summer where you did something out of your comfort zone or took a risk. How did it feel and what did you learn?
Make a TBR (to be read) list of the books you want to read in June or over the summer.
What is your favorite outdoor spot to go to during the summer?
What is a delicious summer recipe you enjoy making or eating?
Reflect on how last summer went for you. What were the highs and lows?
Do you feel like warmer, sunnier days influence your mental health? How so?
In what ways does the summer inspire you to nurture and reconnect with your inner child?
Curious about exploring your inner child? This journal is your step-by-step guide!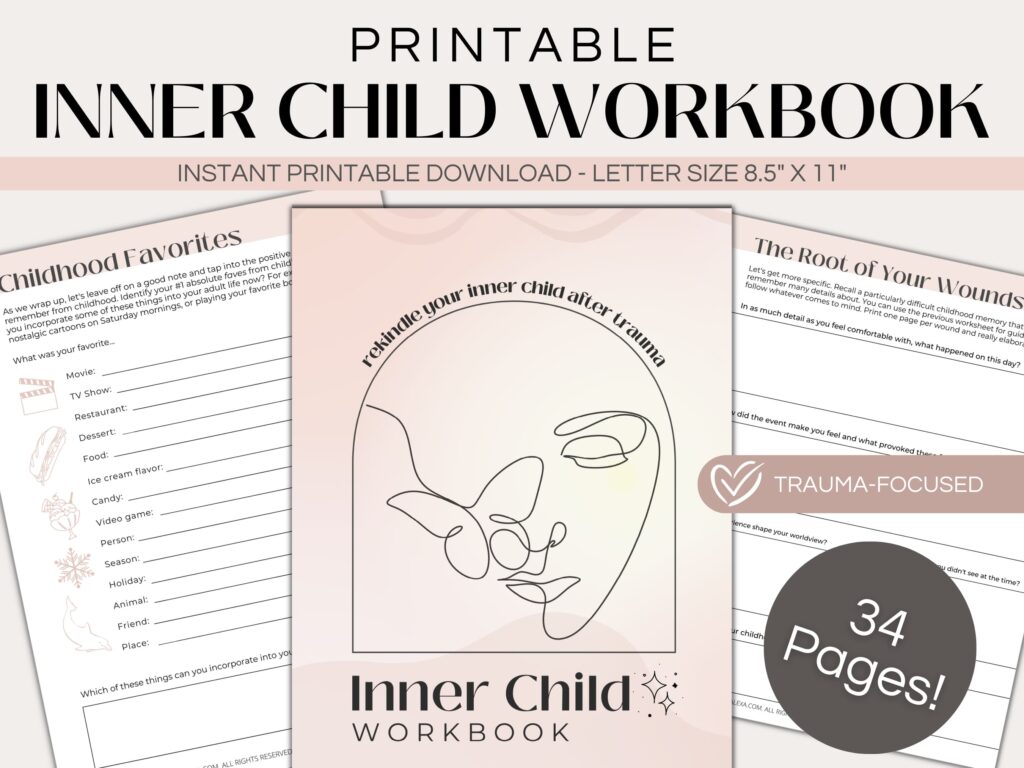 Feeling out of touch with your inner child? Been through a traumatic experience? My printable inner child journal PDF can help you give your inner child the love they deserve but didn't get.
This workbook will help you:
Write a gratitude list of all the things you love about summer.
What are 3 self care activities you want to prioritize doing this month?
Does your routine change during the summer? In what ways?
Do you feel more or less productive during the summer?
Is there anything about summer that stresses you out?
What is the biggest challenge you think you'll have in June? How can you prepare for it?
Will you be seeing family and friends more often this summer? How will your social life change?
What songs from past summers hold strong emotions and memories for you? Reflect on these songs and the vibes and memories attached to them.
Write a letter to yourself right now at the beginning of the summer, detailing out everything you plan to do and experience.
If you could brainstorm a summer bucket list right now of all the things you want to do this summer, what are the first activities that come to mind?
RELATED: 150 Most Exciting Summer Activities for Adults in 2023
Are vacations and taking time off work important to you? In what ways do they benefit you and why are they so important?
Do you have a favorite outdoor summer sport or other activity?
Have you ever been to a summer concert or music festival? Reflect on some of your best memories from these.
What is your favorite summer beverage and what makes you look forward to it each year?
Do you feel more creative during the summer? What are some creative activities you feel inspired to do?
Why do you think it's important to make time for self-reflection each month/season?
Describe a time during a past summer where you felt most adventurous. What did you do and how did this help your overall self-discovery?
Can you think of a summer where you picked up a new hobby or found a new passion? What was that like?
While summer can be super jam-packed and fun, what can you do to remind yourself of the importance of slowing down and immersing yourself in the present moment?
Have you ever pursued a creative project during the summer? How was that like? In what ways did this feel fulfilling?
How is your sleep schedule lately? What can you do to prioritize better sleep habits?
Do you enjoy summer gatherings or do you find them stressful?
What are some ways you can practice mindfulness in your everyday life this summer?
Are you more of a pool or beach person? Why?
Thinking back to last June compared to now, what insights have you gained about yourself?
What do you hope to learn about yourself when next June comes around?
What do you hope to figure out in your life when next June comes around?
How do you like to recharge and rejuvenate on hot summer days?
Where were you when you witnessed the best sunset you've ever seen?
Do you have a fun summer tradition?
Can you think of a specific summer where you saw a noticeable difference in your personal growth?
What are your thoughts and feelings when you think about June being the transition between spring and summer?
What daily habits are you happy you've incorporated into your life?
What is one habit you've been meaning to add to your routine but haven't yet? Why not?
What steps can you take this month to move you closer to your ideal life next June?
Take the time to sit out in nature and close your eyes. Journal about what you smell, hear, and feel. What thoughts and feelings does this evoke?
Reflect on your favorite memory of camping.
How to Use These June Journal Prompts Effectively
These June journal prompts offer you self-reflection without getting too deep. The goal of these prompts is to help you gain general self-awareness of your thoughts and feelings around this time of year. You're also encouraged to plan out your goals and intentions to best maximize your fulfillment out of June and the summer time!
Follow these tips to get the most out of these June journal prompts:
Think ahead. Ask yourself when June 30th rolls around, how would you like to look back on the month? What would you be happy to see yourself do? Would you be disappointed if you overworked yourself? These are all great questions to consider as you go through these June journal prompts.
Set a timer and just write. Staring at a blank page for what feels like forever only makes journaling intimidating! The easiest thing to do is just start. Setting a timer can help push you into the writing groove. You can start with just 10 minutes!
Write freely and don't judge yourself. This is super important and can also be a big hindrance to writing. Don't think too hard about how your writing sounds or how things are flowing. What's more important is getting the thoughts out of your head and onto paper.
Be sure to reflect and review! Make a note in your calendar right now to check back in at the end of June. Read your journal prompt responses from the beginning of June and reflect on how you thought June would play out vs. how it really played out.
All in all, go into your June journal prompts with a lens of self-discovery in mind and have fun with it! These prompts are on the lighter side compared to some of my deeper mental health based journal prompts, so kick back and enjoy yourself as you write.
Happy June!
More Journal Prompts and Other Ideas You'll Love in June
150 Most Exciting Summer Activities For Adults in 2023
40 Motivating Summer Goals You'll Want to Set in 2023
Ultimate List of Self Care Hobbies: 32 Ideas You've Gotta Try
70 Easy and Fun Journal Prompts for Beginners
72 Self Care Quotes So Funny You'll Forget Your Bad Mood
LIKE THESE JUNE JOURNAL PROMPTS? PIN THEM FOR LATER!