33 Best Therapy Worksheets for Adults (PDF Bundle!)
This post contains affiliate links and I may receive a small commission (at no extra cost to you) if you sign up or purchase products or services mentioned. Read the full disclosure here.
Last Updated on September 13, 2023
Looking for individual therapy activities you can do at home? These printable therapy worksheets for adults are the perfect self-support tool for working through your stressors, thoughts, and emotions in a healthy way!
Disclaimer: I, Alexa Davis, founder of Ambitiously Alexa, am not a licensed psychologist, counselor, physician, or therapist, nor am I claiming to heal, treat, cure, or prevent any psychological/emotional/medical conditions. These therapy worksheets for adults are not meant to substitute or serve as therapy or any diagnostic measure or tool. They are only meant to be used as a helpful guide. (The most I have is a B.A. in Psychology, so I'm not able to do anything fancy here!)
Everyone can benefit from therapy no matter where they're at mentally. Whether that's anxiety, trauma, depression, or even simply getting through life's daily stressors. But we all know cost and accessibility to care are no doubt BIG barriers.
Unfortunately, therapy might not be within your reach at this time. Or, even if you are going to therapy, what if your next session is too far away to wait around without help? I want to bridge these gaps by offering these therapy worksheets for adults. 
This post will show you a variety of super useful printable activities for adults (pdf), like:
BEST Therapy Worksheets for Adults (PDF) for Managing Anxiety, Depression, and Overall Mental Health
These worksheets are super versatile and can be used individually, in family therapy, couples therapy, or group therapy. You'll learn to manage a variety of emotions like anger, stress, anxiety, or anything else you're facing!
And these also make for an excellent teletherapy resource because they are digital in PDF format!
ALL of the printable activities for adults (pdf) in this post can be found in my printable mental health journal, plus some extras (33 pages total)! Grab it right here!
Stress Management and Anxiety Therapy Worksheets for Adults
Anxiety disorders affect 19.1% of adults. These therapy worksheets for adults are focused on anxiety–identifying what triggers it, how to cope with it, and setting goals for managing it. You'll be able to create a strategic plan for dealing with your anxiety symptoms from these worksheets!
Identifying Stress Triggers Worksheet
Identifying the recurring events or situations that commonly bring about anxiety, depression, or other negative feelings is helpful. This worksheet will help you take note of important triggers you might run into. Which is good info to have!
I can't tell you how many times I've finished scrolling through Tik Tok, only to feel bad upon swiping out of the app, though not sure why. It wasn't until I consciously started paying more attention to what makes me feel bad on the app that I learned what to avoid. If you pay attention to what specifically tends to upset you, you can learn to avoid the triggers and/or deal with them more effectively.
BONUS: Worksheet Journal Prompts
Each therapy worksheet you see in this post comes with a corresponding journal prompt page (here's where you can grab ALL the worksheets + journal prompt sheets!) These sections give you the opportunity to reflect on every activity you've just completed. This is a greeeeat chance to observe any thoughts or feelings about what you're working on!
Motivation & Goal Setting Worksheets
No matter where you're at in your mental health journey, chances are you're here because you're looking for improvement in some way. Setting appropriate and attainable mental health goals specific to you can help you identify where you want to be and how to get there!
For example, if you struggle with anxiety, what would improved anxiety symptoms look like for you? Would it be being able to make a phone call without your heart racing? Showing up to work without ruminating over how bad yesterday went? Whatever it is, write it down on this mental health goals worksheet so you can work toward it!
Positive Coping Strategies Worksheet for Stress Management
There's a tonnnn of coping strategies out there, all at your fingertips! But not all coping strategies are created equal. What works for someone else might not work for you, and that's okay.
But with that in mind, it's important to identify which coping strategies DO help you. That way, you can always have a few go-to strategies to jump to in a time of need. This positive coping strategies worksheet lets you rank how effective several common coping strategies are for you and your needs.
Don't feel bad about breaking up with the coping strategies that just don't work for you!
CBT, ACT, and DBT Worksheets for Adults
Cognitive behavioral therapy (CBT) is all about changing your negative thoughts and behaviors. It aims to stop negative cycles in their tracks by breaking down things that make you feel anxious or upset. These therapy worksheets for adults focus on the fundamentals of CBT so you can practice reframing negative thoughts and behaviors into more positive and rational ones!
Some of these worksheets can relate to and support acceptance and commitment therapy (ACT) and dialectical behavior therapy (DBT) as well.
Unhealthy Thought Patterns Worksheet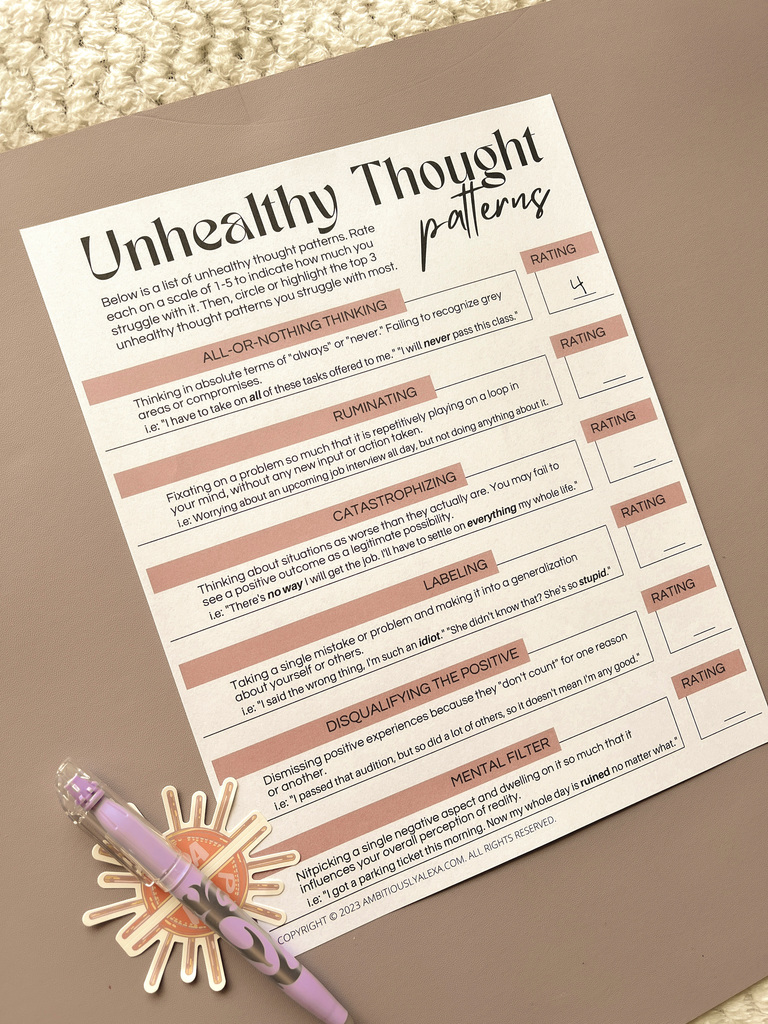 There's several common unhealthy thought patterns that you've probably fallen into at some point or another. Anxiety sufferers are usually pretty familiar with patterns like catastrophizing, where you obsess over the worst possible outcome.
This unhealthy thought patterns worksheet allows you to rate how much you struggle with some common unhealthy thought patterns. Knowing which ones you come back to can give you insight on how to counter the negative thoughts.
Negative & Positive Cognitions Worksheet for Core Beliefs & Self-Esteem
In simpler terms, "cognitions" are just thoughts. The negative and positive cognitions shown in this worksheet are common blanket-statement beliefs that you may think about yourself.
You might know logically that things aren't as black and white as "I am not good enough," but you might slip into this line of thinking regardless of the logic. Take note of how often you experience both these negative and positive thoughts!
Reframing Your Thoughts Worksheet for Cognitive Reframing
This therapy worksheet for adults is where all the magic happens! Now you finally get to take action on transforming your negative thoughts into more positive or rational ones.
Seeing if there's any "evidence" to support a negative thought really puts things into perspective. You might recognize that your fears are more irrational than you expect. This can put you at ease and show you that there's more to the picture than your initial reaction and emotions. Considering alternative ways of looking at a problem can help you see the situation for what it truly is.
GRAB THESE CBT WORKSHEETS HERE
Adult Depression and Feelings Worksheets
Alright, now it's time to get into those feelings! Feelings can be awkward and tricky to work through, especially if you tend to bottle things up. These therapy worksheets for adults focus on diving into your feelings to find your emotional strengths and weaknesses. You also get to observe your negative and positive emotions by tracking them day by day!
Emotional Strengths & Weaknesses Worksheet
You are not "wrong" or "bad" for experiencing certain feelings. They are all part of the spectrum of our human experience.
However, being aware of your emotional weaknesses can help you identify areas you may struggle with so that you can self-soothe. Knowing your emotional strengths also helps, as it encourages self love and confidence in your emotional intelligence.
In this worksheet, see where your strengths and weaknesses stand by ranking how much you identify with each!
Negative & Positive Emotions Worksheet
Learning which negative and positive emotions you gravitate toward can help you identify patterns. For example, in this worksheet you might realize you often experience stress, insecurity, and worry more so than other negative emotions. After recognizing this, you can start exploring why that might be.
When it comes to your positive emotions, maybe you realize you're very optimistic. Awesome! Maybe you don't need to spend so much time improving that aspect, and can instead dedicate your time toward fulfilling other positive emotions on the list.
Daily Emotion Tracking
If you like habit trackers, you're gonna love this daily emotion tracking worksheet! This is a GREAT opportunity to gauge how often you experience negative and positive emotions. Notice any trends and what brought out a period of especially negative or especially positive feelings for you.
Your emotions are all your own, so I gave you room to fill out whatever emotions you care about tracking. It's all up to you what you want to observe!
Trauma Worksheets
Looking for worksheets that dive a little deeper into complex issues like trauma? You'll want to check out my printable inner child workbook. This is a trauma-focused workbook with step-by-step help on rekindling your inner child. It covers behavior, childhood, parental background, self care, forgiveness, anxiety, emotion regulation, and more!
At the end of this workbook, you'll get better at…
Overcoming negative feelings like fear, self-blame, insecurity, and a harsh inner critic.
Discovering the link between your adult behaviors and the childhood roots they stem from.
Re-parenting your inner child as you get back in touch with fun, play, and a solid self care plan.
RELATED: 30+ Inner Child Worksheets for Healing and Happiness
While these therapy worksheets are helpful for your mental health, you'll find the most benefit if you pair them with therapy. Talking to an online therapist can really help you out. I know it's helped me tremendously! I always recommend Online Therapy because it's a comprehensive, effective online therapy toolkit at an affordable monthly cost. Get 20% off your first month at the link below!
FAQs on Therapy Worksheets for Adults
What is a CBT Worksheet?
CBT worksheets make for helpful tools to use during CBT therapy with a therapist, or even on your own in between therapy sessions.
The #1 goal with CBT worksheets is to help you identify and change unhelpful thought patterns and behaviors so you can stop feeling stuck in a loop of emotional stress.
CBT worksheets cover so many useful coping strategies you can start using right away! Like…
Identifying negative self-talk and irrational fears
Gathering evidence that helps you challenge negative thoughts
Reframing self-talk and irrational fears to be more positive and rational
Behavior and mood tracking
Problem-solving skills
Emotional distress tolerance
Why Use Therapy Worksheets?
Using therapy worksheets can be extremely beneficial for young adults. These worksheets serve as an outlet to safely express your thoughts and work through tough emotions.
Your answers will provide you with some insight to better understand yourself and pick up on common patterns that may be unhelpful to your mental health.
By the end of these worksheets, you'll get more in touch with your emotional triggers, identify your positive and negative thoughts and habits, learn how to reframe unhelpful thoughts, and gain a deeper understanding of your emotions, cognitions, and overall mental wellbeing.
RELATED: 8 Reasons Why Everyone Should Go to Therapy (You'll Be Surprised!)
What type of therapy uses worksheets?
Most commonly, therapy worksheets are a great fit for cognitive behavioral therapy (CBT) to help people work through negative beliefs and assess their emotions and behaviors.
But that modality is not the only type to benefit from worksheets!
Other approaches like acceptance and commitment therapy (ACT), solution-focused brief therapy (SFBT), Dialectical Behavior Therapy (DBT), and rational-emotive behavior therapy (REBT) can all incorporate the use of therapy worksheets with clients.
With so many therapy worksheets for adults to choose from, there is a relevant worksheet for pretty much any mental health goal. PDF worksheets like these can be used in therapy as part of a session, or can be worked on independently at home as a supplement to the treatment process.
How to Use Therapy Worksheets for Adults
All you need to use these therapy worksheets is to print them out, grab your favorite pen, and get comfortable!
All of the worksheets mentioned in this post are conveniently bundled just for you in my printable mental health journal. Upon purchasing the journal, you can print the worksheets over and over again, as many times as you need!
Each activity also comes with a corresponding journal prompt sheet where you can elaborate more on how you feel.
Overall, while it doesn't replace therapy, the worksheets are a fantastic self care tool to help manage your feelings on your own!
The BEST Therapy Worksheets for Adult Mental Health
If you enjoyed these worksheets, you can grab them AND some helpful extras RIGHT HERE in a bundle inside my printable mental health journal (33 pages total)!
FREE Therapy Worksheets for Adults
Want a taste of these worksheets for free before committing to the full mental health journal? Join my self care email community below and get a FREE anxiety tracker sheet sent straight to your inbox!
More Mental Health Journaling Ideas
Trauma Healing Journal Prompts: 40 Prompts to Process Your Past
Journal Prompts for Anxiety: 42 Prompts When You're Overthinking
25 Journal Prompts for Boundaries You Might Need to Set
60 Journal Prompts for Self Care When You're Struggling
LIKE THESE THERAPY WORKSHEETS FOR ADULTS? PIN THEM FOR LATER!
References