110 Beauty Affirmations to Spark Confidence Inside and Out
This post contains affiliate links and I may receive a small commission (at no extra cost to you) if you sign up or purchase products or services mentioned. Read the full disclosure here.
Last Updated on June 25, 2023
Beauty may seem superficial, but it's quite the opposite. When you feel beautiful, you feel confident, sure of yourself, and empowered. All of these things can really skyrocket the self-love you show yourself, and self love is crucial for your overall mental well-being! Beauty, and our perception of it in relation to ourselves, is clearly important.
But let's be real, there's probably not a single woman out there who hasn't experienced a hit to their self-esteem. We might not always feel beautiful. There's always that harsh inner critic that wants to convince us that we are anything but. That's what these beauty affirmations are here for!
These beauty affirmations will help you build rock-solid confidence in both your inner and outer beauty. You deserve to admire yourself. You deserve to accept yourself unconditionally. You deserve to believe that you look and feel absolutely radiant (because you are!!).
So let's hop into it and see how you can become the confident, beautiful bad b*tch you're meant to be.
How Do Beauty Affirmations Work?
So, what's the ultimate goal of using these beauty affirmations? The intention is to help you change how you feel about yourself. When you practice positive affirmations about any topic of your choice, you're retraining your brain to start choosing positive self-talk over negative!
With beauty affirmations in particular, you can start to shift your self-talk toward a mindset of confidence, happiness, and feeling comfortable in your skin. Many of these affirmations will focus on strengthening your sense of self-love so that you can truly feel absolutely beautiful, as you should!
Why Are Affirmations Important to Help You Feel Beautiful?
Affirmations can shape your self-perception in remarkable ways. When you reinforce the idea that you are beautiful, worthy, and powerful, you'll shift your perception of yourself over time.
Essentially, you want to do everything you can to silence that inner critic that points out your outward or inward flaws. Instead, you want to shift your focus to recognize all the gorgeous things you love about yourself!
I know that the more I practice affirmations, the more I'm naturally drawn to recognize the things I love about myself–before I notice anything else. This is so much better than nitpicking and scrutinizing every little detail on my body.
Think about when someone uses self-deprecating humor, how this type of language can become second nature in their daily thought patterns.
You make a mistake and think to yourself, without even being fully aware, "lol whoops, I'm dumb!"
You see a pretty girl on Instagram and say, "omg I'm literally so ugly."
Do you really mean what you say? Maybe not, but your brain can't necessarily tell the difference between a joke and a belief. Without even noticing, you may begin to internalize the self-deprecating humor if it becomes ingrained in your regular self-talk habits.
And with this type of self-talk being so normalized, we could all benefit from sprinkling some of these beauty affirmations into our vocabulary! Imagine the negative comments you say to yourself on autopilot slowly turning into positive comments that come to you naturally. This really can happen with enough time and practice.
100+ Beauty Affirmations for Self Love, Confidence, and Feeling Attractive
Don't lose these beauty affirmations! Pin 'em below to refer back to later!
Confidence-Boosting Beauty Affirmations
I am a beautiful person.
I am a beautiful woman.
I am beautiful both inside and out.
I am beautiful just as I am.
My unique qualities are what make me so beautiful.
There is no one else like me and that is a beautiful thing.
My confidence is infectious.
I radiate positive energy, confidence, and charisma everywhere I go.
People immediately pick up on how confident and beautiful I feel.
I don't sweat the small flaws.
My imperfections contribute to my unique beauty.
Beauty standards do not need to define me.
I have no obligation to fit into any beauty standard.
I deserve to be admired.
Even when I am struggling, my beauty shines through.
I am comfortable in my skin.
I love my individuality. It's what makes me, me!
My beauty goes beyond my physical appearance.
My intelligence, skills, passions, and kindness are just as valuable as physical traits in contributing to my beauty.
RELATED: 80+ Self Worth Affirmations to Validate Yourself
Self Love Affirmations
I embrace myself exactly as I am.
I am worth celebrating.
I meet myself right where I am today.
I love myself unconditionally.
I accept myself unconditionally.
I am my best support system.
I deserve to love myself and I deserve to receive love from others.
I deserve peace of mind, happiness, and abundance of all good things.
I am enough without having to do anything different.
I accomplish so many amazing things.
I am a badass!
I release the need to be harsh, critical, or judgmental toward myself.
I release negative self-talk and am actively transitioning toward positive inner dialogue.
I am stronger and more knowledgeable than my inner critic.
My strengths deserve recognition.
I am falling in love with the person I'm becoming.
My beauty makes me feel empowered.
I love all the things that make me beautiful.
RELATED: The Perfect (and Do-able!) Self Love Bucket List
Liking these affirmations? Get affirmations just like these as cards!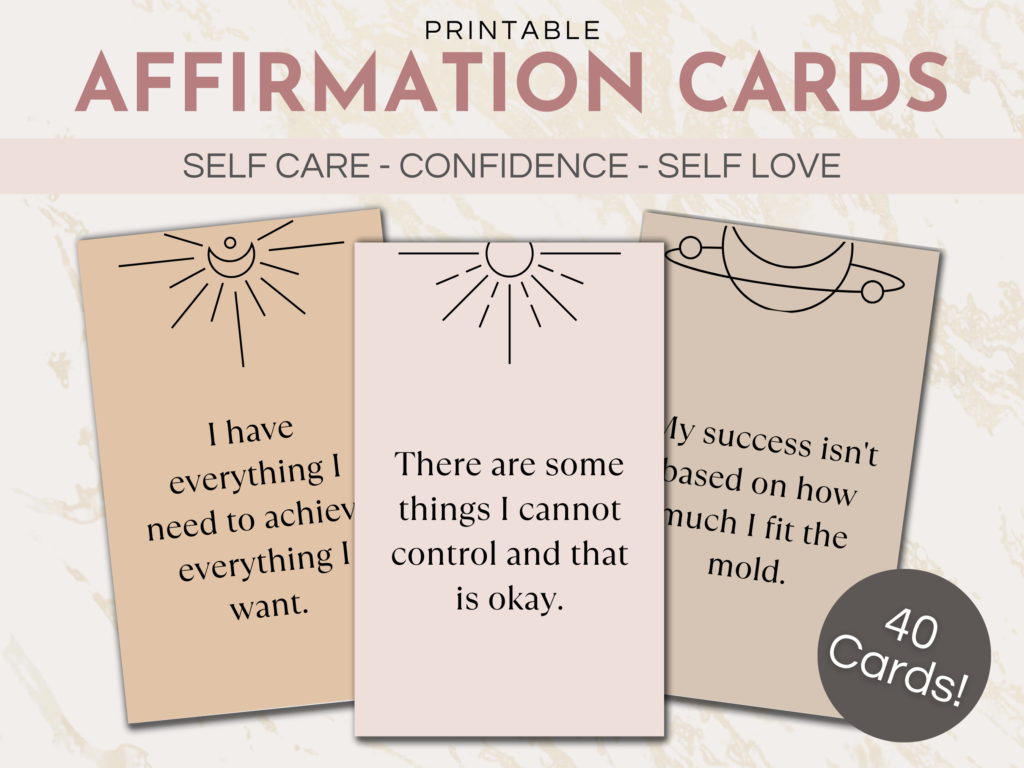 A physical reminder of positive vibes is even more effective for your confidence! Grab this deck of 40 printable affirmation cards and bring your affirmations to life. Use them as journal prompts, stick 'em on your mirror for an everyday reminder, or get creative and turn them into a vision board or collage on your wall!
Affirmations for Beautiful Skin
My glowing skin is the first thing people notice about me.
My beautiful skin is an external reflection of my internal well-being.
I am grateful to have healthy skin.
Nourishing my skin and looking after it is an act of self care.
Taking care of my skin makes me feel good.
I embrace my skin, including my imperfections.
It is normal for my skin to be textured.
It is normal for my skin not to look airbrushed.
I am in my healing era and my skin reflects this.
My skin feels rejuvenated and hydrated.
I release the stress and tension I hold on my face.
My skincare routine makes me feel confident, healthy, and committed.
I am beautiful even when my skin flares up in some way.
I feel empowered by the choice of getting to take care of my skin.
I pay attention to what I put into my body and how it might affect my skin.
I am allowed to splurge from time to time on beauty rituals that contribute to my skincare.
I am patient with whatever healing my skin may need right now.
Any lines and marks on my skin tell a story and I don't need to hide those stories.
I am beautiful and so is my skin at any age and stage of my life.
RELATED: Glow Up Checklist for the Ultimate (Realistic!) Reset
Affirmations for Body Image
I am grateful to have this body.
My body keeps me moving and grooving toward the things I want in life.
I love what my body does for me.
Everyone has beautiful traits about their body and that includes me.
I will treat my body with love and respect.
I will be as kind to my body as I would be to a friend.
I admire the strength my body has.
I admire the capabilities my body allows.
Appearance is only one metric of body love. My body's abilities are even more valuable.
Self-comparison only saps my energy, therefore I release it.
I have reached a state of peace and acceptance of my body.
My body is the least interesting thing about me.
My body is only one part of many that make up the person I am.
My body is normal.
Cellulite, stretch marks, and rolls when slouching are all normal.
I will not give society any power over my body.
Society does not get to deem what is and isn't "acceptable" about my body.
My body is timeless beauty.
My body deserves to be fueled through a balance of healthy and fun food.
My body deserves to feel the rush of endorphins that exercise brings.
I deserve to move my body in ways that make me happy.
I have 100% control over my body.
Here's even more journal prompts for body image love, acceptance, and neutrality!
Need to talk it out with someone who can actually give you guidance? Talking to an online therapist lets you vent and you get to step away with better coping skills. I know my therapist has helped me SO much with managing my emotions! I always recommend Online Therapy because it's a comprehensive, effective online therapy toolkit at an affordable monthly cost.
Affirmations for an Attractive Personality
I attract only the best-intentioned people and repel ill-intentioned people.
Others immediately take notice of the warmth and kindness I radiate.
I make others feel safe, comfortable, and free to open up to me.
I give off a trustworthy, genuine energy that allows others to confide in me.
I'm great at making people laugh.
My authenticity is always transparent.
I am a great listener and make others feel heard.
My friends never have to question how deeply I care for them.
I don't worry about whether people like me or not.
Some people are simply not a match for me and that is no one's fault.
If someone is put off by me, they aren't the right person to have in my life anyway.
I bring joy and silliness to people around me.
My empathy allows me to be there for loved ones in the best way possible.
The right people will value deep connections just as much as I do–it's one of my best traits.
I am respectful of other viewpoints and can always find a way to see where people are coming from.
Hot Girl Affirmations
I am a powerful woman.
I carry myself with confidence, poise, and carefree vibes.
I am unapologetically myself.
My positive energy is magnetic.
I am so sure of myself and where I'm going.
My sexuality is mine to be in charge of and I can express it however I please.
I never second-guess my worth and I know my value.
I never hold myself back from what I want.
I never let anyone stand in the way of what I want.
My feminine energy makes me feel empowered and beautiful.
I don't dress for men. I dress to feel confident for myself.
I have every right to set and uphold my boundaries.
I reflect on my growth as a woman and feel nothing but admiration for myself.
When I walk into a room, my presence commands respect and acknowledgement.
I allow myself to wear whatever I want, showing as much or as little skin as my heart desires.
I am going places and knowing this fills me with optimism.
I can take on the world and do anything I set my mind to.
How to Use Beauty Affirmations to Boost Confidence
It might seem self-explanatory, but there are important steps to take when practicing affirmations so that you can see real change in your mindset.
Pick a quiet time of day, everyday – affirmations can be very private. Make sure you have the space and time to be alone to practice these. Consistency is also key in reaping the most benefit when it comes to something as significant as shifting your self-talk and self-perception. Make sure to create a daily affirmation practice.
Stick with just a few affirmations that resonate most – this list has over 100+ beauty affirmations. That's a lot! I'm giving you this many so that you have a wide variety to pick from, but you'll want to narrow it down to 3-5 affirmations that you feel you need most.
Speak or write out your affirmations – these beauty affirmations can either be spoken out loud or written down. Writing them down gives you the added benefit of using each affirmation like a journal prompt, allowing you to reflect deeper on them!
The more you practice, the more you'll believe in the message – you might not believe these affirmations to be true about yourself right now, and that's okay. We all start somewhere. Affirmations are there to help you make progress toward creating positive core beliefs! Once you do begin to believe in what you're speaking, that's when these affirmations can make a real difference in your confidence.
Feel attractive both inside and out with these beauty affirmations!
These beauty affirmations are exactly what you need to grow in your self-love journey. They're more than just nice statements, they have the power to shift your self-talk and change your mindset for the better.
I never want you to feel, even for a second, like you're not enough. Beauty comes in all shapes and sizes and it's time that you validate all of your amazing traits that make you beautiful.
Feeling good about the way we look on the outside and about how we feel about our character on the inside is extremely important. Make sure you're giving your self-esteem the attention and compassion it needs.
More Affirmations You'll Love
100 Affirmations for Body Image to Achieve Acceptance
80+ Self Worth Affirmations to Validate Yourself
16 Best Affirmation Cards for Every Day Confidence
65 Affirmations for Protection to Feel Safe Just as You Are
LIKE THESE BEAUTY AFFIRMATIONS? PIN THEM FOR LATER!