100 Goals in Life for a Woman to Become Her Ideal Self
This post contains affiliate links and I may receive a small commission (at no extra cost to you) if you sign up or purchase products or services mentioned. Read the full disclosure here.
Last Updated on November 9, 2023
You're here because you're a busy, ambitious woman. You're probably naturally driven, but even the most driven of people get stumped on goals from time to time. This is exactly why I whipped up this list of 100 goals in life for a woman to achieve!
The goals you set will help you get one step closer to being your ideal self – whatever that means for you.
It's different for everyone, but with SO many goals on this goals list, browsing through them all will help you curate the perfect set of goals that match your unique journey better than any goal plan you've tried before.
Today, we're getting focused on:
Personal life goals for women
Professional goals for women
Wellness goals to feel your best
Social and relationship goals
Self-care goals
Career goals
Creative goals and hobbies
Home and organization goals
Short-term life goals for a woman
Long-term life goals for a woman
Safe to say: this list of 100 life goals covers it all! Let's dive in.
Pause And Ask Yourself: What Are Your Goals As A Woman?
Maybe you have a clear vision of your personal goals in life, or maybe you don't. If you feel lost when it comes to finding the right goals for your life, you are not alone!
But every good goal starts with a clear intention. So before jumping into goal-setting, make sure you identify your intentions first.
Take a moment to reflect on your aspirations, dreams, and the things that make your heart race. These often reveal your true intentions for your life. Then consider: what are your goals as a woman, not just in the grand scheme, but in the nitty-gritty of everyday triumphs?
Career highs, deep connections, relishing small joys – what sparks your joy? When your goals align with your values, you've hit the sweet spot!
The upcoming goals in life for a woman will give you tons of inspiration to choose from! With so many areas of your life covered, you'll be able to strive for self-improvement in every area.
Ultimate List Of 100 Life Goals Ideas For Women
If you need some help coming up with good goals in life, you're in luck! This life goals list has something for every woman: from professional goals, personal objectives in life, self-care goals, creative goals…and the list quite literally goes on!
Feel inspired to show up for yourself today, so you can become your best self tomorrow.
Don't lose these goals in life for women! Pin 'em to come back later!
What Are Some Lifetime Goals?
If you feel stuck creating your own life goals list, you won't for long! With 100 life goals ideas, including short-term and long-term goals for women, you've got so much to choose from. Now's your chance to create the exact goal plan to become the ideal woman you truly want to be.
Personal Life Goals For A Woman
Step out of your comfort zone and travel solo (be safe though!)
Create a vision board on your wall with motivating Pinterest pictures
Become a plant parent and nurture many plants
Start (and stick to!) a simple gratitude journal. (3 bullet points daily is all you need)
Find at least one way you can live more sustainably
Get more into fashion and find your favorite aesthetic
Explore one new restaurant or activity in your city each week
Do something adventurous that you've always been afraid to do (i.e: skydiving, aerial silks, skiing)
Try going vegan or vegetarian, even if just for one week
Start a "letters to your future self" series with themed letters for different milestones
Professional Goals For A Woman
Pursue a certificate in a niche interest you're passionate about
Create a "brand" or professional social media presence for yourself
Attend workshops to build your skills
Challenge yourself to sign up for a public speaking opportunity
Become a published author
Create a "business plan" for yourself–like your own professional development plan
Stop associating the work you do with your self-worth
Set 1, 3, 5, and 10 year goals for your salary
Create a portfolio or website to showcase your skills
Find a women in business networking group
RELATED: 18 Must-Have Best Planners for Entrepreneurs
Wellness Goals For Women
Learn a new dance style like contemporary, hip hop, or pole dancing.
Throw a new type of workout into your mix, like pilates, rock climbing, or zumba.
Plan a wellness weekend trip somewhere relaxing–go get massages, eat healthy meals, and take it easy!
Spend more time immersing yourself in nature
Practice eating more mindfully, savoring each bite and slowing down
Get into yoga
Explore mind-body practices, like tai chi
Include more colors of the rainbow into your diet
Find a new podcast to listen to as you go about your day
Develop a daily stretching ritual
Social And Relationship Goals For Women
Organize a monthly book club with your besties
Take a road trip to a different state with your best friend
Learn, along with your significant other, how to give the best couples massage
Create monthly themed dinner parties and invite friends and family over
Start a regular friends' game night
Become part of a community garden project
Join a recreational sports team to meet new people
Organize a monthly outdoor movie night (get a projector!)
Throw a clothing swap party where you and your friends can all trade clothes you no longer want
Try a creative bonding activity with your significant other, like starting a scrapbook or journal together
RELATED: 35 Couple Journal Ideas to Get Closer to Your Partner
Self-Care Goals For Women
Do a weekly spa night at home complete with a face mask, luxurious bath, candles and music.
Start a digital daily detox: designate a tech-free time each day to disconnect from screens
Implement a weekly stress relief ritual with 3 self-care activities that soothe you
Create a relaxation playlist
Explore meditating in a different way to find what works for you (you can try the meditation app Headspace for free for 14 days to help with this!)
Try different morning routine ideas until you've created the perfect routine
Take one day each month to connect with your inner child: be silly, do arts and crafts, dip into nostalgia, and have fun (these inner child activities will give you ideas!)
Stop the habit of doom scrolling
Get into therapy and find the right therapist for you
Get really confident at saying "no" to obligations that aren't mandatory and let go of people-pleasing habits
Desperately need self care in your life but have, like, no time? This journal helps you find what works!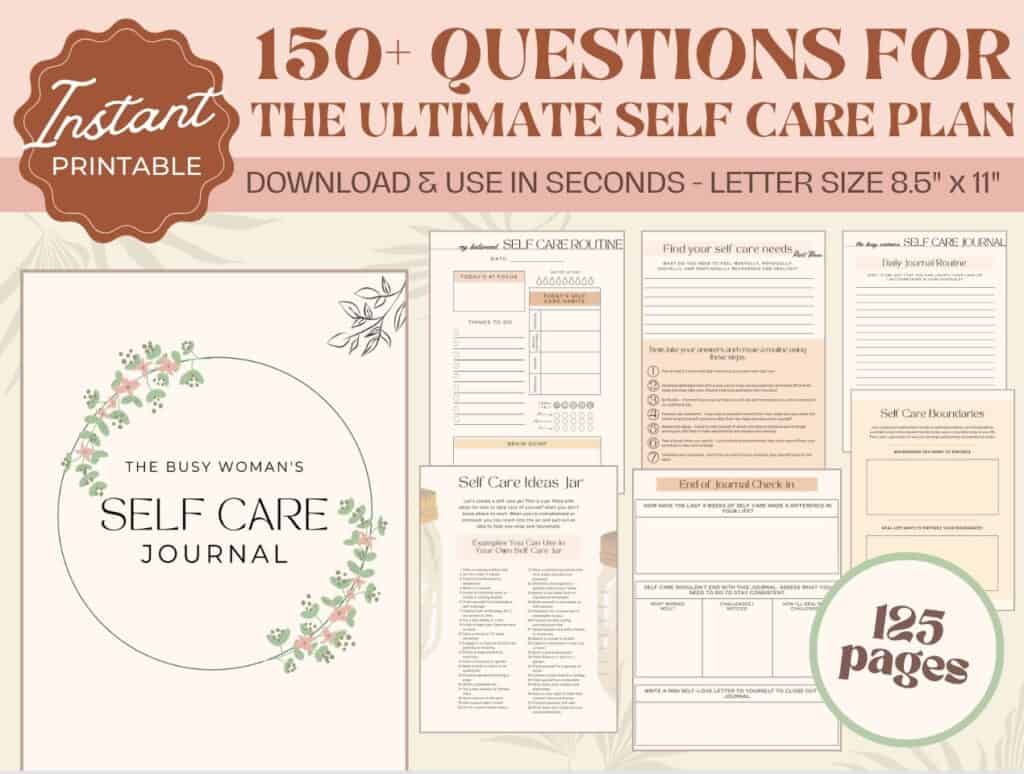 Life too hectic for self care? Not with The Busy Woman's Self Care Journal!
Made by a busy woman, for busy women, the goal of this journal is simple: to make an effective self care plan that works for your unique needs. No matter how crazy life gets!
Get step-by-step guidance to create your personalized self care plan by…
Career Goals For Women
Learn a new skill to enhance your resume, like SEO (search engine optimization), social media marketing, or web design
Attend a professional conference in your industry
Negotiate more flexible work arrangements to establish work-life balance
Set quarterly goals for your career or business
Start your own online business or side hustle
Seek out leadership development programs
Shadow a senior leader or someone in a career field of your interest
Do NOT be afraid to negotiate your salary yearly! Make it a yearly to-do item.
Subscribe to industry news to stay on top of trends
Entertain alternative career ideas if you're unhappy where you're at
RELATED: 76 Career Affirmations for Powerful Growth In Your Job
Creative Goals And Hobbies For Women
Start an inspirational Instagram account. Who knows how many women you can motivate!
Take a creative class like pottery, painting or flower arranging
Learn a new musical instrument you never thought you'd play
Learn calligraphy and perfect it
Start a memory jar: record little memories on sticky notes to store in a jar throughout the year
Dabble in photography
Start a blog to share your insights, thoughts, and experiences (I've got a whole guide on exactly how to start a blog!)
Start a podcast, YouTube channel, or other passion project
Challenge yourself to learn a new language
Start a bullet journal and jot down a list of bullet journal spread ideas to try
RELATED: Hobbies for Women in Their 20s: 100 Fun & Interesting Ideas
Home And Organization Goals
Learn to cook a go-to rotation of 5 dinners you don't get sick of
Grow an indoor herb garden and use the herbs when cooking
Put effort into making your bedroom a true sleep sanctuary (ask yourself how can you make your bedroom a place you can't wait to fall asleep in?)
Become a master of mixology and create yummy cocktails
Become a home decor expert and express yourself through your decor style
Print out a cleaning checklist to keep track of the dates you've cleaned areas of your home
Journal in detail about everything you want in your dream home
Create a reading nook that's the coziest, most comforting spot to read in
Makeover a room in your house with a new color scheme, decor, and furniture rearrangements
Start a "travel wall" where you display travel mementos from past vacations and pictures of dream destinations
RELATED: Environmental Self Care: 57 Ideas for a Stress-Free Space
Short-Term Life Goals For A Woman
Start waking up earlier in 30-minute increments until you reach your ideal wake-up time (i.e: wake up on Monday at 7am, Tuesday at 6:30am, Wednesday at 6am, etc.)
Learn basic car maintenance like how to change a tire or do your own oil changes
Take the plunge and book that trip you've had on your bucket list
Give no-spend days or weeks a try
Read one book each month in a different genre
Try not to complain about anything for a week
Start a "morning mindfulness" routine with healthy, intentional activities
Declutter your car and find gadgets and organization essentials that will help keep it maintained
Carve out more alone time with yourself and get comfortable being alone
Long-Term Life Goals For A Woman
Become more financially literate and establish a financial wellness plan
Determine your expected retirement net worth and adjust your lifestyle accordingly
Restructure your limiting beliefs that hold you back from the things you care about
Work toward developing positive self-talk and less inner-criticism (practicing positive affirmations is one of the best ways to accomplish this!)
Get clear on your purpose in life
Stop putting yourself last–your needs deserve to be fulfilled first
Achieve body acceptance, body neutrality, or body positivity (whichever speaks to you most! These body image affirmations are perfect for this)
Journal to assess what's no longer serving you and make a plan to change it
Make it a habit/shift your mindset to get things done now, not later
Build up the healthiest, most positive friend circle you've ever had with people you truly click with
Click to finally create the self care plan that's personalized to YOU!
What Are Most Women's Goals In Life?
Before you start comparing yourself to other women, know that we all have different intentions in our lives that call for different goals. You're on a unique journey, as am I, and there's no "right" or "wrong" to goals!
But, if you want to get an idea of some goals women commonly strive for, these are some good examples!
Figuring out what you really want in your career – especially deciding whether to work your way up the corporate ladder, or go solo and take the entrepreneurial route
Giving more attention to your relationships – whether that means finding new ones or strengthening the ones you have, most agree that this is one of the goals in life for a woman that's most important!
Truly finding yourself – it's a broad term, but this is something on many young womens' minds. Self-discovery is our jam here at Ambitiously Alexa, and that means exploring our passions until we figure out what sticks!
Mastering balance in life – the older I get, the more I realize that balance is the answer to practically every area of life. Life doesn't have to be all or nothing, nor should it be!
Getting your money in check – with only 50% of women feeling financially independent, you better believe your financial wellness deserves attention! The best thing we can for ourselves as women is increase our financial literacy and take action early when it comes to managing our money.
Why Is It Important To Set Goals In Life As A Woman?
Women tend to minimize their accomplishments and undersell themselves, when in reality they may be killing it and doing amazing things! We need to acknowledge that unhelpful behavior and kick it to the curb. We deserve better, and we deserve to validate our achievements.
This is exactly why we need to set goals and give them the celebration they deserve once achieved. When you set simple life goals, you clarify your priorities, focus your efforts, and define your direction. This can make alllll the difference in actually going for the things you're passionate about!
How To Stay Motivated When Pursuing Long-Term Goals As A Woman
Setting goals in life as a woman is one thing, but we all know that staying motivated is another story. Thing is, you need to stop thinking of your goals in terms of motivation.
It is quite literally impossible for anyone to feel motivated every single day! The second you accept that, the second you can stop standing in your own way.
Honestly, it all comes down to discipline. Not motivation. The women who maintain healthy habits and reach their goals are the ones that developed strong discipline.
Goal Setting Tips to Increase Your Likelihood of Success
1. Prioritize and be selective
Don't try to makeover your entire life all at once. You'll get burnt out and discouraged real quick! Even though this list of goals in life for a woman has 100 items, this does not mean you should chase them all. Take it one or two goals at a time.
2. Routines = one less step to think about
Think less of goals and more of habits (and the routine that's made up of the habits).
When you construct a morning routine, you don't have to think so hard about the habits that contribute to your goals. They're just part of your everyday life, which reduces the friction!
Aaaand in turn, it makes discipline seem less intimidating.
3. Don't let slips become slides
Let's say your goal is to exercise 3 times a week, but next week is Thanksgiving.
It's probably not going to be so easy to stick to this plan with a holiday in the mix, and that's okay! Don't beat yourself up or feel like you must stick to your workout plan at all costs.
Give yourself the grace of taking a few days off, but always make sure to get back on the wagon afterward. When you practice this discipline enough, you'll also prove to yourself that you don't have to sweat the slip-ups. You can trust that the slips won't turn into slides!
Reminder: You Are A Strong, Independent Woman With Goals You Deserve To Achieve!
You aren't just setting goals here, you're putting in the work to become the best version of yourself! This isn't about proving anything to anyone else. You're here to support yourself and get the very most out of your life.
You deserve every ounce of success, each celebration, and the amazing feeling of "yup, I really did that!"
Now get out there, let these goals in life for a woman inspire you, and step into your ideal self!
More Goal Setting Inspiration You'll Love
New Month Journal Prompts for Goal Setting
Printable Goal Setting Worksheets to Help You KILL Your Goals
How to Manifest Something by Writing It Down: 6 Must-Try Techniques
65 Productivity Affirmations to Tackle Your To-Do List
LIKE THESE GOALS IN LIFE FOR A WOMAN? PIN 'EM FOR LATER!