Environmental Self Care: 57 Ideas for a Stress-Free Space
This post contains affiliate links and I may receive a small commission (at no extra cost to you) if you sign up or purchase products or services mentioned. Read the full disclosure here.
Your home. Your workspace. Your car. Your cozy little corner in your room. Your environment.
Your environment probably isn't the first thing that comes to mind when you think of self care, but it is 100% essential to prioritize–so much more than you'd think!
Just think about the way you feel when you're sleep deprived, working a toxic job, or when you have no air conditioning in the peak of summer. You know you aren't feeling your best when these are happening.
Why? Because these are all environmental factors that affect your mental health! And you can't manage any of these frustrating situations until you start thinking about your environmental self care.
Real talk: you need to get intentional about your environment and surroundings.
Keep reading to discover some life-changing environmental self care examples!
Consider the following:
You are the curator of your own environment.
If that reminder feels empowering, it should! The impact our environment has on our mental health is certainly recognized. This impact can be so astounding that it can even alter our brain structure and function. As you can imagine, that's for better or worse.
Which is why it's so important that you take the wheel when it comes to your environment! Of course, we can't always control everything about our environment, but we do need to take advantage where we can.
This means choosing better habits, decorating our space in a way that makes us happy, and cutting out anything negative or harmful when possible. These are just a few examples, but I hope you feel inspired to start being intentional with your environment.
What is Environmental Self Care?
Creating a positive relationship between you and your natural surroundings is what environmental self care is all about. Basically, it's taking action to design an environment that supports your well-being!
This can be as simple as decluttering your desk or as big as changing your lifestyle completely. Our everyday surroundings have a powerful impact on our mood, after all.
And this goes both ways. You want to tend to the needs in your personal environment and what goes beyond it–like your local community, and even the planet, if possible!
BUT…you can't pour from an empty cup.
I ultimately believe that you need to put yourself first before you can give your best to others, let alone your whole community. So if you're not there yet, do not feel guilty! Take care of yourself first and foremost, and the rest can follow in due time.
If you want to dip your toes into environmental self care, start with restructuring your own personal environment!
Environmental Self Care
When it comes to environmental self care, there's two components: your personal environment and your community.
The first refers to personal places like your home, car, and desk space. Community, on the other hand, is made up of places like your workplace, your social environments, your neighborhood, and so on!
First, let's focus on your personal environment. The things you have the most control over! These aspects make up your own little world and can act as safe spaces.
Environmental Self Care Examples for Your Personal Well-being
Keeping your living space clean and organized
Putting together a cozy corner in your bedroom
Exploring meditation practices that work for you
Enjoying a solo picnic date with yourself (you'll love these 28 solo date ideas…)
Tending to houseplants
Being more intentional with your screen time
Community Self Care
Now, there's community self care. This is your larger, more external environment. All the spaces that are beyond your own household.
Getting involved with your community can be an incredibly fulfilling part of your environmental self care! Not only are you opening yourself up to social opportunities, but you're making meaningful contributions to society.
Community Self Care Examples to Help Others
Volunteering at animal shelters, in underserved communities, libraries, or any other organizations you're passionate about
Participating in a community garden or caring for nature
Supporting local businesses
Letting your neighbors know they can count on you
Organizing community events like ice cream socials, park clean-ups, or get-togethers.
Hosting free workshops or classes
57 Environmental Self Care Ideas for a Space That Supports Your Well-being
Get ready for a refresh with these environmental self care ideas! An organized, structured space makes for a clear, calm mind. These examples are sure to perk up your mental well-being as well as your physical well-being. Whether it's creating the personal sanctuary of your dreams or seeking out community self-care, you'll find tons of inspiration here!
Don't lose these environmental self care ideas! Pin 'em to come back!
Your Living Space: Create a Space That Enables Self Care
Your living space may look like walls and some furniture, but it's so much more than that. You deserve a space that allows you to recharge in peace. This should be almost like a "getaway space"– your safe haven to disconnect from outside stress!
Focus on truly designing your space. Set it up in a way that makes self care easy and accessible. Think about what makes you feel truly relaxed and transform that into your physical environment.
Try these environmental self care strategies to give your home a refresh!
Declutter your space one room at a time
Do a closet clean-out and donate clothes you never wear
Do a rebrand on your home's color scheme. Choose soothing colors!
Upgrade your home decor to pieces that represent your style best
Create a cozy corner, complete with plush blankets and pillows, books, and candles. (My guide on how to make the ultimate DIY self care kit will help!)
Display calming artwork in your home
Add some indoor plants
Include other elements of nature, like pretty stones, flowers, or sea shells.
Incorporate your personal touch by posting photos of good memories, inspiring affirmations, and cool mementos. (I've got some super aesthetic positive affirmation cards to start your decorating!)
Use more natural lighting
Have a "mindfulness zone" in your house to unwind and meditate.
Practice minimalism and be intentional with home purchases
Move furniture around for a change of scenery
Make your living space a true reflection of YOU!
Your Work Space: Don't Skimp on Work-Life Separation
With the rise of remote work, achieving that true work-life separation can feel damn near impossible at times! But please, if there's any piece of advice you take from this post, it's to enforce a clear work-life boundary. Your mental health will thank you for preventing burnout!
Even if you work in person, it's all too easy for our minds to linger on the workday even after we've left the building. Work-life separation is a valuable skill to master for anyone!
Draw the line between work and your personal life with these ideas!
Stick to a designated work space, preferably at a desk (I know the couch is enticing, but it's dangerous!)
Minimize distractions and noise as much as possible
Put your phone on the floor away from you instead of on your desk
INVEST. IN. A. COMFORTABLE. CHAIR! I can't stress this enough! Sitting all day isn't ideal for our bodies, so we want to reduce any physical strain we can. (THIS office chair is cute, comfy, and has gotten me through many 12 hour work days without discomfort!)
Make your desk space aesthetically pleasing with cute mouse pads, laptop stands, and other accessories
If possible, situate your desk near a window with natural lighting
Stick to your working hours (no after-work email checking for you!)
Do something to physically end the work day. Close your office door. Shut your laptop.
Do not keep work-related notifications on after the work day
Establish a specific act that marks the transition from work into personal time, like a 10 minute walk.
Personalize your workspace with little trinkets and photos that motivate you
Use allll the organizational tools. I'm talking planners, bulletin boards, to-do lists, pretty highlighters–the whole nine yards!
Keep computer and phone cords neatly organized to reduce visual clutter.
Always take your dang breaks!
Never eat lunch at your desk.
Remember to step away and take a breather when work stress piles up.
RELATED: 65 Productivity Affirmations to Tackle Your To-Do List
You're busy. Self care takes time. So I found a way to help busy women create routines that actually work for them!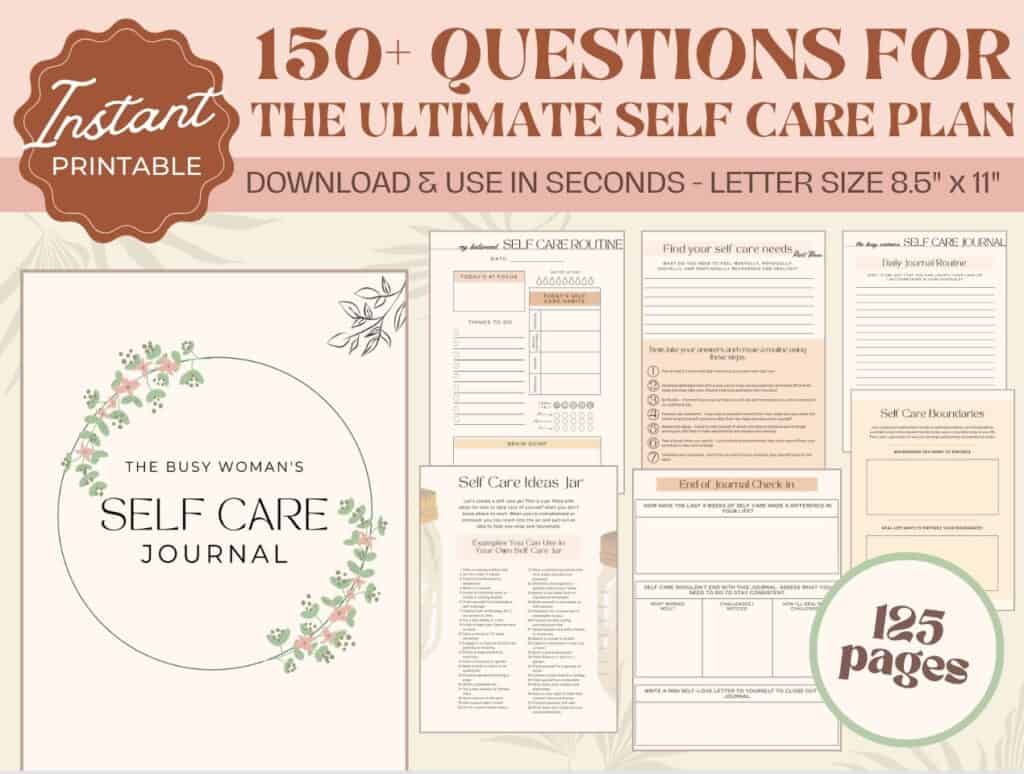 Life too hectic for self care? Not with The Busy Woman's Self Care Journal!
Made by a busy woman, for busy women, the goal of this journal is simple: to make an effective self care plan that works for your unique needs. No matter how crazy life gets!
Get step-by-step guidance to create your personalized self care plan by…
Your Car: Keep It Clean and Simple
All that time spent running errands, commuting to work, traveling on weekends…it adds up! In America, our cars are a huuuge part of our environment. So you've gotta keep it clean, simple, and organized just as you would with your home!
These tips will simplify your car's environment!
Don't overdo the car gadgets just because Tik Tok told you to
Make it a habit to throw that coffee cup out every time you exit your car
Keep your dashboard clutter-free
Maintain regular car washes
If you don't get car washes often, at least clean your windows for your safety!
Minimize or remove excessive window or bumper stickers
Keep a small trash can in your car
Set a schedule to vacuum your car's interior regularly
Use storage tools like trunk organizers and seatback organizers
Limit personal items you keep in your car, or at least store them in your glove box
Keep a pack of disinfectant wipes on hand to wipe seats and handle spills
Keep a compact emergency kit with a flashlight, water, bandaids, and other necessities.
You can use silicone cupcake liners in your cup holders to catch crumbs and dust!
Absolutely use a phone mount if you don't have Apple CarPlay. Looking at your GPS on your phone in your lap is not the move!
Always stay up-to-date on routine maintenance to ease your fears of a car breakdown
Your Community: Extend Beyond Your Personal Environment
Once you've got your own needs fulfilled, you can expand your horizons and get involved with your community! Being a part of something bigger can give your well-being a boost, as well as help others in need. Kind of a win-win for environmental self care!
Whether it's your local neighborhood or mother earth, there's plenty of ideas to lend a helping hand.
Organize a clean-up event to remove trash from parks, beaches, and other areas
Participate in a community garden
Join or start a hiking group to share connections with nature and others
Plant trees
Organize a workshop to educate people on proper recycling practices
Support local farmers markets and buy fresh produce
If your community offers composting, make use of a compost bin
Volunteer to help out the animal shelter, soup kitchen, or any other organization in need
If you're thinking about giving someone a compliment, just go for it!
Donate goods to women's shelters, daycares, food drives, etc.
Advocate to protect local wildlife habitats
Next time you encounter new neighbors, do something nice to welcome them
RELATED: 21 Fun Self Care Activities for Groups That Adults Will Enjoy
Click to finally create the self care plan that's personalized to YOU!
How You Can Improve Your Personal Environment
Your environment should motivate you, inspire you, and get you excited to spend time in it. If it's been feeling drab, or downright draining, that's a clear sign that something's gotta change.
You can start small! What sensory experiences could enhance your personal environment? Calming candle scents? Soft lighting? Relaxing music?
What can you do to personalize your home and truly make it your own? Can you paint some of your tables and chairs a color you love? Re-decorate your room? Hang pictures of fun times with your besties?
Hey, even something as simple as setting up a nice little "coffee station" in your kitchen with all the fixings can help you start each day with a smile on your face.
Try a variety of these environmental self care ideas and keep the ones that make you feel your best! I can't wait to hear what you do with your space.
More Self Care Ideas You'll Love
Intellectual Self Care: 13 Examples to Expand Your Mind
60+ Self Care Sunday Quotes to Reset Yourself
7 Day Self Care Challenge: Start Self Care the Easy Way
Ultimate List of Self Care Hobbies: 32 Ideas You've Gotta Try
LIKE THESE ENVIRONMENTAL SELF CARE IDEAS? PIN 'EM FOR LATER!