20 Imposter Syndrome Journal Prompts 
This post contains affiliate links and I may receive a small commission (at no extra cost to you) if you sign up or purchase products or services mentioned. Read the full disclosure here.
Last Updated on June 26, 2023
Do you ever feel like no matter what you accomplish, you're never enough?
Do you feel like a fraud when starting a new job, despite being fully capable and qualified at what you do?
Or maybe you struggle to celebrate your wins, feeling like you didn't deserve them?
If you can relate to any of those, you are so not alone! I promise! Seriously, up to 82% of people experience imposter syndrome.
Imposter syndrome can strike absolutely anyone, regardless of accomplishments or expertise. There's probably a neurosurgeon out there that feels like he hasn't earned his way to being a neurosurgeon despite completing a rigorous program. But obviously, that's not true!
These imposter syndrome journal prompts will help you challenge your inner critic so that you can recognize your strengths and acknowledge your worth. It's important to find out the "why?" behind what caused your imposter syndrome in the first place.
From there, you can work on restructuring negative core beliefs and loosening the grip imposter syndrome has on you and your confidence.
20 Imposter Syndrome Journal Prompts to Overcome Self Doubt
Imposter syndrome can feel lonely, sad, and a hit to your self-esteem and identity. Follow these imposter syndrome journal prompts to explore the root cause behind why you struggle with self-doubt and what negative core beliefs might be at play.
Whether you're feeling inadequate at work, incompetent when starting a new job, or feeling undeserving of your partner in a relationship, these prompts will help you overcome imposter syndrome!
Don't forget these imposter syndrome journal prompts! Pin 'em to come back later!
Journal Prompts to Identify Why You Have Imposter Syndrome
Think back to your first job. Was there ever a boss, coworker, customer, or situation that made you feel inadequate?
Your first job makes an impactful first impression in your working life. If this job took place in a negative environment with unsupportive people, reflect on how these experiences may have shaped your self-perception.
In school, did you ever have a teacher that made you feel embarrassed to ask questions?
Bad teachers exist just as bad bosses do. Think about how your teachers responded to you when you asked questions. Did they welcome any and every question, or did they make you feel like you should've known something already?
Were you a "gifted" kid, or found it easy to excel in early education? Did this change overtime, and did it impact your work ethic or self-esteem?
Was school easy for you when you first started? If your first impression of school and learning is that everything comes easy to you with minimal effort, it's easy to get complacent.
You might fail to build motivation, strong work ethic, and necessary study skills. When school gets harder, you may feel totally lost. This can seriously impact your self-esteem and confidence in your abilities. 
What were your parents' expectations for you? Did you find them difficult to meet?
Did your parents accept no less than straight A's? Did they expect you to be busy every waking moment of your childhood, with a pile of extracurriculars? If you didn't measure up, would they be compassionate and forgiving, or harsh and rigid?
How did your parents treat your accomplishments?
Were accomplishments adequately highlighted and praised? Did your parents make it a point to celebrate all your wins, both big and small? Or would they make you feel like your successes weren't good enough?
See how your childhood experiences impact your adult mindset!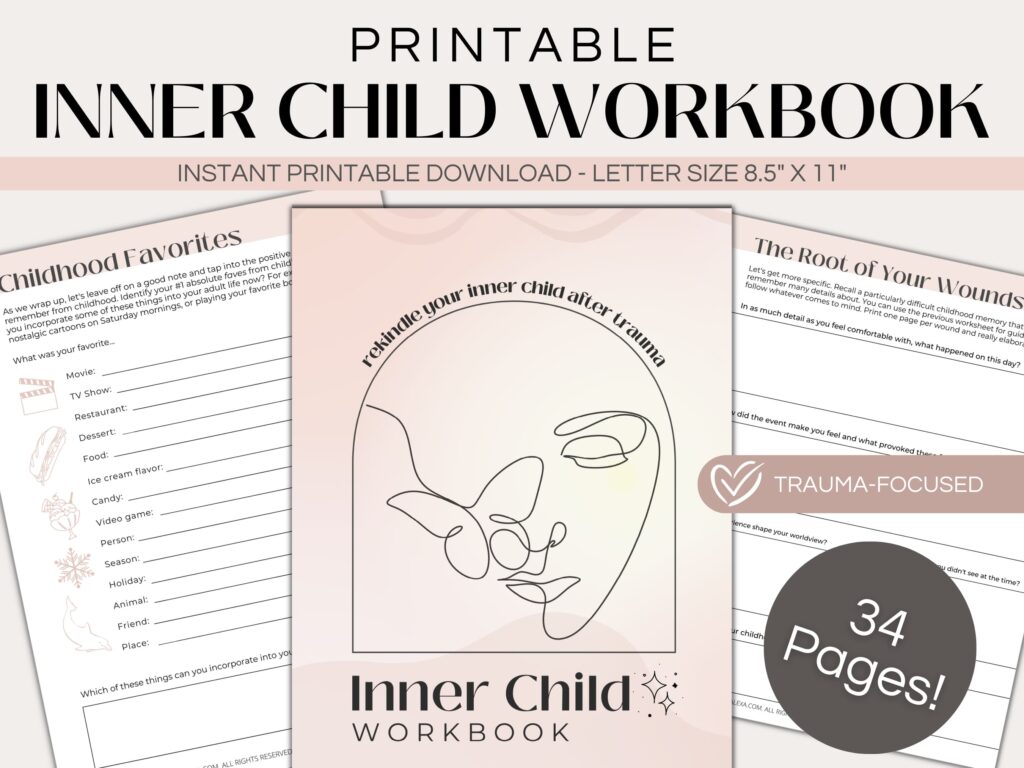 Feeling out of touch with your inner child? Been through a traumatic experience? My printable inner child journal PDF can help you give your inner child the love they deserve but didn't get.
This workbook will help you:
RELATED: 80 Insightful Inner Child Journal Prompts to Self-Heal
Imposter Syndrome Journal Prompts at Work
Thinking back to the last accomplishment you had at work, what was your initial reaction?
Maybe instead of being happy or proud of yourself, you felt the need to discount the positive. You might chalk an accomplishment up to sheer luck or convince yourself it wasn't as spectacular as others' accomplishments. Notice those initial self-talk patterns.
Thinking back to the last time a colleague or boss recognized your work, how did you accept the praise?
Is it difficult for you to accept compliments? Or, maybe you can accept praise on the outside, but internally you feel very uncomfortable when acknowledged.
When was the last time you were winging it, where you didn't feel like you knew what you were doing?
We all have times where we think we have no idea what we're doing! What did you do the last time this happened? Did your confidence in your skills grow over time?
Is there a colleague or peer you compare yourself to? Reframe your comparisons through a lens of admiration. Then, list your strengths and capabilities.
Instead of viewing that colleague of yours as so much better than you, and how can you possibly measure up…look at what they possess as something to congratulate them on.
Use it as fuel for improvement, but also remember to write out your own strengths and capabilities. You're both there for a reason.
Do you notice habits of perfectionism in your work life? How do these contribute to your imposter syndrome?
Perfectionists tend to be perfectionists in eeeverything they do. What do you hyper-fixate on and nitpick at work? Can you take a step back and identify some areas where you can go easier on yourself?
RELATED: 76 Career Affirmations for Powerful Growth In Your Job
Imposter Syndrome Journal Prompts When Starting a New Job
What's the scariest thing about starting a new job?
New jobs are pretty much intimidating by nature! But what about this new job is especially triggering your feelings of self-doubt or anxiety?
Make a list of all your skills and competencies that you bring to the table in your job.
Sometimes, you really gotta write a gratitude list of all the things you admire about yourself. You've gotten this far for good reason, so take note of your strengths!
Are there any challenges in your new job that you're worried about? How can you approach these challenges without taking them as a personal failing?
This new job might do things different from your old job, but that doesn't mean you can't handle it! Think about some potential challenges you may run into and how you can view them with an "everything is figure out-able" mindset?
Think back to a previous time where you felt new job anxiety. How did you manage to ease the anxiety overtime? In what ways did you feel more confident as you progressed in your role?
You've probably been through this before and look, you made it out alive! Remember the ways you persevered and what it took to ease your anxiety. Think also about how your confidence improved with time and practice!
Think back to past mistakes you've made at work. Reframe these mistakes using positive self-talk, seeing them as an opportunity for growth and learning.
Instead of beating yourself up about mistakes, be kind to yourself. Reflect on what you learned from these mistakes and how they've helped you afterward.
Imposter Syndrome Journal Prompts in Relationships
Think back to your first relationship. Did your significant other make you feel insecure in any way?
Just as your first job can set the stage for workplace insecurities, your first serious relationship can do the same with your love life. Think about what your first significant other said or did to make you feel self conscious or inferior, if anything.
Think back to the worst relationship you've had. Did any feelings of imposter syndrome arise?
How did your worst relationship make you feel about yourself? Did you place a lot of value on their external validation, rather than valuing your own internal validation?
Think back to the best relationship you've had. Did your partner positively impact and/or reduce your feelings of imposter syndrome?
I really hope you have/had a good relationship that lifted you up! Did this partner help you challenge your insecurities? Did you feel more secure, comfortable, and at ease while with them?
What standards do you set for yourself when seeking a romantic partner? Are they realistic, lacking, or excessively high?
If you're a perfectionist, it's not impossible that you may have too high of standards for a potential partner. If you struggle with low self-worth, you might settle and accept someone who treats you poorly. Assess your standards and see if you may need to do some adjusting.
Self-compassion is important for easing imposter syndrome. How can you exercise self-compassion in the context of your relationships?
No matter what happens in a relationship, you want yourself to be a safe home base. That self-love should always be there, and you should aim to show yourself the same compassion you would with someone you love. If you're not there yet, that's okay. What steps can you take to get there?
RELATED: 70 Journal Prompts for All Your Relationships
You'll do even better talking to someone who can actually give you guidance on imposter syndrome. Talking to an online therapist lets you vent and you get to step away with better coping skills. I know my therapist has helped me SO much with things like this! I always recommend Online Therapy because it's a comprehensive, effective online therapy toolkit at an affordable monthly cost.
What are the five areas of imposter syndrome?
Imposter syndrome can manifest in so many different ways, across many different areas and stages of our lives.
Dr. Valerie Young, an expert on the subject of imposter syndrome, identified five different categories for imposter syndrome: the Perfectionist, the Superwoman/man, the Natural Genius, the Soloist, and the Expert. 
1. The Perfectionist
Perfectionism is always a losing battle when you're constantly creating an unrealistic standard for success. If this standard is one you set for yourself, you're bound to fall short and feel the pain of imposter syndrome because the standard is impossible for you, or anyone, to meet.
When you're a perfectionist, any mistake you make is going to lead you down the uncomfortable path of imposter syndrome.
And when you do manage to meet a ridiculously high standard? You never feel like you can pat yourself on the back, because you believe you could've done better.
2. The Superwoman/man
This is where you may overcompensate to mask the discomfort of imposter syndrome. You might feel obligated to go above and beyond your colleagues or believe you must stand out in some way to be successful. Feeling like you need to do it all, all the time!
Workaholics tend to fall into this category. They often tie their worth to their productivity (and, unfortunately, American society seems to encourage this).
But it's not necessarily for the accomplishment that comes from hard work either. It's more often due to the persistent need for external validation. Some people rely on feedback from others to confirm whether or not they're "worthy" or "working hard enough."
This is where building your confidence and valuing your own internal validation is essential!
3. The Natural Genius
You know the whole "gifted kid" phenomenon? Where you were told you were a genius in Kindergarten, only to crash and burn in high school because you spent so long believing success just came easy to you? (Oh god, it hurts…)
Well, more often than not, growing up with this experience can lead you to base your competence on how easy and quick something is for you. Rather than basing your competence on your efforts, you feel frustrated when you can't get the hang of something immediately.
If you don't get it right on the first try, you must suck, right?
This type of thinking is very rigid and doesn't allow for the reality that sometimes…you're a work in progress. And that's totally okay.
4. The Soloist
Are you the type of person who's afraid to ask for help? Do you believe you're better off not bothering people, so you'd rather just figure it out on your own? Independence isn't such a bad thing, but when you practice independence to this extent, it can be very draining.
If you were always shut down or made to feel bad when you raised your hand to ask a question in school, this mindset can so easily stick with you!
But remember that any logical, reasonable person won't have a problem with you asking for help. Asking for help from others is how we're supposed to learn! No shame in that.
5. The Expert
Maybe you place your worth, intelligence, and competence based on "what" or "how much" you know. You never want to be caught for not knowing the answer to something, because you perceive this as a vulnerability. 
But this won't help in situations where there's an inevitable learning curve in front of you. Starting a new job, moving to a new city, picking up a new hobby…these are all environments where it's to be expected that you won't know everything right off the bat.
If you can relate, it helps to work toward acceptance. Accept that there's no way to know everything about everything. Life itself is an ongoing learning process! You don't need to have all the answers to be doing well for yourself.
Who feels imposter syndrome the most?
Surprisingly or unsurprisingly, women report being the most affected by imposter syndrome.
Research shows that a staggering 75% of female executives (across many industries) admit to feeling imposter syndrome. 81% of women in the same study believe they have to put more pressure on themselves not to fail than men do.
Nearly half feel that they never expected to reach the level of success they've achieved, resulting in these feelings of self-doubt.
If you're struggling with imposter syndrome, one of the best ways to overcome it (and the way that the majority of the women in the study chose) is to lean on a mentor or someone you trust that's been through similar struggles.
Loneliness can be a huge contributor to imposter syndrome, so simply hearing from others who can relate will help you feel heard and supported! Make sure that along with these imposter syndrome journal prompts, you're also reaching out to your support system.
More Journal Prompts You'll Love
60 Transformative Journal Prompts for Negative Thoughts
80 Insightful Inner Child Journal Prompts to Self-Heal
80+ Self Worth Affirmations to Validate Yourself
65 Affirmations for Female Entrepreneurs
LIKE THESE IMPOSTER SYNDROME JOURNAL PROMPTS? PIN THEM FOR LATER!