Leave Your Hometown? 8 Reasons You'll Be Glad You Did
This post contains affiliate links and I may receive a small commission (at no extra cost to you) if you sign up or purchase products or services mentioned. Read the full disclosure here.
Last Updated on September 21, 2023
Looking for honest advice on whether to make a big move away from home? Here's all the reasons why leaving your hometown in your 20s is a life hack!
Moving away from my hometown in 2020 was a game-changer for my personal growth. I've grown more confident, competent, and most of all, happier. If you're on the fence, I'd say taking the plunge to leave your hometown is a must in your 20s.
While it may seem intimidating, especially depending on the distance, moving away is a choice that will seriously skyrocket your personal growth.
Not only will you create much-needed independence from your parents, but you will get to experience life in a completely different way.
Life in small town Montana will be much different than big city life in NYC, or whatever you're used to. Research even shows that city dwellers are 21% more at risk for anxiety disorders and 30% more likely to develop a mood disorder than rural folks. But of course, it depends on you and what you want in life!
Wherever you go, these wild new experiences will shape you in ways you never knew possible. If you're hesitant to leave your hometown, consider these reasons to go for it!
Signs to leave your hometown
If you're thinking, "okay, but is leaving my hometown right for me?" here are some signs that your hometown is probably not serving you well.
You feel stuck – is life just feeling "blah"? Like you're stuck in an endless loop of doing the same boring things with the same boring people? If you feel like you're not really "moving up" or getting anywhere, it's time to make a change.
You're facing limited opportunities – if your hometown just doesn't have career options for the industry you're interested in, it's probably not a fit for the next chapter of your life.
You lack fulfillment– personal fulfillment is so important. Maybe your hometown is too small to give you much enjoyment. Maybe it's too big and you're tired of the stress, overwhelm, and traffic jams. There's a better fit out there for you!
You feel a social disconnect – I'll be honest, I didn't have many friends in my hometown. Without much going for me socially, I realized I didn't have any social ties that made me want to stick around. Moving gives you the chance to form a circle of people that better-align with your interests and values!
You're in desperate need of independence – it's natural to want independence from your family as a young adult. And let's be honest: not everyone has a good relationship with their family anyway. You deserve to create the boundaries necessary to thrive, whatever that looks like for you!
You'd be surprised at what never leaving your hometown does to your brain. The locations we live in can seriously make or break our mental health. Staying stuck in one place won't enrich and stimulate your brain nearly as much as exploring some place new.
Is it good to leave your hometown?
There's no right or wrong answer, but chances are, leaving your hometown will do you far more good than bad.
Honestly…I kinda think leaving your hometown in your 20s is a life hack!
Why? Because it's finally your chance to grow and thrive on your own terms. You further your independence as a young adult and prove to yourself that you're the one in charge of your life.
Instead of stifling yourself and staying stagnant in the same town, with the same people, doing the same things, you're enriching your life ten times more than your peers who decided to stay put.
It's more common for us to regret the things we didn't do than to regret the things we did do. You'll never know what you'd be missing out on, so I say go for it!
And remember that you don't necessarily need to commit to anything long-term, and if one day you wanted to move back to your hometown, you're free to!
Don't let "some day when I move to ____" be part of your vocabulary forever. Create the life you want to live WHERE you want to live it!
Is it hard moving away from home?
Adjusting to a big move may be challenging at first, but it's more manageable than you think. In my personal experience, it turned out to be easier than expected.
Will you miss your family and friends? Of course. But as you build a life in your new town, you find a groove that lessens the homesickness. I was very excited to move out and create a new life in a new town, so for me, I enjoyed the journey!
Now, that's the emotional side, but then there's the logistical side.
Moving requires a tonnn of planning. Especially if it's a cross-country one, for example. I have a guide on the exact process I took and everything you need to make a move to a new city here!
Here are 8 compelling reasons why the choice to leave your hometown is the best decision.
Don't forget about these awesome reasons to leave your hometown! Pin 'em!
1. You experience incredible growth in the area that matters most–your self-growth
When I say your self-growth will skyrocket, I mean it!
When you're living out of your same childhood bedroom, going to the same places every day, and meeting the same people every week…well, it's no surprise that your self-growth isn't going anywhere.
You aren't filling your life with any new, independent experiences. If you're still closely tied to a life that is similar to your childhood, you simply don't have the same room or opportunity to grow. At least, not to your fullest potential.
When you leave your hometown, you open the doors you need to create a life for yourself and achieve growth. I've noticed this happening in my emotional maturity, my cognitive abilities, and my personality.
RELATED: 80 Motivating Self Improvement Journal Prompts
2. You gain confidence
Especially confidence in your ABILITIES! Making a move, especially far away from your hometown, is no easy feat.
But once you successfully accomplish not only the process of moving, but of sustaining your new life in your new home, you feel like you can handle anything.
Maintaining your apartment/household, going about meeting friends on your own, navigating around your new city…you'll be pleased with how well you're handling it all!
RELATED: 100 Things to Love About Yourself (+ Free Worksheet)
3. You realize how much you need the freedom of independence
I'm sure you've complained during your teen years and as you entered adulthood about the need for independence and freedom from your parents.
And you're absolutely right, you do need it! But it's not until you have that full scope of independence that you realize just how critical it is to thrive!
Feeling like you are in charge of your life with NO ONE to limit you is incredibly empowering.
And while this can still be achieved if you move out 30 minutes from your parents, it's just a little different when you're making a life for yourself on your "own" turf, farther away.
RELATED: 8 Tips for Moving Out of State Alone: A Step-by-Step Guide
4. You have more freedom to make decisions and greater opportunity to learn from those decisions
The freedom that comes from no one limiting you is the increased ability to make your own decisions.
And even if you aren't making every decision with the perfect wisdom (bad decisions happen!), that's NOT necessarily a bad thing!
This opportunity for trial and error gives you the opportunity to learn from any poor decisions.
I will say that indecisiveness can increase, as you're met with so many decisions to be made and the fear that comes along with wondering if you're making the right decision.
But ultimately, being in charge of your decisions and learning how to navigate their consequences is incredible for your growth.
Need some help getting your budget, your packing, your PLAN and everything else together? You should grab my FREE moving checklist!
5. You hear new perspectives
If you've only ever lived in one or two places growing up, that means you've only been exposed to perspectives that are similar to yours.
Meeting people in a new area means gaining insight into different mindsets. You can learn a lot from people who didn't go to your same high school, aren't familiar with the nuances of your hometown or home state, and are used to a different lifestyle.
Who knows, you may learn something new about yourself or your outlook on life by entertaining other perspectives!
6. You gain more experiences that shape you than you would have had in your hometown
For example, winter is a completely different experience for me now in Illinois than it was in California! I mean, actually having fun winter activities instead of the winter blending into the rest of the year?! Seasons?! Fascinating.
Even meeting up with current and former students at the University of Illinois brings me different experiences than people from San Diego State University.
Simply learning to adjust to a completely new environment with new people is shaping me in ways I wouldn't have experienced if I stayed put.
RELATED: 75 Affirmations for Mental Strength to Encourage You
7. You might gain a better relationship with your parents
If you clash with your parents while living at home, you might be pleasantly surprised to find that this is no longer the case when you put some distance between you and them.
Sometimes, our relationships with others can be strengthened with some adjustments.
Maybe your relationship with your parents feels overwhelming and strained when you're living together. But you might get along much better when your time with them becomes less frequent, and therefore, more valued.
Oh, and while I'm thinking about it, let me share with you the moving essentials that saved me SO much stress! If I didn't have these, I think my moving process would've been a whole hot mess haha!
The Moving Essentials You'll Be Glad to Have
Waterproof Rooftop Cargo Carrier
If you're moving by car, you NEED a cargo topper! You don't want to pack up your car only to find out you don't have enough room for all your belongings. This got me through 2,000 miles of rain and wind with no trouble.
Ratchet Tie Down Straps (for the Cargo Carrier)
If your car DOES NOT have a roof rack, you will need to secure the cargo topper with ratchet straps. The ones below are what I used.
A Utility Dolly
This one lifts up to 300 lbs. This can be a HUGE help for loading up a car or truck!
8. You appreciate the beauty of geographical differences
If you disliked your hometown, you might grow newfound appreciation for it after being away from it.
I recognized that my hometown of San Diego isn't really my ideal place to live, however, it is a FANTASTIC place to vacation!
Going back as a "tourist" instead of a resident brings a whole different experience and appreciation for the little things about it.
You might find that you miss certain aspects about the landscape, the activities, the food (oh don't even get me started on delicious San Diego Mexican food…), etc. that you now look at with a sense of appreciation!
On the flip side, I probably appreciate the little things about Illinois more than the people who've lived here their whole lives.
That's just how it is: we tend to overlook the little things until we don't have them anymore!
Hey, you! Don't forget to grab the FREE moving checklist that totally de-stressed my big move away from home! You deserve a hassle-free experience too.
This post was all about choosing to leave your hometown.
Did these 8 reasons to leave your hometown inspire you to take the plunge, too? I promise it's an experience worth taking at some point!
I can't express enough how happy I am with my decision. If you decide to move away from your hometown, just know that you're in for a life-changing experience!
Take your personal growth journey one step further with a self care plan that actually works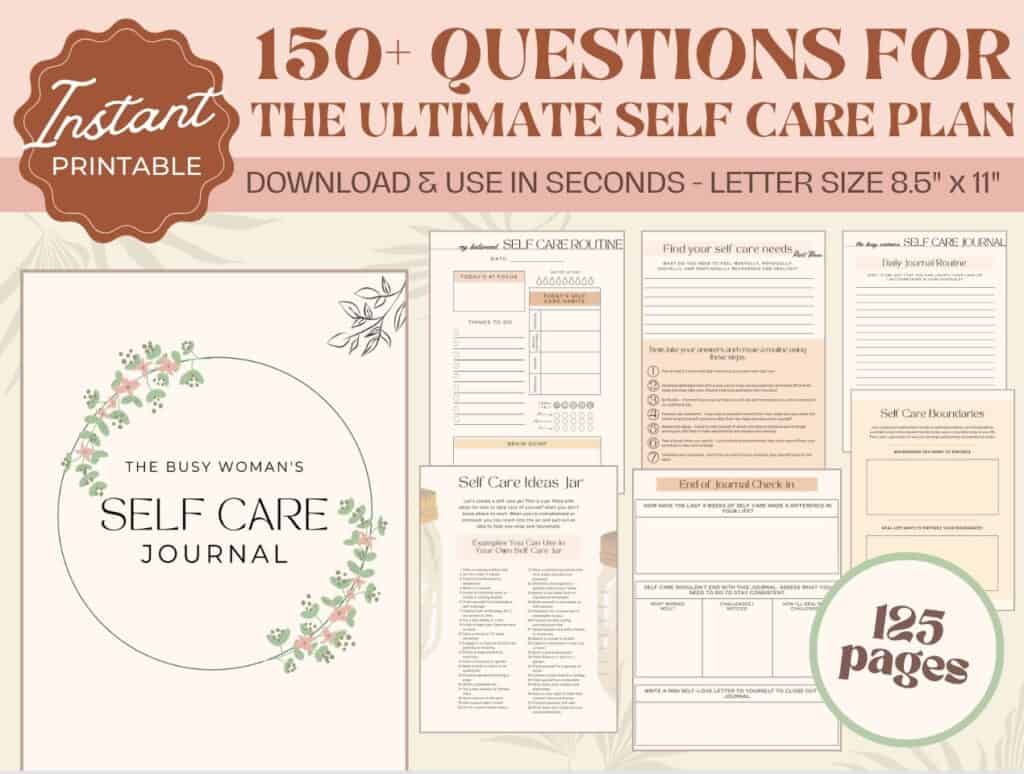 Life too hectic for self care? Not with The Busy Woman's Self Care Journal!
Made by a busy woman, for busy women, the goal of this journal is simple: to make an effective self care plan that works for your unique needs. No matter how crazy life gets!
Get step-by-step guidance to create your personalized self care plan by…
IF YOU LIKED THIS POST, YOU'LL LOVE THESE TOO!
8 Tips for Moving Out of State Alone: A Step-by-Step Guide
Environmental Self Care: 57 Ideas for a Stress-Free Space
60 Journal Prompts to Find Your Purpose When Stuck
55 Eye Opening Journal Prompts for Self Growth
LIKE THESE REASONS TO LEAVE YOUR HOMETOWN? PIN 'EM!