60 Birthday Journal Prompts to Reflect On Your Year
This post contains affiliate links and I may receive a small commission (at no extra cost to you) if you sign up or purchase products or services mentioned. Read the full disclosure here.
Last Updated on February 13, 2023
When you think of birthdays, you probably think of fun-filled celebrations, parties, presents, cake, and maybe even doing something exciting you don't normally do! These aspects are fun, but let's get a little deeper. What are birthdays really all about, after all?
Birthdays really do mean more than just parties and gifts. Birthdays are a celebration of life. And that's pretty darn special!
Birthdays are a special time to spend with people you love, embrace the stage you're at in life, and reflect on your journey up to this point. Each year is, honestly, a milestone! (Even when you get older and older and it seems the years are all one big blur–I promise every year is just as important as the last!).
So how can you get into the true birthday spirit and celebrate your birthday for what it's really about? My best recommendation is trying these birthday journal prompts.
A lot happens in one year. To recall everything that happened is quite the challenge. But with the help of these guided birthday journal prompts, you can filter out what matters most and what is most beneficial for you to reflect on.
This way, you can step into the next year of your life with a sense of clarity, wisdom, self-knowledge, and purpose. Let's go!
60 Birthday Journal Prompts to Reflect + Prep Your Next Year of Life
Excited to try some birthday journal writing? No matter what age you're turning, these birthday journal prompts are for you! If you want to really get thinking about your life and all of its years on a deeper, more personal level, these birthday reflection questions will help you do just that.
What are your honest thoughts and opinions on the concept of birthdays?
How has your opinion of birthdays changed from childhood to now?
Did you ever have any negative birthday experiences? How old were you and what happened?
In great detail, describe your best, most positive birthday experience.
In what ways or areas of your life did you grow the most this past year?
Did something in your life feel "easier" this past year? What was it?
Did something feel "harder" this past year? What?
What was the biggest realization you had about yourself this past year?
What was your hardest mental health struggle this past year?
What was your best "win" or progress you made with your mental health this past year?
What could have made this past year better?
What did you realize you need more of in the upcoming year?
What's the number one thing you want to accomplish before your next birthday?
RELATED: 23 Goals to Set This Year: Goal Ideas for Personal Growth
What are you looking forward to most about turning the next age?
What is your biggest fear about becoming another year older?
What are the upsides to becoming another year older?
What are you most proud of doing this past year?
What is the most ambitious thing you did this past year?
What's the best birthday gift you've ever received and why?
If you could plan the ultimate, most ideal birthday, what would it look like?
What is most important/valuable to you right now in life?
What are you most grateful for at this stage of your life?
In what ways do you think you'll change as a person in the next decade?
What's the best lesson you've learned in the past year?
What do you think you're getting closer to knowing or understanding?
What was something you stressed about 3-5 years ago, that you've now figured out?
What is the best advice someone has given you about growing up/aging?
What would make this next year easier?
Did your life at this age turn out different from what you expected when you were younger?
What do you miss most about your childhood or youth?
In what ways has growing older changed your worldview or the way you view life?
What makes you feel like a kid again?
RELATED: 20+ Inner Child Activities to Heal and Feel Alive
Your birthday is a prime time to connect with your inner child.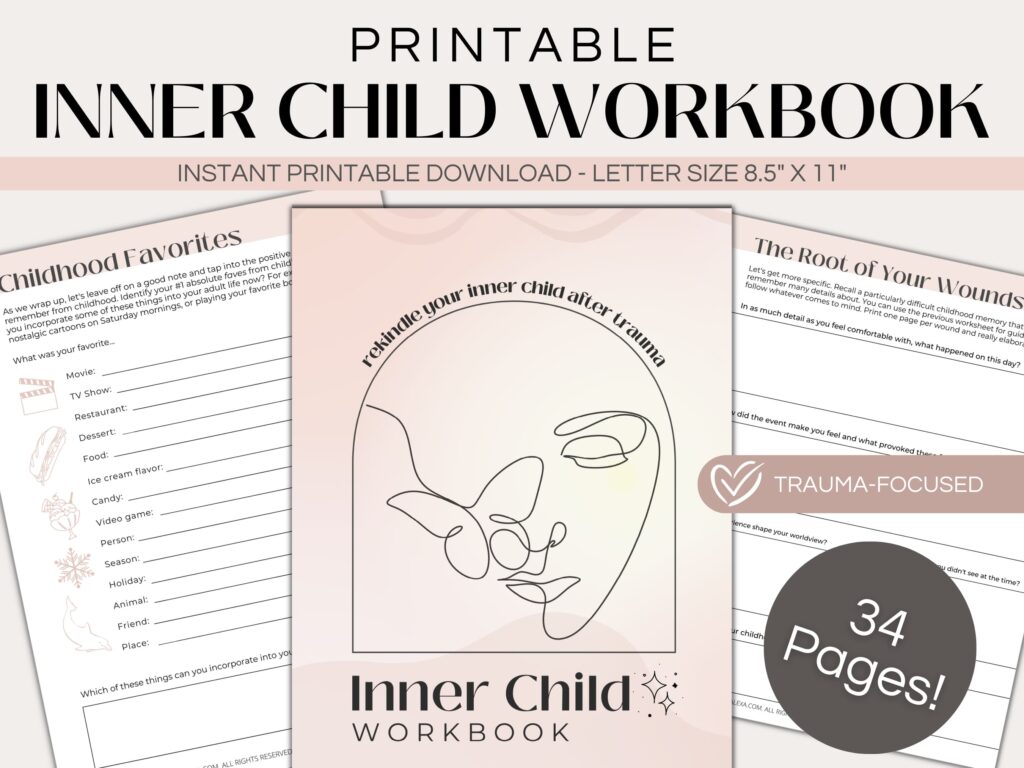 Feeling out of touch with your inner child? Been through a traumatic experience? My printable inner child journal PDF can help you give your inner child the love they deserve but didn't get.
This workbook will help you:
If you could travel anywhere in the world this upcoming year, where would you go?
How do you want to feel at the end of this year?
What advice would you give your childhood self?
What can bring you the most happiness this year?
How does your career now differ from what you expected as a child?
What's the saddest truth you've learned about growing up?
What's the happiest benefit you've learned about growing up?
What would "the best version of you" be like? What steps can you take to get there?
RELATED: 55 Eye-Opening Journal Prompts for Self Growth
Who all has walked into your life this past year?
Of those people, who had a positive influence and who had a negative influence on your life?
How do you navigate friendships now vs. in your youth?
If you could sum up the last 12 months in one word, what would it be and why?
What is one surprising change that took place this past year?
What are 5 goals you had this past year? Did you achieve any of them?
What are 5 goals you'd like to set for this year?
Describe a time where you stepped outside your comfort zone this past year.
What was the most fun you had this past year?
What was the biggest challenge you had this past year?
What do you want your life to look like by your next birthday? (Go by category: career, home, family, love, social, mental health, etc.)
Is there anything in your life that needs letting go of before your next birthday?
What feels the most freeing about the age you're at now?
What was your biggest regret this past year?
If age didn't matter and couldn't hold you back, what would you do?
Is there anything you feel like you're "too old" to do? Is this feeling rational?
Is there something this past year that you wish you could go back and do differently?
What are your biggest hopes and dreams for next year?
What makes you feel most alive?
Think about one area of your life where you could enforce stronger boundaries. How can you go about doing this?
RELATED: 25 Journal Prompts for Boundaries You Might Need to Set
What do you write in a birthday journal?
So, you've nailed down these specific birthday journal prompts, but what are some general ideas of what to include in your birthday journal writing?
You can write about…
How the concept of birthdays make you feel in general
How your view, feelings, and maybe even excitement levels regarding birthdays have changed from when you were younger vs. now
Your outlook on the next year of your life
Your fears and concerns for next year
The things you're looking forward to about next year
The wisdom you've gained in the last year or several years of your life
There's so much to reflect on and you really can't go wrong. Give yourself the time and space to think long and hard about what's changed in the last 365 days and see what comes up!
How do you reflect on your birthday?
The goal of birthday reflection questions should be to assess your personal growth and development. This is a great time to see how much you've grown as a person in the past year, acknowledge areas you've made great strides in, and your plans for next year.
As you reflect on your birthday, ask yourself reflection questions like…
Where did the last year take me?
Where do I want next year to go?
What did I improve on last year?
What can I improve on this year?
What do I need more of as I enter this next year?
Assessing where you've come from, where you're at, and where you want to be are the foundation of some great birthday journal entries!
Giving a Journal as a Birthday Gift
Hey, maybe you can make birthday journaling a tradition among your friends and family! On each birthday, you might want to carve out some time to record your thoughts, emotions, memories, realizations, and anything else you learned about yourself in the past year.
If you know anyone who'd be interested in doing the same, a journal is a great birthday gift idea.
And of course, this journal can be used throughout the year to help them self-reflect in all areas of their life on a regular basis (repetition and routine is what makes journaling so effective anyway!)
Here are my all-time favorite journals that make the best birthday gifts:
Erin Condren has been a trusted brand of mine that I've been using since high school for both planners and journals! These Erin Condren coiled notebooks make for super durable, blank-paged journals. A perfect fit for jotting down these birthday journal prompts–or any prompts of your choice! (They come in a ton of other designs too, so be sure to click here to check out the full collection.)
Many people prefer guided journals because it alleviates what I call the "blank page freeze," where you see a blank page and have absolutely NO clue what to write about! Reflecting on your mental health is ridiculously important, and my printable mental health journal is here to serve as a thoughtful, invaluable gift for anyone you care about!
Here's another guided journal option that keeps things simple. If you or someone you know has a chaotic, busy lifestyle, this Five Minute Journal is for them! All it takes is just 5 minutes a day like the name implies. All you gotta do is reflect on a few gratitudes, goals, and intentions before you start each day!
Make self-reflection unique to YOU at every age and stage.
So often, we view the "new year" as January 1st. If you think about it, it's really your birthday that is the true "new year," and of course this looks unique for everyone as we all have different birthdays.
Each age and stage of your life brings something new, and a birthday is a great marker of defining yourself for the next stage you're about to step into.
These birthday journal prompts make excellent birthday reflection questions for this reason. It's more personalized when you assess each new year based on your birthday instead of something arbitrary.
After looking back on the joys and challenges your personal past year has brought you, and thinking ahead to what's to come, you should have a greater sense of clarity as you practice birthday journal writing!
Self reflection is all about getting to know yourself on the most personal level possible, after all!
More Journal Prompts You'll Love
60 Journal Prompts to Find Your Purpose When Stuck
50 Influential Journal Prompts to Heal Your Inner Child
55 Feel-Good Journal Prompts for Happiness
70 Journal Prompts for All Your Relationships
LIKE THESE BIRTHDAY JOURNAL PROMPTS? PIN THEM FOR LATER!