20 Winter Solstice Journal Prompts to Revive Your Energy
This post contains affiliate links and I may receive a small commission (at no extra cost to you) if you sign up or purchase products or services mentioned. Read the full disclosure here.
Last Updated on November 22, 2023
Get ready for the Winter Solstice, hitting on December 21st or 22nd in the Northern Hemisphere (this year it's the 21st). It's the shortest day and the longest night of the year—sounds dramatic, but it's a good thing!
Why? 'Cause it marks the end of the dark half of the year and the beginning of the lightest. Brighter days ahead, my friend!
Pause, reflect, and dial into yourself with these Winter Solstice journal prompts! Now is your time to identify what to let go of and what to welcome going forward. Set the intentions that best serve you, with these prompts as your guide.
20 Winter Solstice Journal Prompts
Start the first day of Winter Solstice off right with these questions to ask yourself! Time to cozy up, settle down, and get reflective. Allow your reflection to fuel deeper thinking about what you truly want to manifest as the year comes to a close. It's time to welcome that refreshing new energy!
Don't forget about these Winter Solstice journal prompts! Pin 'em to come back later!
Prompts for Reflecting on the Past Year
What was the overall mood or theme of the past year?
Did you set any intentions at the beginning of the year? How well did you stick to those intentions in the end?
What came up in the last year that was totally unexpected? How did you respond?
What did you learn about yourself and the type of person you are?
What did you discover about your capabilities?
What affirmations, thoughts, or ideas were your driving force?
How did you do when it came to setting and enforcing your boundaries?
What is something you wish you did differently?
What is something you wish you worried about less?
In what ways did you feel most vulnerable or pushed outside your comfort zone?
RELATED: 100 End of the Year Journal Prompts to Reflect on 2023
Prompts for Looking Forward to the Year Ahead
Describe the person you are stepping into the new year as. What qualities, priorities, or traits does he/she have?
What is your number one priority or intention for the new year?
What are you choosing to let go of as you enter the new year?
What would make the upcoming year a huge success for you?
In what ways do you need to better protect yourself this year?
Which area of your wellness will you focus on more? (Emotional, mental, social, spiritual, physical, or financial?)
How will you invest in yourself this year?
What are 10 things you're grateful for at this point in your life?
Name 3 things you'll be manifesting this next year.
What is something you need to forgive yourself or others for before moving forward?
RELATED: 90 Journal Prompts for Manifesting Exactly What You Want
Winter time = time to get serious about self care! Find the right winter self care routine for you with this journal.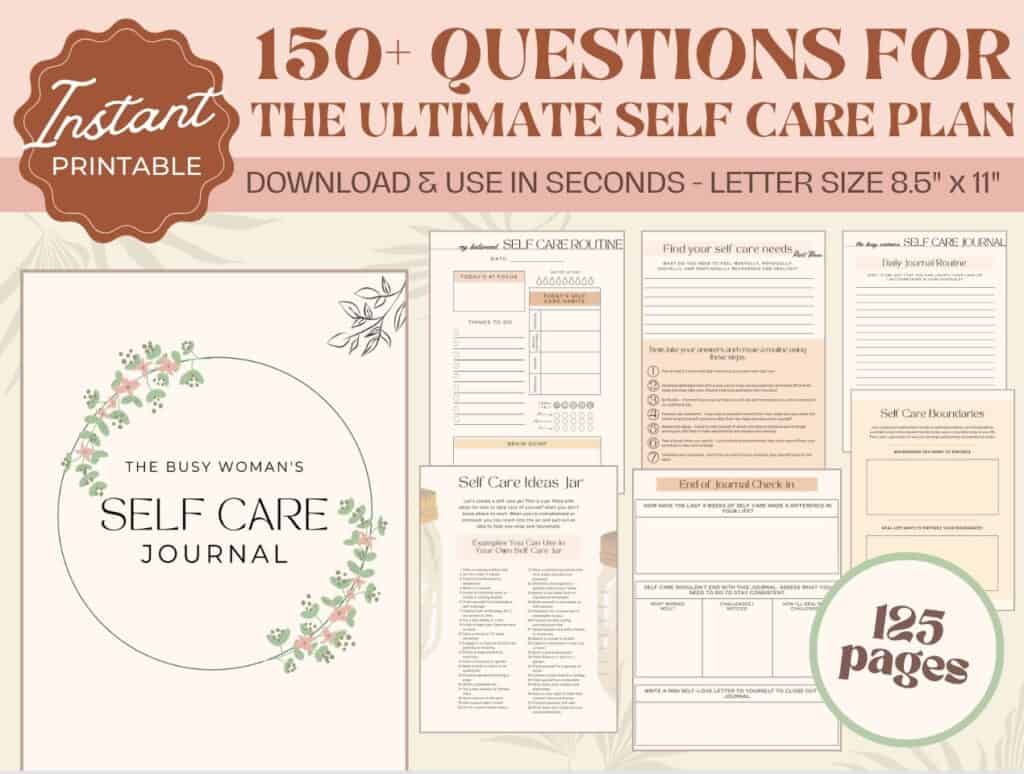 Life too hectic for self care? Not with The Busy Woman's Self Care Journal!
Made by a busy woman, for busy women, the goal of this journal is simple: to make an effective self care plan that works for your unique needs. No matter how crazy life gets!
Get step-by-step guidance to create your personalized self care plan by…
Why Do Winter Solstice Journal Prompts?
With the Winter Solstice marking the first day of winter, this timing is perfect for self reflection as it relates to the previous season and moving forward into the new season.
This time of year is also especially important for introspection and inner spiritual work. It's meant for setting intentions, gaining perspective, and setting yourself up toward resolutions for the new year.
With the night starting so early on Winter Solstice, I highly suggest cozying up with some candles, soothing lighting, and journaling under your favorite blanket!
You want to be as in tune with the mood as possible as you go through these Winter Solstice journal prompts.
Winter Solstice Intentions
Any time you reflect on anything in life, it's really helpful to set intentions. Your intentions will serve as the overarching theme that guides you toward your goals. They help you get clearer on where your priorities lie.
Some themes, focuses, energies, and intentions to focus on during Winter Solstice:
Reflection
Revival
Adaptation
Rebirth
Opportunity
Resting
Listening
Releasing
Grounding
Final Thoughts on Winter Solstice Journal Prompts
These prompts are split up evenly into 10 prompts for reflecting on the past year and 10 prompts for considering the next year. This way, you can spend equal time and thought on reflecting on the past and planning for the future.
It's important to note what went well, what served you, and what you want to keep up and continue into the new year.
Additionally, don't dismiss what you should change as you step into the next chapter of your life that will best encourage your personal development, self care, and overall growth!
More Winter Self Care
35 Winter Solstice Affirmations to Slow Down & Recharge
30 Day Winter Self Care Challenge to Beat the Winter Blues
31 December Affirmations to Lift Your Holiday Spirits
50 Christmas Affirmations to Help You Through the Holidays
15 Self Improvement Gifts Your Goal-Getter Friends Need
LIKE THESE WINTER SOLSTICE JOURNAL PROMPTS? PIN THEM FOR LATER!