53 Sexual Affirmations to Build a Sex Positive Mindset
This post contains affiliate links and I may receive a small commission (at no extra cost to you) if you sign up or purchase products or services mentioned. Read the full disclosure here.
Last Updated on June 22, 2023
As sad as it is, many of us did not grow up in sex-positive homes. This means that you may have grown up with messages about sex being "dirty," "risky," or "disgusting."
You may have been exposed to abstinence-only sex education or the belief that sex will make you "impure" or otherwise change something about your character and morals. Whether this came from your parents, school, or peers, this is a very shame-based way to view sex.
This sex-negative experience creates a mindset of fear, oppression, and stigma toward something that is a normal, healthy human experience.
It's up to you to reframe this negative narrative into one that is more sex-positive, rational, and healthy. It sucks that the responsibility falls on you, but at the same time, taking charge of your sexuality and being in control of your relationship with sex can be empowering!
These sexual affirmations are the perfect place to start if you're looking to heal from an unhealthy mindset about sex. You deserve to feel confident and excited about sex, so let's tell those negative messages to eff off!
How Do Sexual Affirmations Work?
Sexual affirmations can help you challenge this unhealthy sex-negative mindset by restructuring your self-talk to become more positive. In turn, this heals your relationship with sex and can make a serious impact on your mental wellbeing!
For example, if your knee-jerk reaction about sex is to tense up and feel the fear of judgment, you might be struggling with a negative inner dialogue. You might tell yourself things like "I can't let myself enjoy sex. It feels too risky."
With the help of practicing sexual affirmations, you can shift this line of thinking and counter these negative thoughts.
Instead of this fear-based self talk, you can reframe it into something like, "I am fully allowed and within my right to enjoy sex. It does not need to be risky at all if I practice safe sex."
No, this deep-rooted belief won't change overnight or after one day of affirmations. But with consistency and regular practice, you may be surprised to hear that affirmations can retrain your brain to form new, healthy beliefs about a subject.
53 Sexual Affirmations to Cultivate a Healthy Sex Positive Mindset
Let's boost your sexual confidence with these sexual affirmations! You might be here because you're struggling with fear of intimacy, or maybe you've even gone through something traumatic like being sexually abused. No matter what you've been through, healing is possible! You can absolutely learn how to enjoy sex and experience the pleasure you deserve with the help of these affirmations.
Affirmations for Sexual Confidence
I deserve to feel empowered by sex.
Sex is completely in my control now.
I am allowed to explore my unique sexual preferences and discover what I like.
I am completely comfortable communicating my needs with sexual partners.
I have no trouble enforcing my sexual boundaries.
I love getting to learn more about myself and exploring my sexual side.
I am at peace with my body and its natural desires for sex.
I deserve to experience sexual interactions that make me feel good.
I deserve to have a rich, fulfilling sex life.
I am absolutely stunning, sexy, and powerful.
I exude sexual confidence and only welcome positive, healthy sexual experiences into my life.
Affirmations for Intimacy
I deserve deep mutual emotional connections in my relationships.
I receive love and affection with open arms, knowing that I am worthy of it.
I am allowed to voice my concerns and be vulnerable with a trusted partner.
Being vulnerable in intimate relationships is healthy, normal, and okay.
I view my intimacy as an ongoing journey of self-growth and self-discovery.
Intimacy is a beautiful thing to experience and I have every right to experience it.
Building mutual intimate connections is something I care about and invest in.
I am committed to creating a healthy emotional bond to my partner.
I trust that the right person will grow with me, support me, and encourage my intimate growth.
I'm letting go of any unrealistic expectations I have about sex.
Sex is allowed to be messy, awkward, and imperfect.
RELATED: Your Inner Teenager Needs Healing Too: 16 Proven Exercises To Do So
Fear of Intimacy Affirmations
I am letting go of any shame or guilt I feel about my sexuality.
I won't deny myself the amazing, rewarding opportunity to develop deep connection.
I am allowed to be my most authentic self and my authentic self is worthy of acceptance.
I deserve love, intimacy, and close connection in my relationships.
I approach sex with an open mind and curiosity about trying new things.
I release the fears I have about intimacy and will allow my walls to come down with the right person.
I am allowed to be a work in progress and progress is not always linear.
I am working on being fully present in the moment of sexual intimacy with my partner.
I deserve a loving, caring, and supportive intimate relationship.
I honor my boundaries by always upholding them as a non-negotiable.
I am capable of seeking out and obtaining healthy happy intimate relationships.
RELATED: 50 Therapeutic Journal Prompts for Healing
Affirmations for Being Sexually Abused
Friendly Reminder: if you are struggling with something as serious as sexual abuse, please reach out to a therapist. These affirmations can be a stepping stone, but they cannot replace essential help from a professional who can guide you through your trauma.
If you're in need of this resource, I recommend checking out Online Therapy with my link for 20% off your first month to make it more accessible.
The things I've been through do not define me.
Healing is a journey and each new day is a step toward regaining my power.
I am safe and secure now.
I am not alone and I will not hesitate to lean on my support system when I need them.
I trust my instincts and do not need to have sex with anyone who makes me feel pressured.
I accept nothing less than a safe and nurturing space when it comes to sex.
I will only have sex with people who make me feel safe and respected.
I can acknowledge my past pain and trauma while still allowing myself the space for healthy sexual experiences.
I give myself all the time I need to process and express my emotions.
I get to take things at my own pace and no one is allowed to take that from me.
I will never be afraid of my own voice saying "no."
I get to create a happy, healthy, and safe future for myself.
RELATED: 20 Shadow Work Journal Prompts for Healing and Self-Awareness
Working on trauma? This journal can help you start!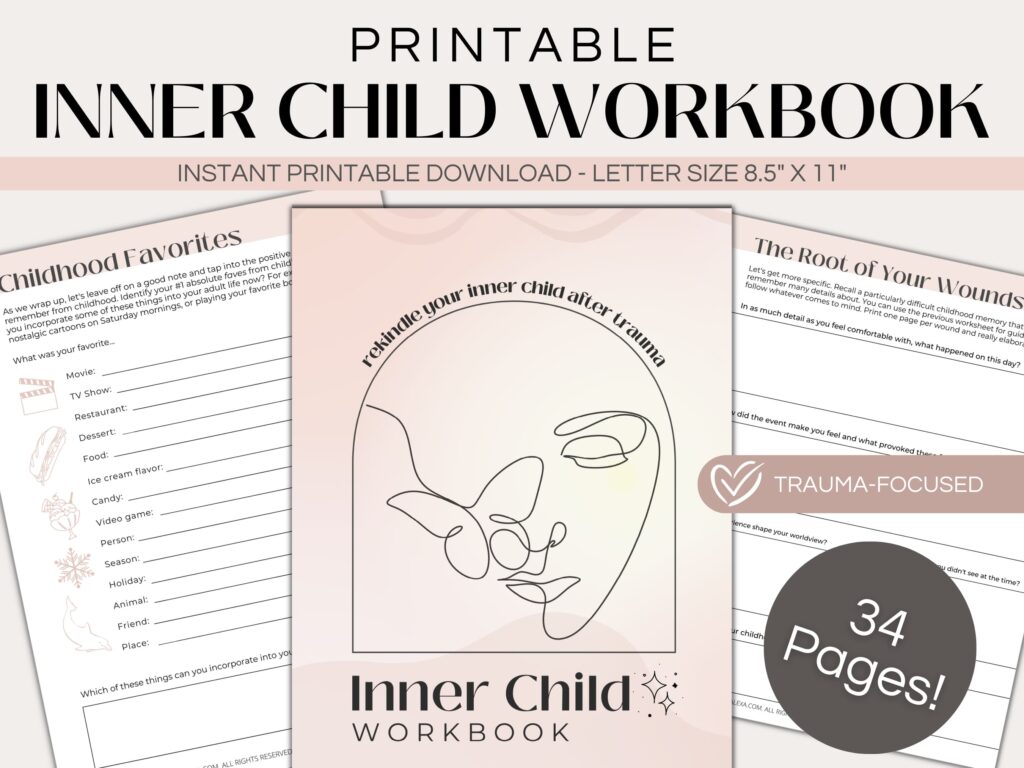 Feeling out of touch with your inner child? Been through a traumatic experience? My printable inner child journal PDF can help you give your inner child the love they deserve but didn't get.
This workbook will help you:
Pleasure Affirmations
I give myself permission to enjoy sex.
I release the negative narratives others have put into my mind.
I am worthy of sexual pleasure and satisfaction.
Pleasure comes naturally to me and I am fully capable of experiencing it.
I enjoy the sensations and pleasure my body brings me.
My sexual pleasure matters and I will speak up if someone tries to suggest otherwise.
From here on out, guilt and shame will not hinder my ability to feel pleasure.
I allow myself to let go and let my body do its thing.
You deserve to build a healthy relationship with sex!
Achieving a sex positive mindset and viewing sex in a healthy way may take some work. It's definitely not easy to unlearn the negative messages that were ingrained in us from a young age, that's for sure!
But if you're working on this, these sexual affirmations can be the first step toward feeling empowered by your sexuality and reclaiming control.
Sexual self care is an aspect of self care that is often overlooked, but it is so very important to your wellbeing. If you regularly practice shifting your mindset and self-talk toward a nurturing, supportive, and confident space, you will feel far more comfortable and at ease with sex.
You deserve nothing but passion, fulfillment, and empowerment in this area of your life!
More Affirmations You'll Love
75 Inner Child Affirmations to Heal Yourself From Within
72 Trauma Affirmations to Support Your Healing Journey
30 Day Self Love Affirmations to Bump Up the Confidence