---
Disclosure: This post contains affiliate links and I may receive a small commission (at no extra cost to you) if you sign up or purchase products or services mentioned. Please see my full disclosure (https://ambitiouslyalexa.com/affiliate-disclosure) for further information.
---
Looking for the BEST romantic things to do in San Diego? These date ideas will show you and your partner the beauty of San Diego!
With so much to do in San Diego, you have plenty of memories ahead of you to be made! This is especially true when it comes to the wide variety of romantic things to do in San Diego. You and your partner don't want to miss out!
If you're looking for romantic date ideas in the area that you'll absolutely fall in love with, look no further.
This list of 21 romantic things to do in San Diego includes frequently recommended locations like Balboa Park (it is a must-see, after all), as well as some lesser-known ideas like car camping on the Sunrise Highway (not even every local knows about this one!).
Whatever type of date night you're planning, this list is sure to give you all sorts of inspiration!
This post is all about romantic things to do in San Diego.
Here are 21 romantic things to do in San Diego for the BEST date ideas.
1. Balboa Park
I simply can't neglect mentioning Balboa Park on this list! Balboa Park is a 1,200 acre historic park with beautiful gardens, stunning architecture, and several museums.
There's a lot of ground to cover, and something notable you'll want to check out is the 12-acre Japanese Friendship Garden. It's super beautiful and relaxing to walk through!
2. San Diego City Lights Night Tour
Seeing San Diego at night is a whole different experience. This San Diego City Lights Night Tour will take you from the Gaslamp Quarter to Balboa Park to the Embarcadero.
You'll also get to ride to the top of the Coronado Bridge and catch sights that light up the entire city! A great choice if you need something to do at night after a nice dinner.
3. Stroll around Coronado Beach
Coronado Beach is easily one of the best, cleanest, and most scenic beaches in San Diego!
It has plenty of residential streets for parking, so finding a parking space here can be a little smoother than at other beaches.
Aside from strolling along the beach itself, you can visit the gift shops inside the Hotel Del Coronado (pictured). They also have a really good and notable ice cream shop inside Hotel Del, called MooTime Creamery, that's worth checking out!
4. Watch the sunset at Sunset Cliffs
And pro-tip: grab some In-N-Out on the way! Eating In-N-Out while watching the sunset will only complete the California experience. It's a must for me.
Sunset Cliffs will give you the most breathtaking views of the sunset over the ocean. You can find some areas of the cliff that are more secluded than others if you're willing to walk a bit for a more private view!
My boyfriend and I had our first kiss at Sunset Cliffs and it made the moment so much more magical. Sunset Cliffs is definitely a MUST of all romantic things to do in San Diego!
5. Santee Drive In Movies
If you head out into East County, you'll find the Santee Drive In Theatre. This is such a perfect date night choice, with movies airing 7 days a week.
Get your blankets and pillows ready in your car or truck bed, grab some snacks, curl up under the stars, and watch a good drive-in movie!
6. Hot Air Balloons in Temecula Valley
If you're up for a drive, you can head up north to Temecula Valley and ride a hot air balloon! (about 1 hour – 1.5 hours away from the city of San Diego).
Even better is a hot air balloon ride during the beautiful sunrise, which you can buy tickets for here!
7. Car Camping on Sunrise Highway
Okay, this one is the BEST little-known treasure in San Diego County. There is a windy mountain highway about an hour east of San Diego proper called Sunrise Highway.
On Sunrise Highway, there is a point called Kwaaymii Point that is PERFECT for car camping!
Take the I-8 East for about one hour. Take the exit for Sunrise Highway. Turn left off the exit and keep driving up the mountain for about thirty minutes until you reach Kwaaymii Point Rd.
Turn right onto Kwaaymii Point Rd. and head down it until you reach a dead end. This is where you want to set up for car camping. In the morning you will be stunned with an absolutely incredible view of the sunrise overlooking the mountain!
8. Take a drive to the charming mountain town of Julian
Julian is a small, quaint town just over an hour northeast of San Diego. It's known for its historic gold mining history and delicious apple pie.
(Which, by the way, you'll have to check out Julian Pie Company. Just make sure it's before 5pm when they close!)
Julian is a nice area to do some strolling hand-in-hand and window shop if you want a bit of a rural escape from the city!
9. Take a Harbor Dinner Cruise
There's no better romantic thing to do in San Diego than to wine and dine on an evening dinner cruise!
This harbor dinner cruise features dinner, a complimentary welcome drink, and an unlimited bar (if you choose) while you cruise 25 miles of San Diego's beautiful coastline with panoramic views of the sunset!
10. San Diego Zoo
The San Diego Zoo is HUGE! Just about any animal you might want to see, it's there. There are over 4,000 animals at this zoo.
If you're up for a good walking adventure while looking at cute animals, the San Diego Zoo is a perfect choice for a wholesome daytime date.
You can find tickets here, which include entry to the zoo as well as a complimentary guided bus tour for a full introduction to the zoo.
11. Explore Seaport Village
Seaport Village is a waterfront shopping, dining, and entertainment complex in Downtown San Diego. From here, you can catch views of the Coronado Bridge and there is also free live music on Fridays, Saturdays, and Sundays.
Perfect for taking super cute couple photos together and getting some waterfront exploring in!
12. Grab a giant ice cream cone and ride rides at Belmont Park
If you're looking to get your amusement park fix, Belmont Park is a GREAT choice! It's even free to enter!
First off, you'll have to ride the historic Giant Dipper wooden roller coaster. Then, I highly recommend heading over to Sweet Shoppe (across from the roller coaster) to grab one of these giant ice cream cones (which might just be big enough for you both to share!)
13. Ride a Gondola through the Coronado Cays
Of all the romantic things to do in San Diego, this may be a little different than what you'd expect to see here! You can actually ride a Gondola, as if you were in Italy, through the Coronado Cays.
You can book your 50 minute gondola cruise directly from Gondola Company, here.
14. Have a picnic at Kate Sessions Park in Pacific Beach
Kate Sessions Park, located in Pacific Beach, is probably the best park for getting a great view of the city. It's the perfect picnic spot!
When thinking about picnic food, I personally think it's an excellent opportunity to take advantage of the superb Mexican food in San Diego by picking up some burritos for your picnic! (Oscar's and Roberto's are some yummy nearby choices).
15. Spend a night on the town in the Gaslamp Quarter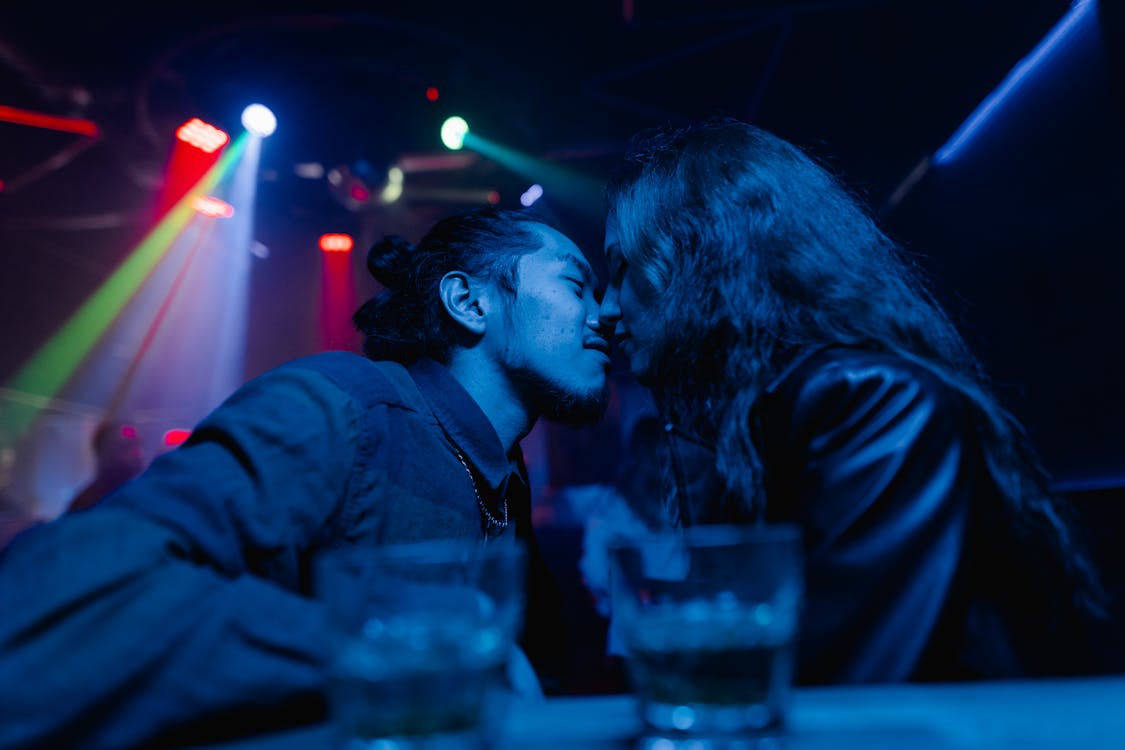 The Gaslamp Quarter is the premier nightlife area in Downtown San Diego. Get all dressed up for a fun date night on the town and experience the Gaslamp's huge variety of clubs, dive bars, and cocktail lounges!
Looking for something outside the box in addition to typical nightlife? There's a Gaslamp Haunted Walking Tour that features dark history and "true crime" elements, if that's your thing!
16. Explore Little Italy
Little Italy is a super pedestrian-friendly neighborhood featuring patio cafes, restaurants, and pubs. It's worth checking out for something a little different, and Filippi's Pizza Grotto is a locally-loved choice for Italian fare!
17. Check out the sea lions at La Jolla Cove
La Jolla Cove is a unique sight-seeing experience simply because of the many sea lions that hang out along the cove! Some of them even relax in the sand, so you'll get the chance to see them up close.
If you and your partner are animal lovers, La Jolla Cove is certainly a must on your list for romantic things to do in San Diego!
18. Aquatica Waterpark (in the summer)
If you're catching the San Diego sun during the summer time, Aquatica is the best way to cool down and have some fun in the water!
Located in Chula Vista, just 25 minutes south of San Diego, Aquatica is a fun idea for a daytime date for the couple that enjoys their inner child.
My boyfriend and I had a blast here, so if you like waterparks, you'll have an awesome time! If Aquatica strikes your fancy, here's where you can buy tickets.
19. Go see a musical or play at La Jolla Playhouse
Located on the campus of University of California San Diego, La Jolla Playhouse is a professional theatre putting on a variety of different plays and musicals for the public.
If you enjoy performing arts, you should take a look at their upcoming shows here!
20. Mimic the Unconditional Surrender Statue Downtown
For a super cute couple photo op, you'll want to visit the Unconditional Surrender statue and mimic the pose with your partner!
Bonus points if you're actually dating a Navy sailor (as my boyfriend was at the time of this photo!).
21. Walk along the San Diego Bay Walk
If you're looking for the perfect romantic stroll on a nice sunny San Diego day, the San Diego Bay Walk through Seaport Village is calling your name!
You'll get to see all the boats along the harbor, visit different vendors, and take in the classic San Diego views. There's also several places to sit along the way to bask in the scenery.
---
San Diego is a wonderful waterfront vacation spot that's rarely ever short of sunshine, so the best draw is never running out of exciting outdoor dates! There is seriously so much to explore.
Did these 21 romantic things to do in San Diego help you add some fun date ideas to your itinerary plans? Let me know in the comments!
This post was all about romantic things to do in San Diego.
IF YOU LIKED THIS POST, YOU'LL LOVE THESE TOO!
8 Reasons Why You Should Move Away From Your Hometown
40 Exciting Summer Activities for Adults You Must Try This Summer
20+ Modern Apartment Decor Ideas You'll Absolutely Love!
20 Powerful Things You Should Know in Your Early 20s